In the heart of Hong Kong, global metropolis and renowned business centre, lies a hidden peaceful haven. Among towering residential buildings and lush rolling hills, is nestled one of the biggest Buddhist monasteries, the Chi Lin Nunnery, founded in 1934 as a spiritual retreat for nuns. Perched on Kowloon's Diamond Hill, it expands over 33.000 square metres. The monastery was rebuilt in 1998 following the traditional Tang dynasty architectural style; no nails were used, only a skillful interlocking system cut into the wood to express harmony between humankind and nature. Surrounded by ponds, lotus flowers, bonsai, tea plants and bougainvillea, the complex is the backdrop for the religious practices of the nuns, such as fruit and rice offerings to the Buddha and the Arhats, Buddhist disciples freed from the cycle of birth and death.
It is within this concept that Marco Petrucci, Mauro Zani and Giulia Chinello developed their lighting engineering project. The two renowned lighting designers from Milan worked on the pagoda with the proper care and respect reserved to one of the landmarks of the nunnery. The original lighting setup consisted of spotlights placed on the external railing surrounding the four sides of the building: the devices clashed with the architecture, due to their size and different colour temperatures.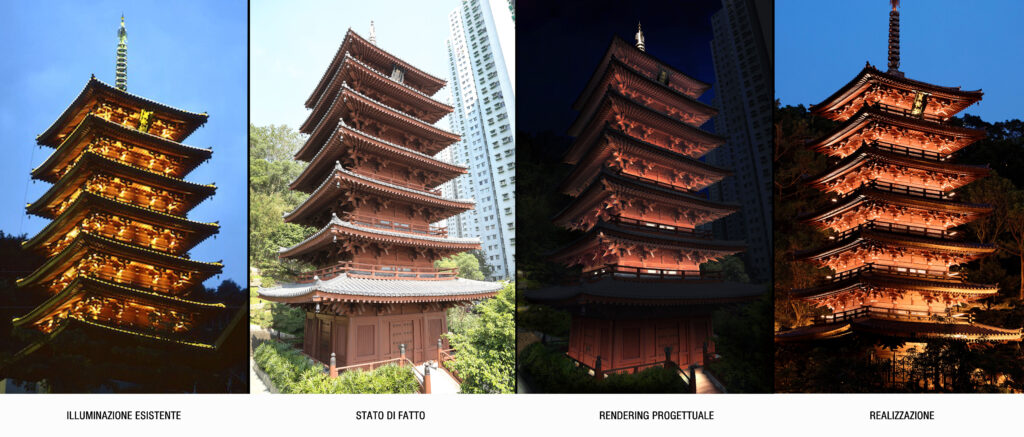 The concept of the new lighting design respects the planning philosophy of the whole architectural complex. The design had to be as invisible and integrated with the building as possible. The new lighting project brings forth a "fluctuating Pagoda" hovering above ground, representing the main belief of Buddhism and according to which knowledge nurtures our soul elevating us from material means. Integrating the new lamps with the architectural structure, the lighting engineering project achieves balanced harmony and a solemn atmosphere. Architectural lighting underlines the details of the prospects by emphasizing its volumes, and makes the entire building a landmark of the nocturnal landscape, helping orientation inside the nunnery. Light forges the volume that animates the space, designing a unique visual experience.
In detail, on the lower part of the left railing of the stairs, the project includes a linear device diffusing the light downwards to illuminate the steps and the paths. 
On the ground floor, smaller spotlights recreate a fluctuating effect. The former spotlights were replaced by a Led light string placed along the external balustrades on each floor, casting an even light on the walls. The optic fibre placed on the edge of the six roofs was kept because it enhances their outlines and adds volume to the architectural composition. 
Finally, on the top of the building a few spotlights highlight the yasti, the pinnacle towering from the rooftop. This design considers light just like a physical material of architecture itself, determining its quality and influencing the perception of the architectural space.