Nearly forgotten for a long time, replaced in homes by pendant lamps and wall appliques, chandeliers are now experiencing a major comeback. The ebbs and flows of design, it is well known, are periodic, and in this case the new focus on pendant lights is due to ongoing research by companies and designers who have implemented a true "style revolution." The imposing chandeliers of a time ago, considered a luxury for the few and suitable only for wide-ranging spaces, have been replaced by leaner models that combine the technological LED core with innovative materials or precious handcrafted details. Graphic lines, minimalist moods, and pieces that wink at mid-20th-century interiors combine distinct personality with guaranteed performance and luminous flows suitable for bringing the right atmosphere above the dining table, in the living room, and even in the bedroom.
The one for glass is a passion that has never been completely extinguished. Whether transparent or opaque, mouth-blown in Murano furnaces or industrially processed, it has always been shaped into ever-changing forms to create striking chandeliers. Today, designers are betting on renewal, focusing everything on glass elements with a contemporary spirit. Murané by Panzeri, designed by Matteo Thun with Benedetto Fasciana, has bronze-colored pallettes handcrafted to achieve an unusual wavy effect. Kundalini's Bolha pendant lamp is a sphere that contains a contrasting decorative element; the outer borosilicate glass is transparent, the inner part that serves as the diffuser is of darker blown glass. The experimentation of the Danish architectural firm BIG-Bjarke Ingels Group, which designed Stellar Nebula for Artemide, is of great interest. This modern chandelier reinterprets and enhances the artisanal glassblowing process that gives life to unique and ever-changing shapes by combining it with innovative PVD (acronym for Physical Vapour Deposition) finishing techniques that give the suspension its characteristic iridescent finish. 
Unprecedented shapes and a 'green' approach
The new Skynest Suspension by Flos is a dome made from a combination of blind and luminous "cords" arranged in a mesh pattern. Designed by Dutchman Marcel Wanders, it combines an absolutely innovative shape with an environment-friendly spirit, as it is assembled without adhesives to be completely separated and recycled at the end of its life. Serena Confalonieri's creations for Servomuto are also textiles. Presented at the last edition of Alcova during Milan's Fuorisalone 2022, the Venus suspension lamps are made of metal and lycra, with covers that can be changed as if they were clothes. Hyper-thin, on the other hand, is Nika Zupanc's graphic design sign to define Elara by Lodes, a slender, modern chandelier that picks up with metal rings the trajectory of planets in the universe.
Research on chandeliers also continues on the customization of lighting points with products that, anchored to a support or electrified track, make it possible to move suspension, but also more technical spots or spotlights, especially useful in the offices, in different positions according to the evolving needs of space. Also interesting in this sense are Zero Track by Flos and Funivia by Artemide.
There are several chandeliers that look back to the forms of the past and synthesize them into a contemporary design. J-us by Luceplan works on the concept of chandelier with branches, replacing candles with LED components powered by electrified tracks hidden in the structure. A vintage soul, on the other hand, for Foscarini's compact Tonda, designed by Ferruccio Laviani to update the opaline glass chandeliers, popular in the 1970s. The elegant Accordéon by Slamp, a modern chandelier with a cylindrical diffuser with golden veins that look to Deco, seems to be made of glass but is made of a special technopolymer.
1. Skynest Suspension - Flos
The histrionic Marcel Wanders has signed for Flos the original Skynest Suspension, a dome made of a combination of blind and luminous "cords" arranged in a mesh pattern. Each individual element is covered with a thin, colored tubular mesh woven from recycled and recyclable fabric derived from polyester. The luminous portions are powered by special micro-connectors inserted into the top of the dome. The product is assembled without adhesives so that it can be completely separated and recycled at the end of its life, also making any repairs and replacements easy. Finishes available: blue tourmaline, almond, anthracite, brick.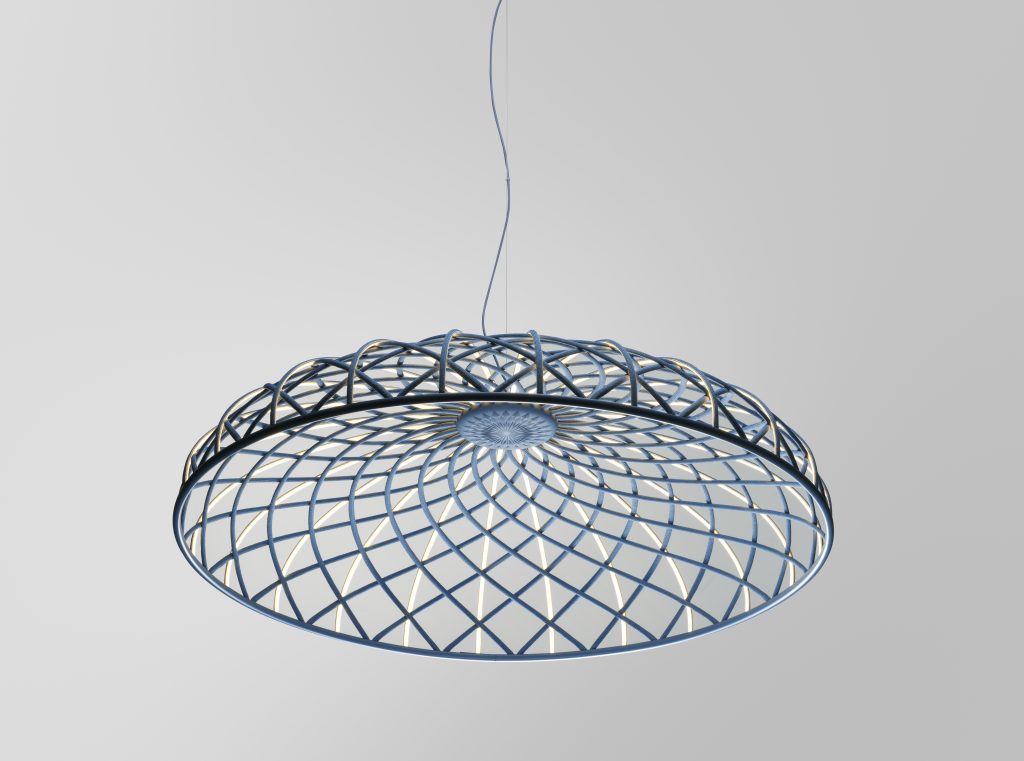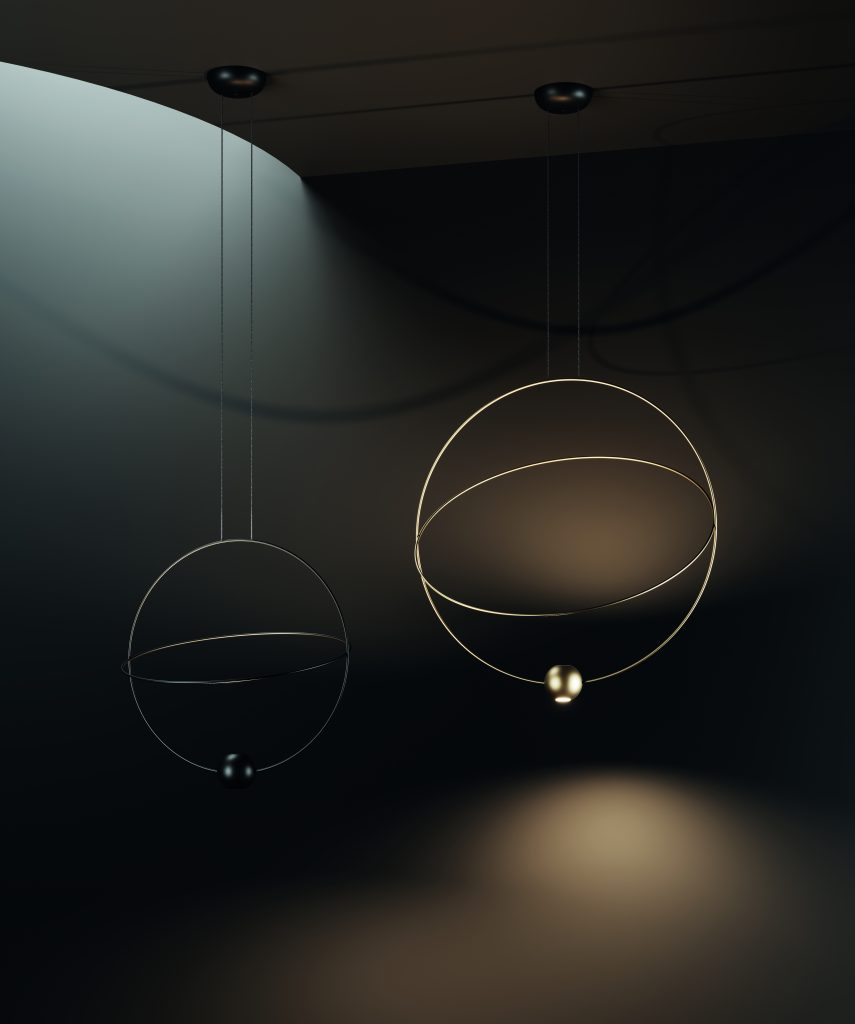 Perfect above the table at home, but also in public and lounge settings, Elara by Lodes has a geometric design that mimics the trajectory of planets in the universe. Designed by creative Nika Zupanc and avowedly inspired by astral motion, the lamp features two metal rings, one of which can be positioned at various angles to produce fluidity and a feeling of movement, and a small sphere at the lower end of the lamp that contains the light source, which can be oriented in up or down light.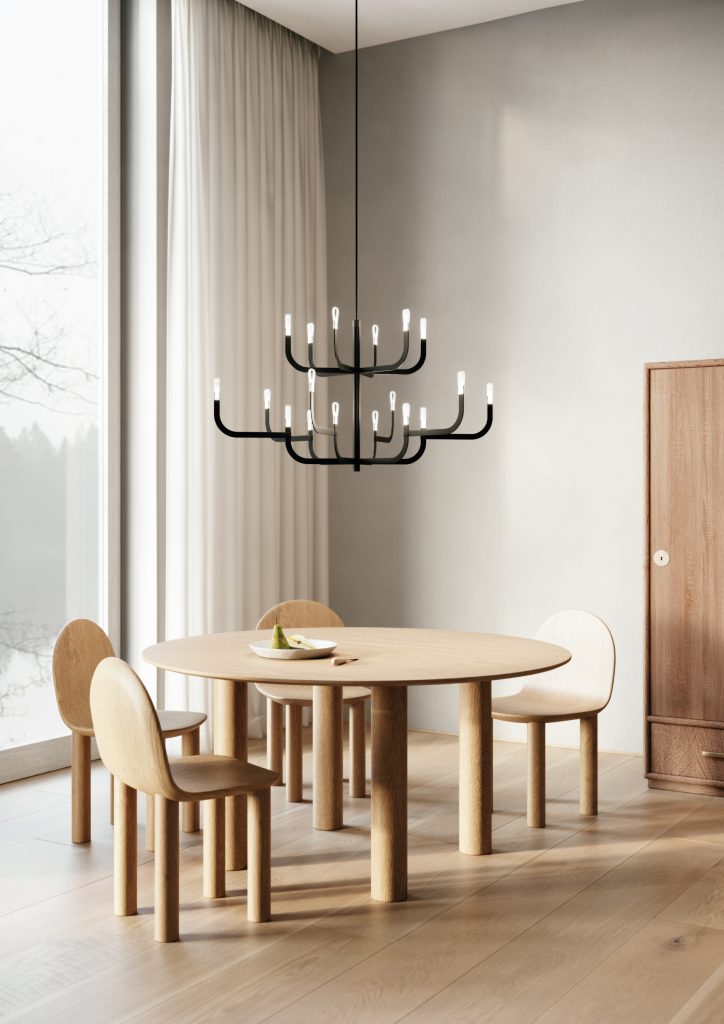 J-us by Luceplan reinterprets traditional chandeliers while renewing their aesthetics. Made of aluminum with copper and fiberglass arms, it has a central structure that is an electrified track, onto which the individual LED components engage and from which they are powered. Interestingly, it is possible to increase the diameter of the chandelier over time by attaching a second ring of arms to the innermost one.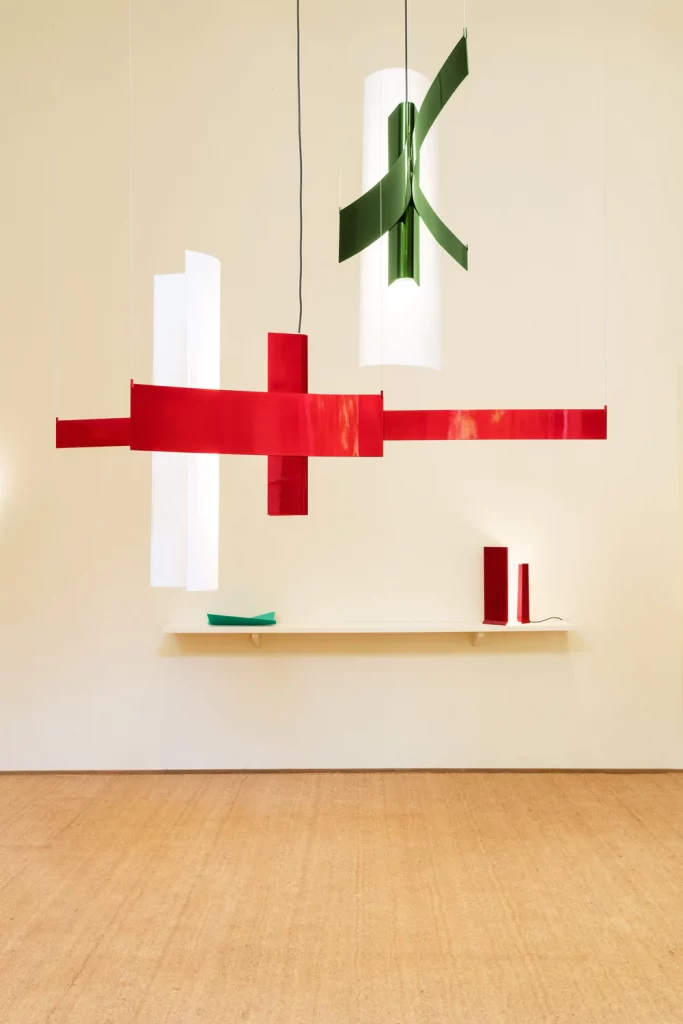 Made in a signed limited edition (8 pieces + 4 artist's proofs) by the duo Formafantasma, Maison Matisse's Fold hanging lamps are inspired by master Henri Matisse's work on cutouts. The clean lines of the folded metal, combined with the lightness of the sheet of paper threaded between them that serves as a lampshade, give this lamp a unique and modern look. With its adjustable intensity, the output evolves throughout the day, changing from a welcoming light to a soft ambient light.
5. Stellar Nebula - Artemide
Ethereal and ultra-light, Artemide's Stellar Nebula bears the signature of the renowned yet experimental Danish architecture firm BIG-Bjarke Ingels Group. The complete family of lamps (pictured is the suspended version) is designed to interpret and enhance artisanal glassblowing with innovative PVD (acronym for Physical Vapour Deposition) finishing techniques. The shapes of the hand-blown diffusers are always unique. The chandelier has three different sizes, while the floor, table, ceiling and cluster diffusers are only in the medium version.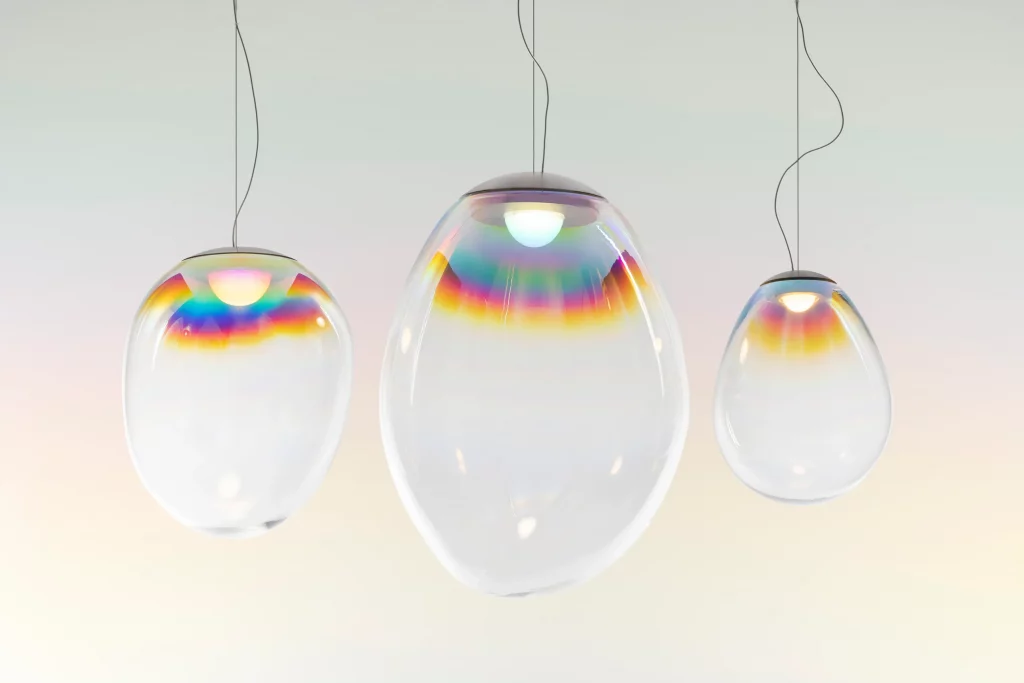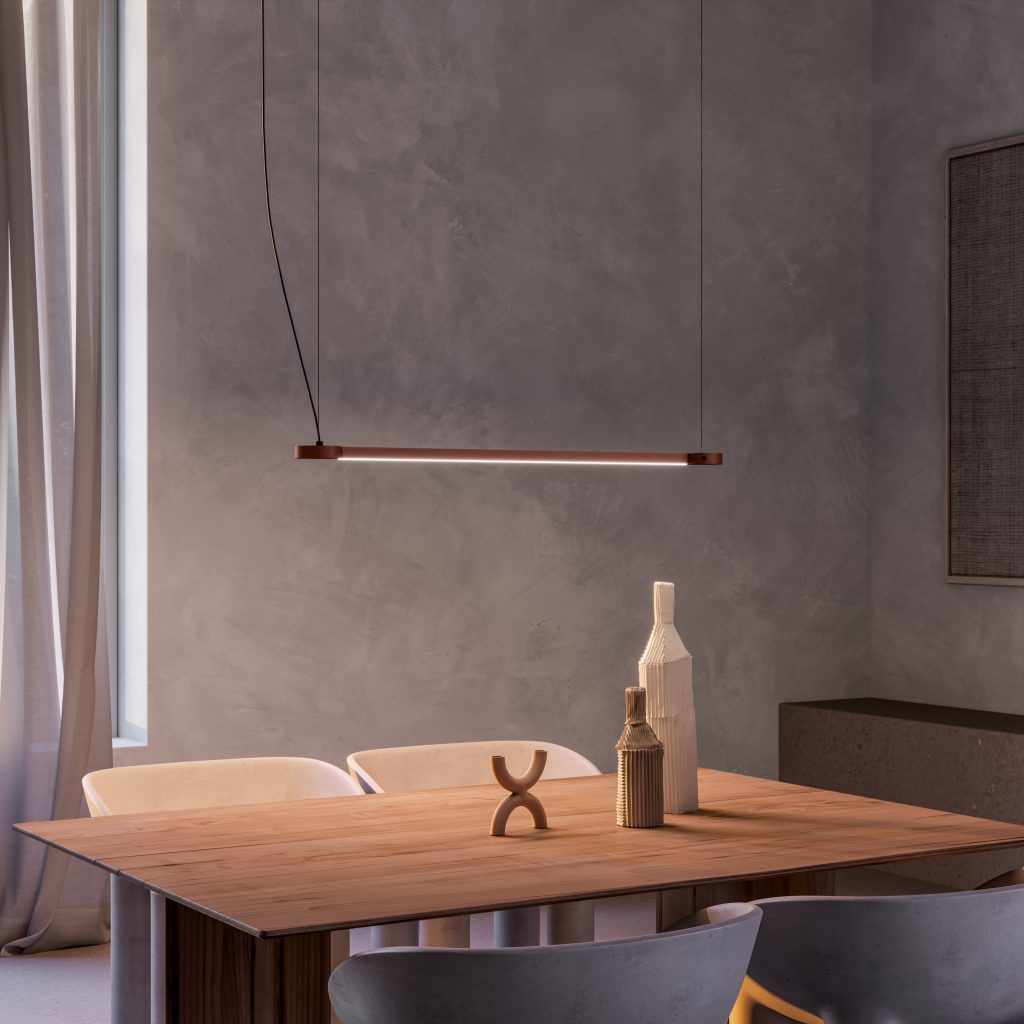 Poses by Axolight is a modular system that allows the designer to create countless flat geometric shapes (called poses, in fact). "The concept of Poses draws inspiration from the work of Euclid, the ancient Greek mathematician and philosopher who, with his best-known work, Elements, defines the concepts of point, line and plan" the company explains, introducing the individual elements – linear bars and satellites – to be mixed on the wall or suspended as in the photo.
7. Vela - Martinelli Luce
Slender, light, dynamic, Vela by Martinelli Luce is a graphic sign in space. The aluminum tubing rotates via a ring support attached to the ceiling, the variable trim allows the cone to be lowered or raised, bringing it to the area to be illuminated.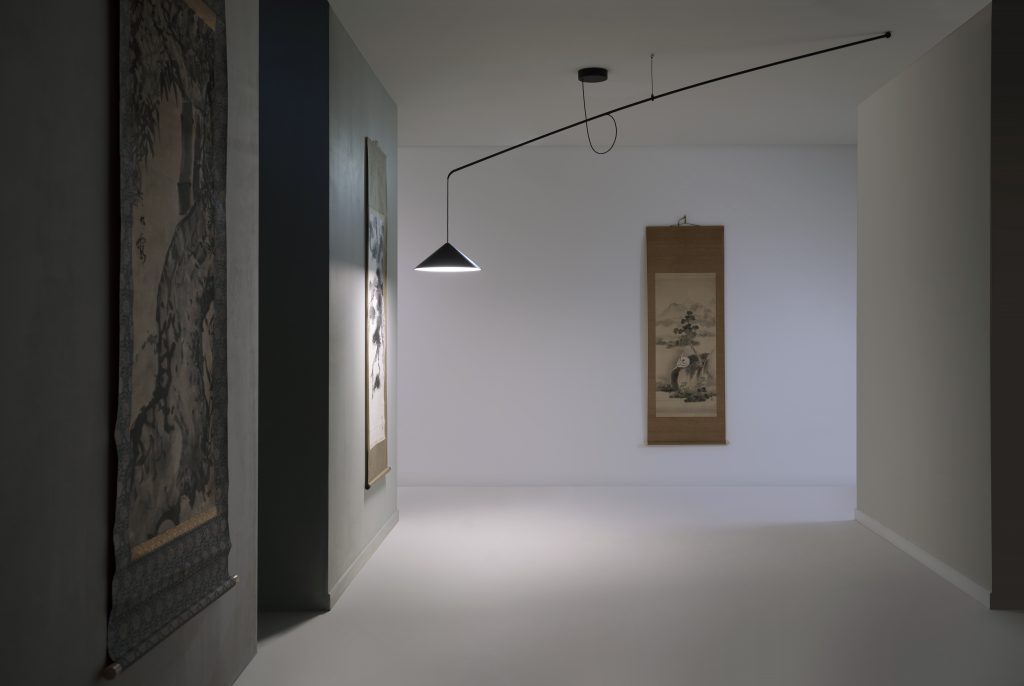 8. Solar - Radar Interior
For the French brand Radar Interior, Samuel Accoceberry signs Solar. The diffuser is a sheet of thermoformed glass that in the suspended version is held by a fabric strap, while in the wall-mounted version it can be mounted horizontally or vertically to a matte black powder-coated metal base. The dimmable LED source is contained in a mouth-blown opaline glass diffuser.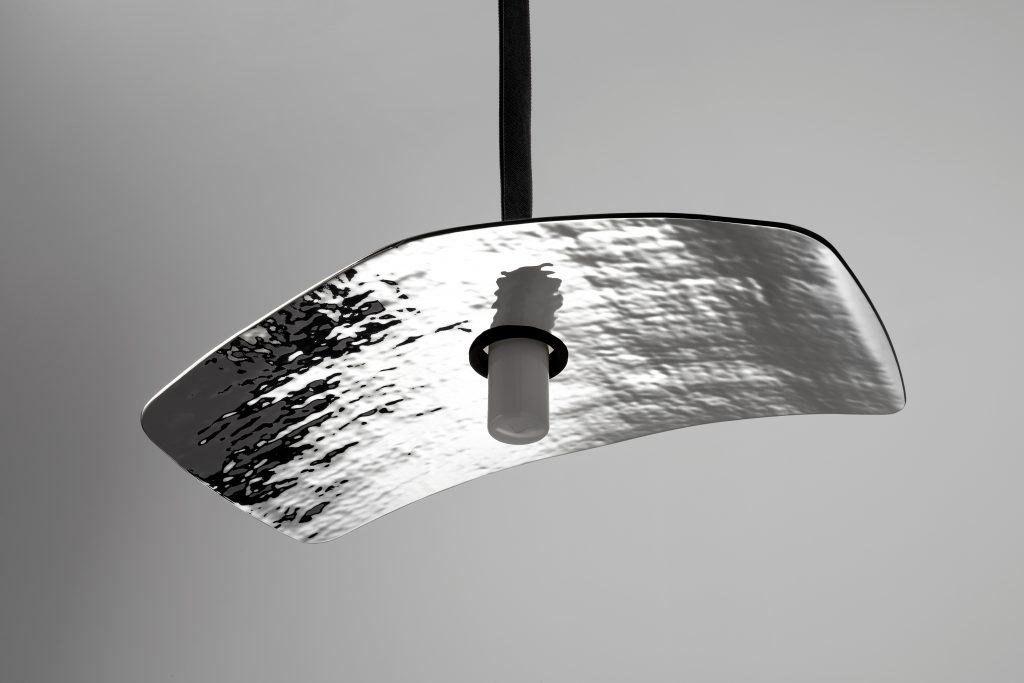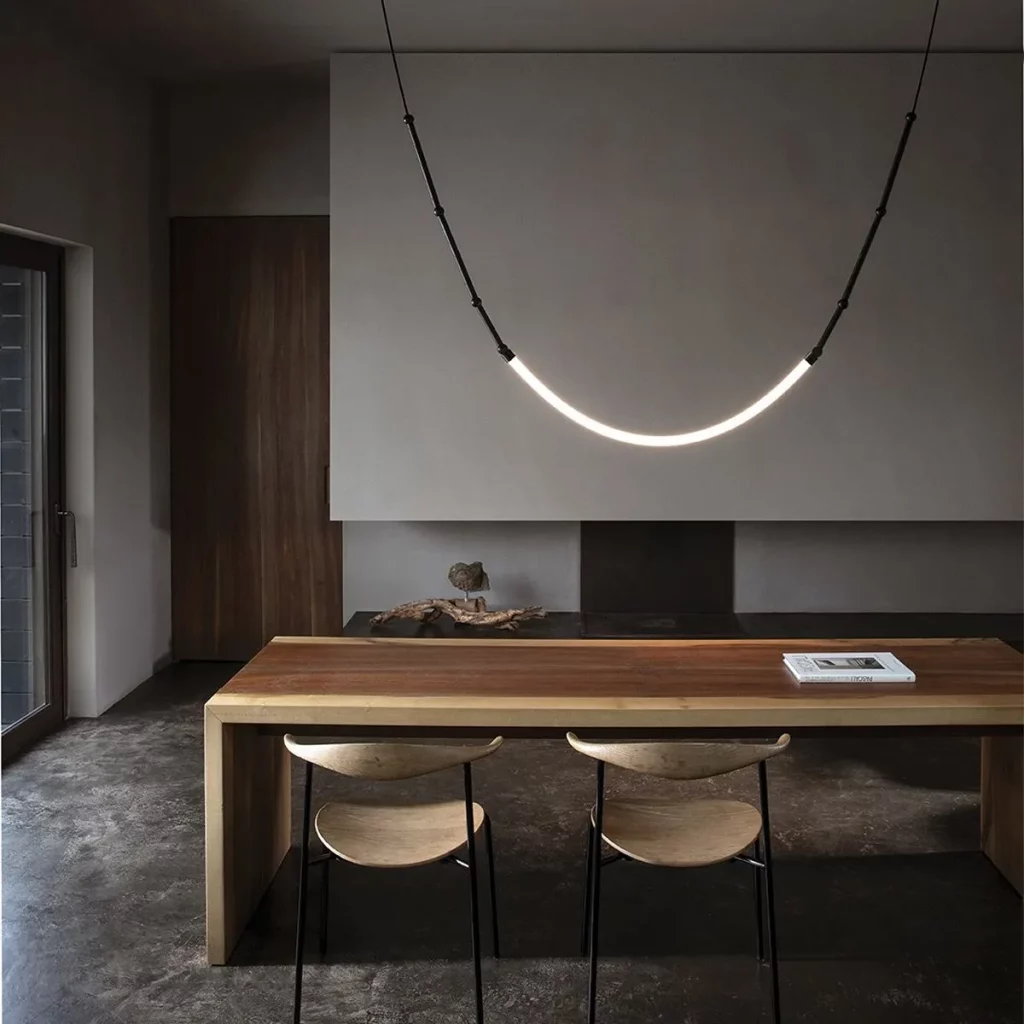 For Karman, Luca De Bona & Dario De Meo designed Leda, respecting the ironic DNA of the company. It is a luminous necklace composed of anodized aluminum spheres and cylinders and a flexible diffuser that allows multiple conformations in both indoor and outdoor settings. A small metal slot allows the arrangement and shape to be defined as desired.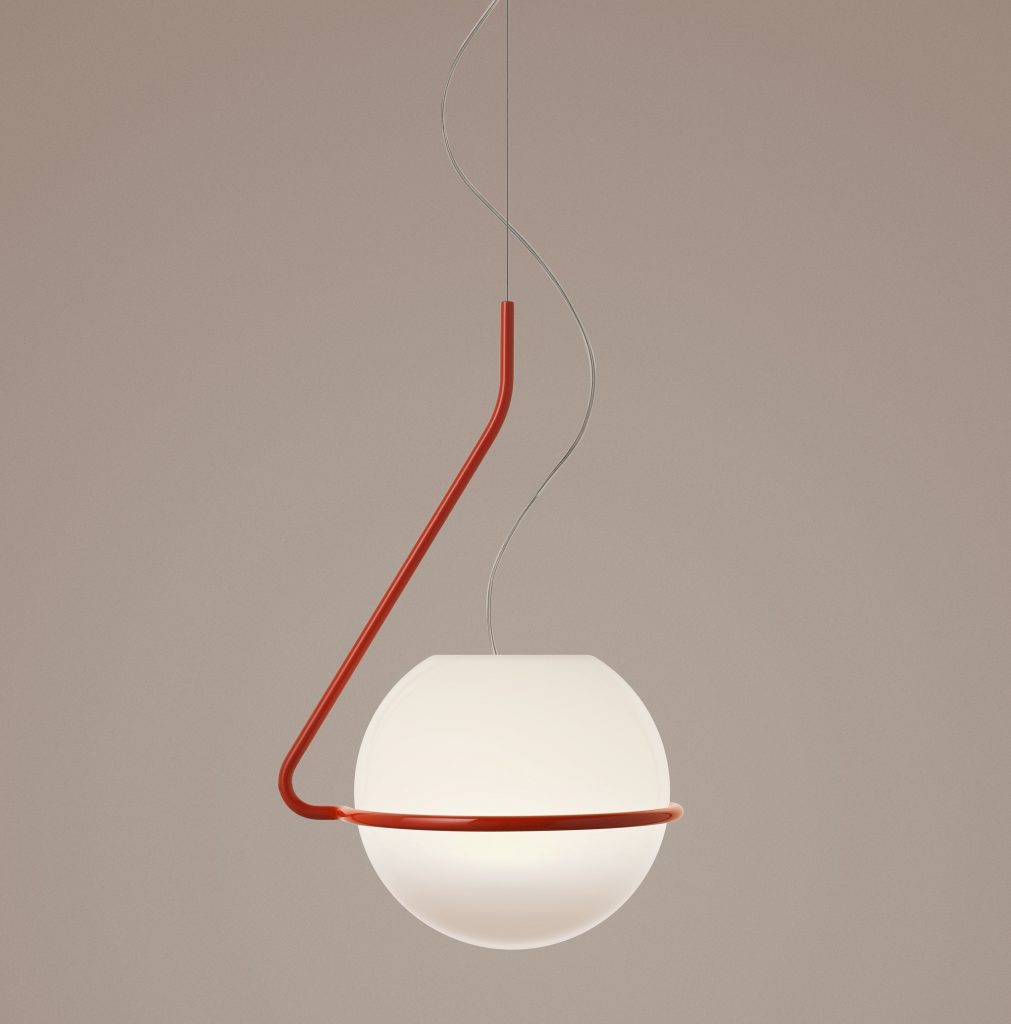 The newest addition by Ferruccio Laviani for Foscarini is Tonda, a reinterpretation of the Italian glass chandeliers of the 1970s. The opaline glass sphere is "balanced" on a white or orange metal frame.
A sphere that is half closed and half made of mesh: this is the essence of Iglù, one of Masiero's latest innovations.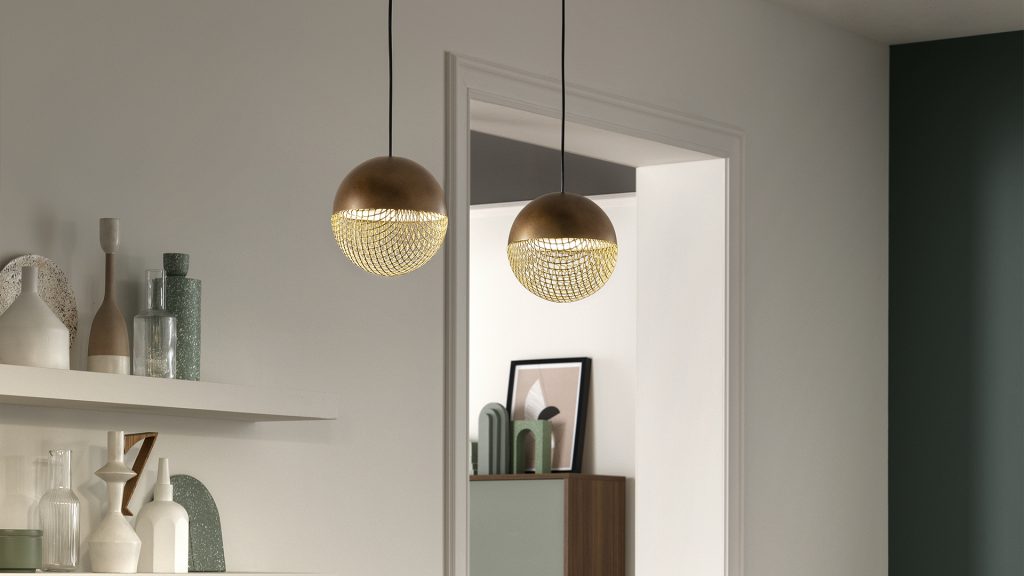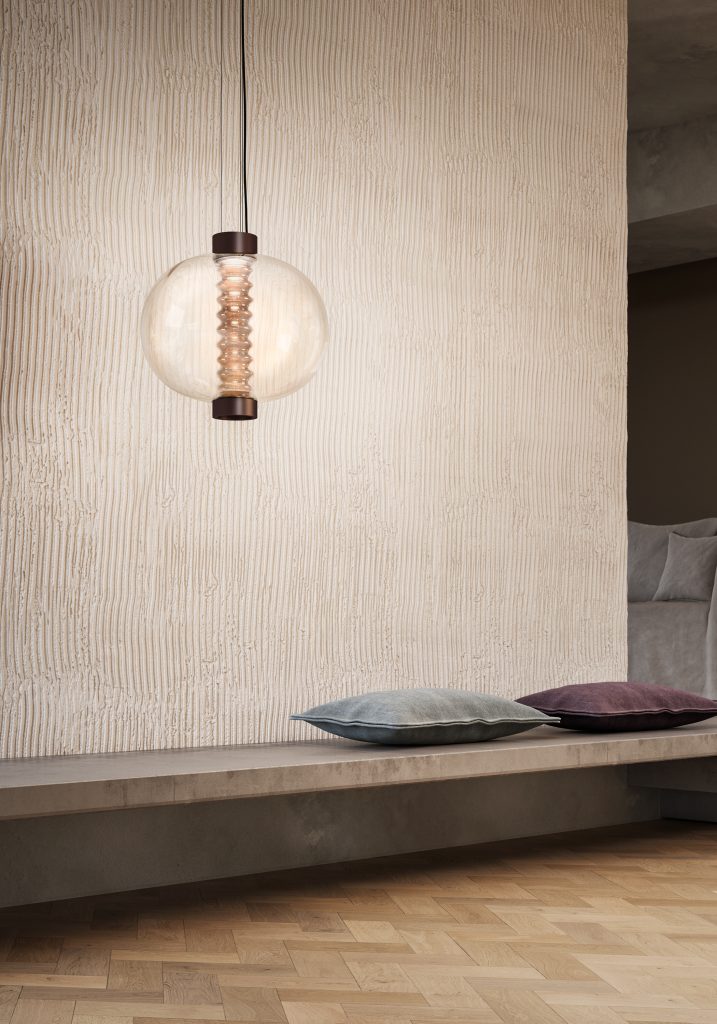 Kundalini's Bolha hanging lamp is a sphere that contains a contrasting decorative element. The outer borosilicate glass is transparent, the inner part that serves as the diffuser is blown glass available in two finishes: amber and smokey brown. Designed by Valerio Sommella & Anonima Luci.
The tradition in the handcrafting of blown glass is taken up in Panzeri's Murané lamps, designed by Matteo Thun with Benedetto Fasciana. The spherical diffuser in transparent bronze-colored glass is worked internally, with a wavy effect. The small LED source is masked by a silicone cover, which contributes to an optimal diffusion of the light beam.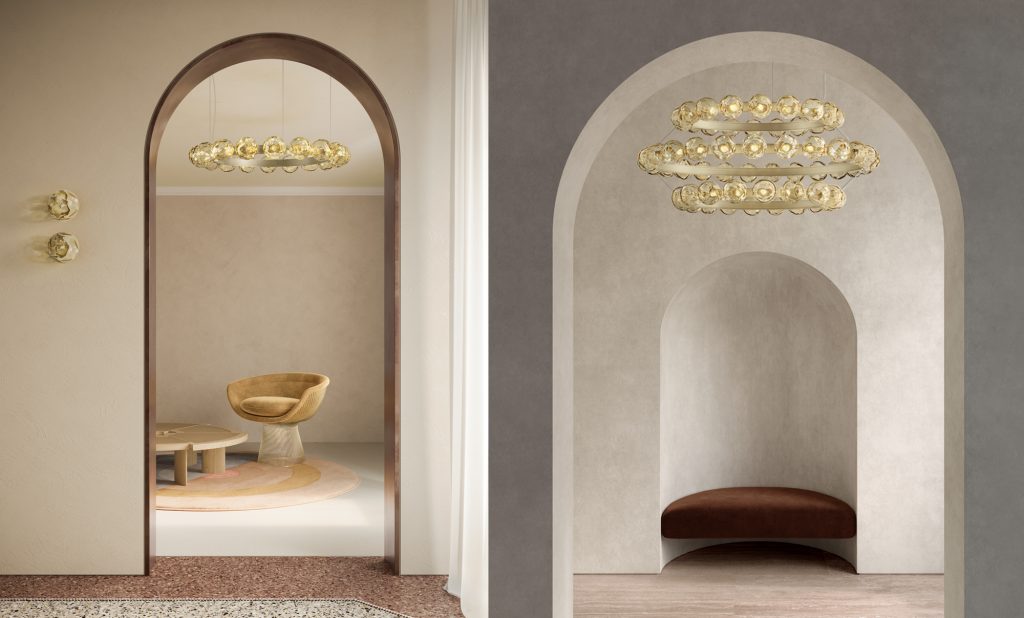 Multicolored and cheerful, the Venus suspension lamps by Serena Confalonieri for Servomuto are made of metal and lycra, with covers that can be changed as if they were clothes, and hint at the sinuous forms of female bodies.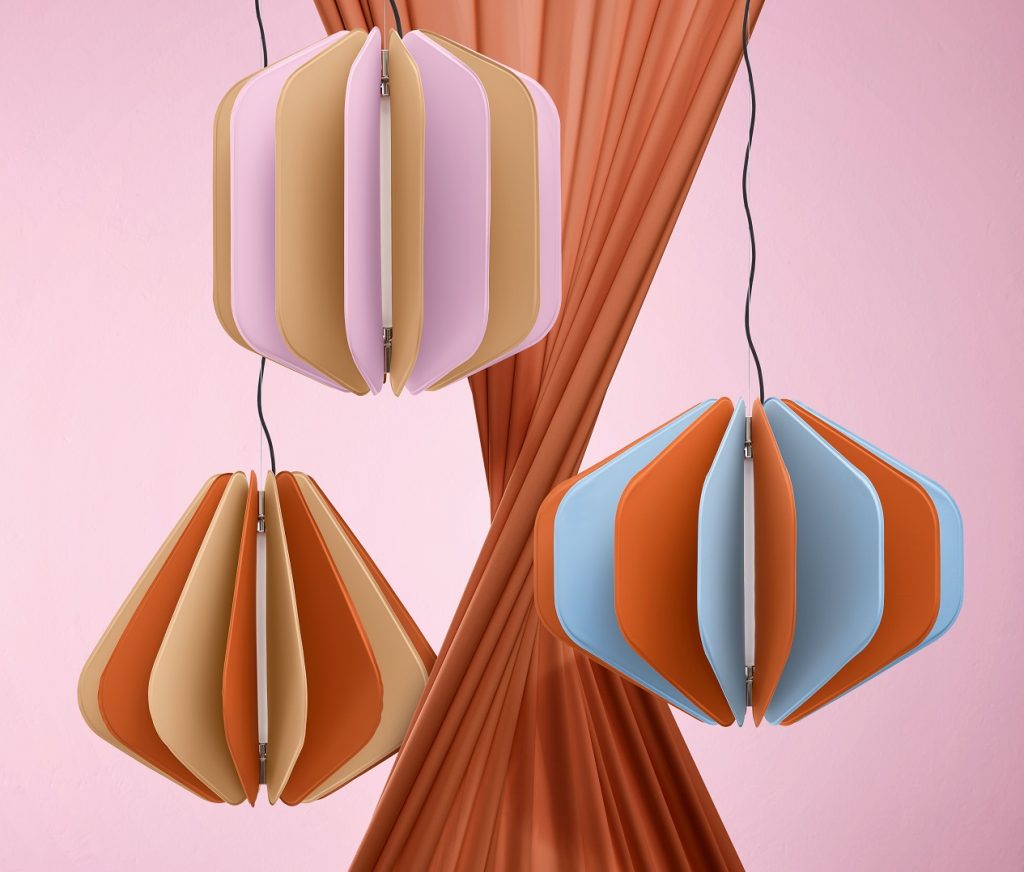 Accordéon was born from Marc Sadler's exploration of the infinite possibilities offered by Slamp's technopolymers. In the vertical hanging version, this modern chandelier stands out with its 30-cm-long cylindrical diffuser in transparent and gold finishes that plays with the resemblance to handcrafted glass.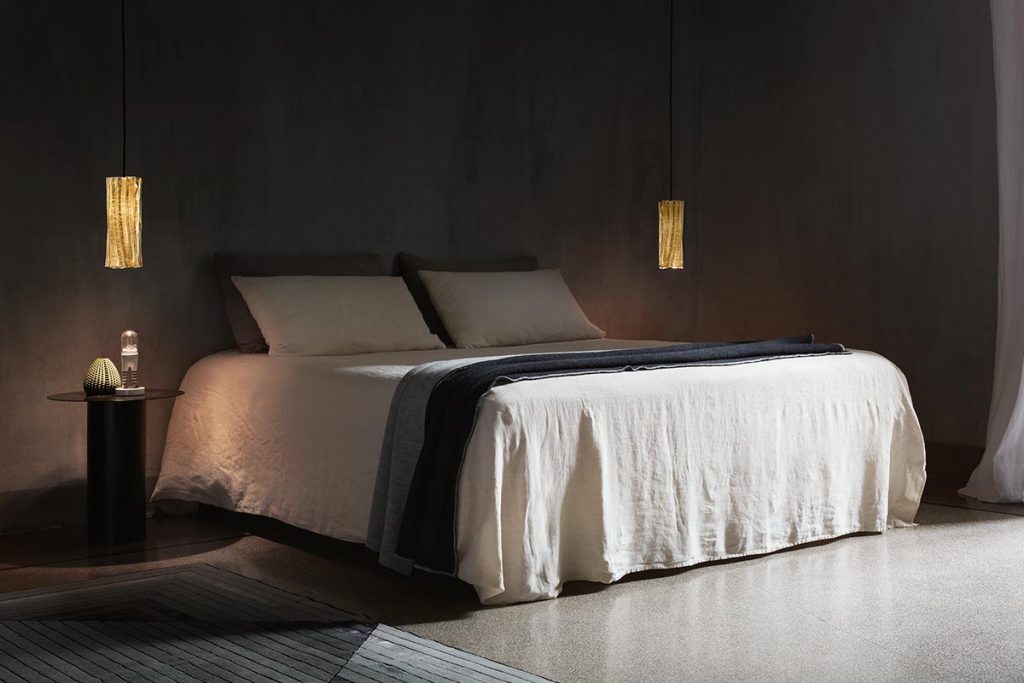 Funivia by Artemide, designed by Carlotta De Bevilacqua, is a "functional mesh": a colorful rope carries energy, and the nails, fixing elements in the space, are the basis to overcome the inflexibility of traditional systems. The cord is attached loosely to the wall, floor or ceiling, drawing a web of regular lines, horizontally or vertically, but also freely inclined. The light elements are hooked through an element that takes electricity to power spotlights and suspensions.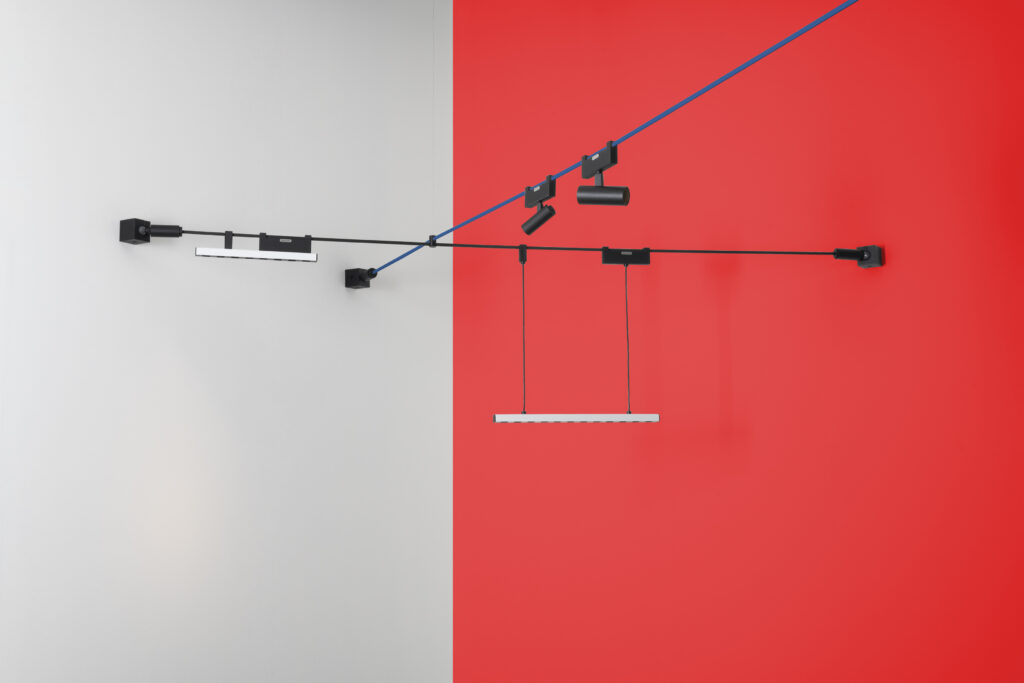 17 Zero Track - Flos Architectural
Zero Track by Flos Architectural is a lighting system composed of an extremely miniaturized track that subtly adapts to the surface, fooling the eye and creating a recessed effect. Embeddable on any type of ceiling or wall, it supports a wide range of the brand's fixtures, including Piero Lissoni's Find Me suspension fixtures.