Anonima Luci is a Milan-based lighting design and light art studio founded in 2018 by Alberto Saggia and Stefania Kalogeropoulos, two professionals with different but complementary experiences, visions and areas of expertise. Bonded by a shared passion for innovation and experimental research, they intertwine light, sound and voltage with the instinctual approach for engineering that is typical of artists. They are specialised in the use of lasers and create hybrid projects intersecting architecture with ephemerality where light alters the perception of space by remodelling it into graphic shapes. Their research extends into other light sources as well, such as LED, with a particular focus on colour.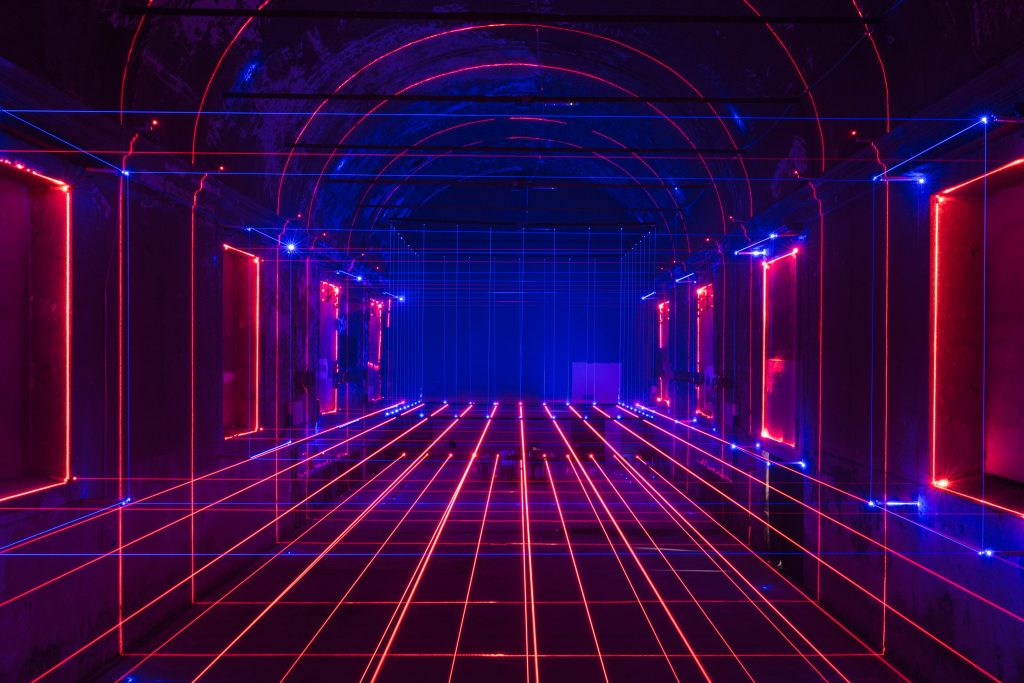 How did you meet and where does the name of your studio come from?
A: «We met through a former colleague of Stefania when we were working at separate practices. A few years later, we tried a collaboration on a lighting design project for a private residence: blending together our different but complementary know-hows and visions was a good starting point. The name of our studio came about in London after we visited the exhibition Ferrari: under the skin at the Design Museum. We found out that the first name of the company had been 'Società anonima scuderia Ferrari', which inspired us to adopt the notion of anonymity, of not being individualistic. We paired it with 'Luci' – light in the plural form to convey our intention to take an all-encompassing approach to the world of light».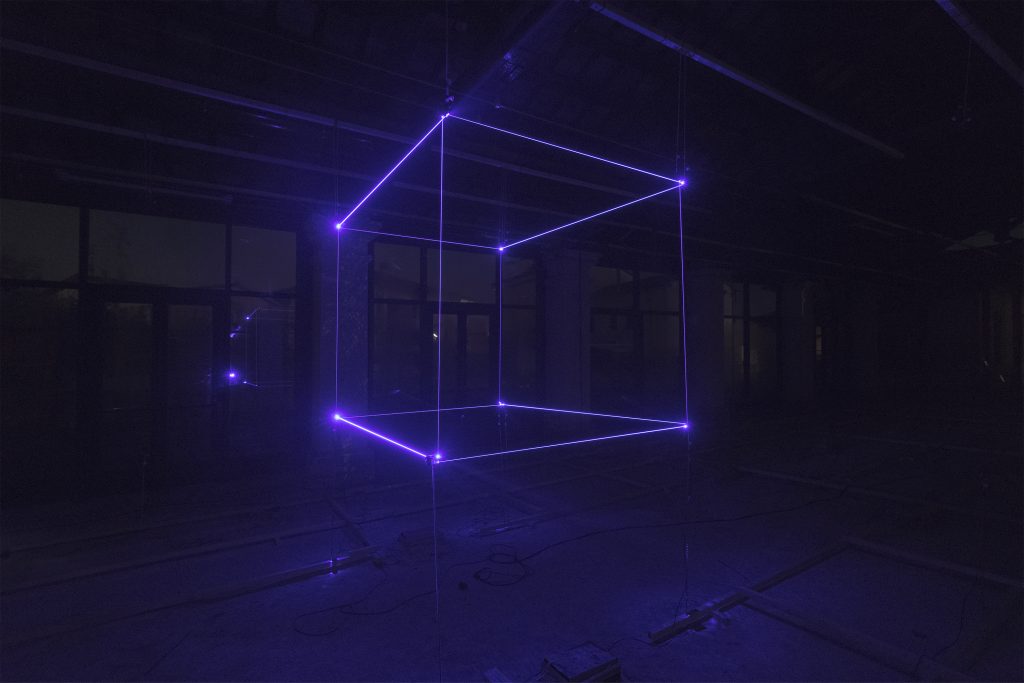 How did youend up focusing on lighting and using light as an artistic medium?
S: «We followed different routes. Alberto, who is 10 years older than me, studied industrial design at Politecnico di Milano and chose to specialise in Lighting Design, which was still in its infancy at the time. He then started to work at a lighting practice developing retail, hospitality and cultural asset projects as well as products. In 2010 he began designing lamp collections for several firms. I graduated in architecture because I wanted to acquire a robust technical know-how, but one of my professors discovered my artistic vein and gravitated me towards lighting design and installations. I subsequently took a master's degree in Lighting Design & LED Technology at Politecnico di Milano and worked with a lighting design studio for 3 years. I then decided to step beyond the traditional use of light and to start usin light as a primary design tool. I took a master's degree in Exhibition Design and worked for an architecture practice that specialized in light installations. When we met, Alberto and I decided to take a plunge and to move on to a different stage in our lives. Our shift from 'conventional' lighting design to what we do today did not happen immediately, though we had made up our minds».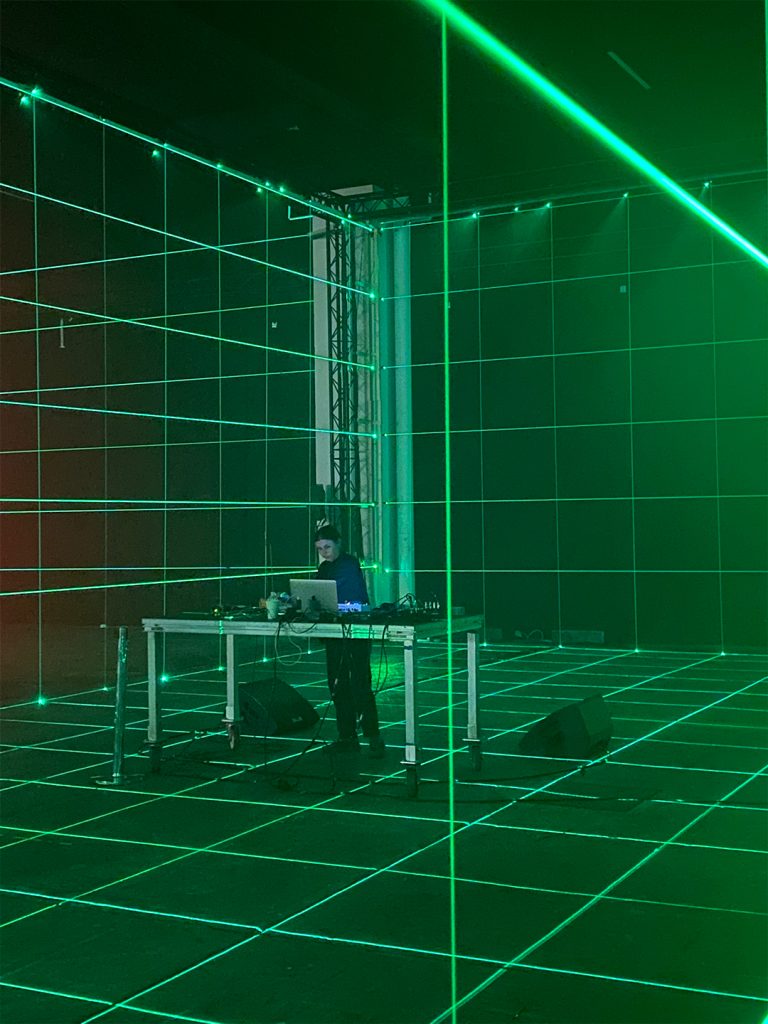 Colours, laser, geometries: how are your installations conceived?
«Our installations are very much inspired by the venue. They are site-specific, so our first impression and the venue's features play a key role. Usually, we are given carte blanche and details are refined at a later time. We have freedom to choose to do what we want with spaces – whether to undo, radically alter or complete them. Since we use components instead of ready-made devices in our work and we make our own circuits, we are able to contain material costs and to tailor our interventions. We personally cater to the installation – the most demanding step of a project».
What are your most satisfactory projects and why?
«It is difficult to choose… over the past two years we have been lucky enough to focus on several extremely interesting and diverse projects. Since we just work with artificial light (for the time being, at least), our foremost requirement is a totally dark space. Even emergency signage or indicator lights are disturbing elements. Our favourite is our installations at BDC in Parma. The reasons why we liked this venue so much are the nature of this space and the fact that we were totally trusted by our sponsors. We held our first personal exhibition there and we were totally supported, so the result was exactly what we wanted. Another project that worked very well, though a very simple one, was our installation for Zero's Hyperlocal festival in Milan. We like self-productions, it's where we have come from. When we work on a low budget, as usually happens with self-productions, and on a tight schedule, we try to use the existing equipment. This is even more mandatory if it is an outdoor space, where laser is very difficult to use. Hyperlocal was staged at the new headquarters of the municipal office building in the Milan Corvetto district, which is characterized by a highly rigorous and repetitive architecture featuring two specular towers at opposite corners of its inner courtyard. What we did was to just to put filters on the lamp bodies of the towers to obtain colour gradients ranging from red to amber. We do not like mixing too many colours and we like to devise gradients that echo the nuances of natural light. We prefer using filters rather than RGB sources because this way we can achieve more subtle nuances. For the Hyperlocal venue all we had to do was use our know-how, and leverage the properties of light, and leave it to the space to do the rest, using the architectural geometry of the space to diffuse the light».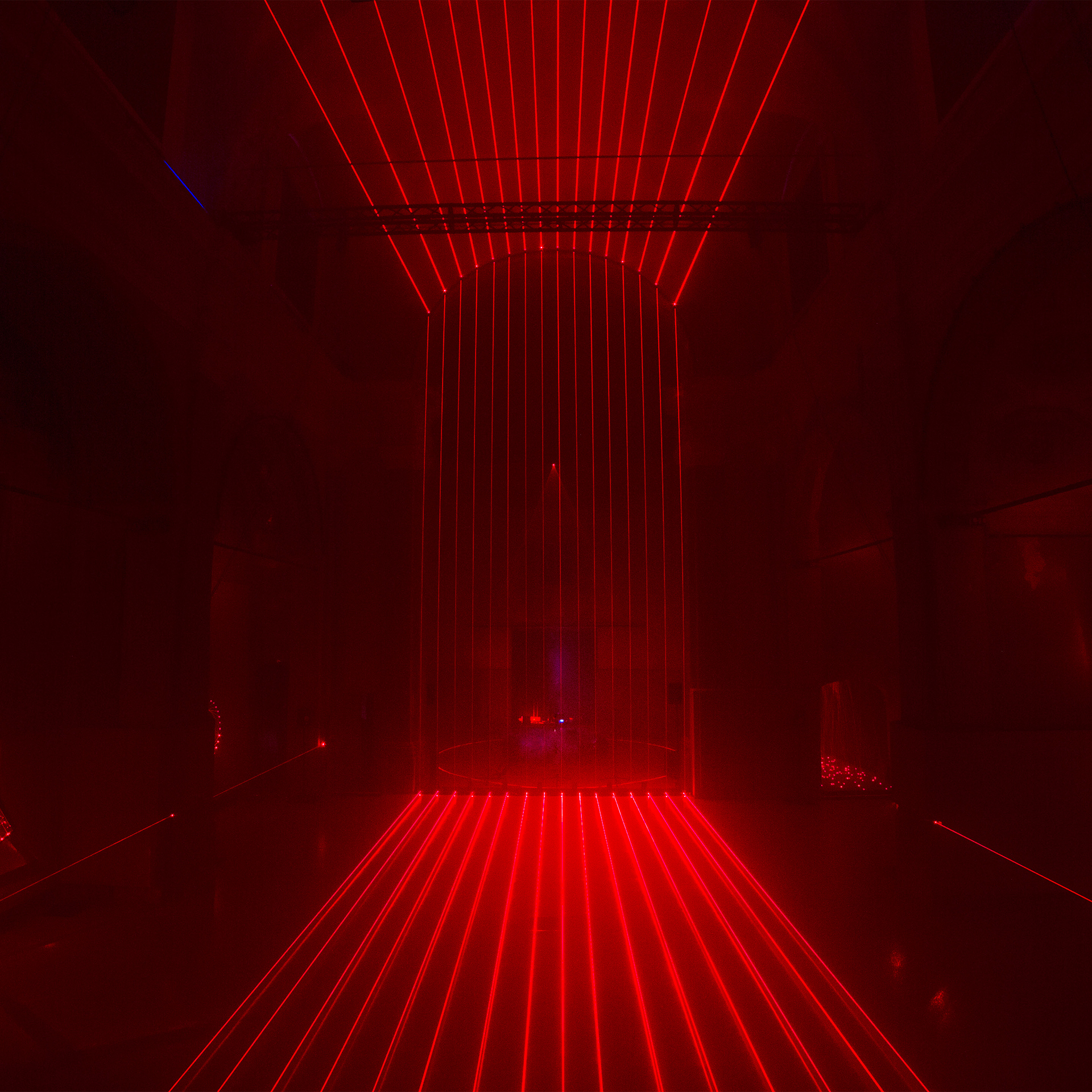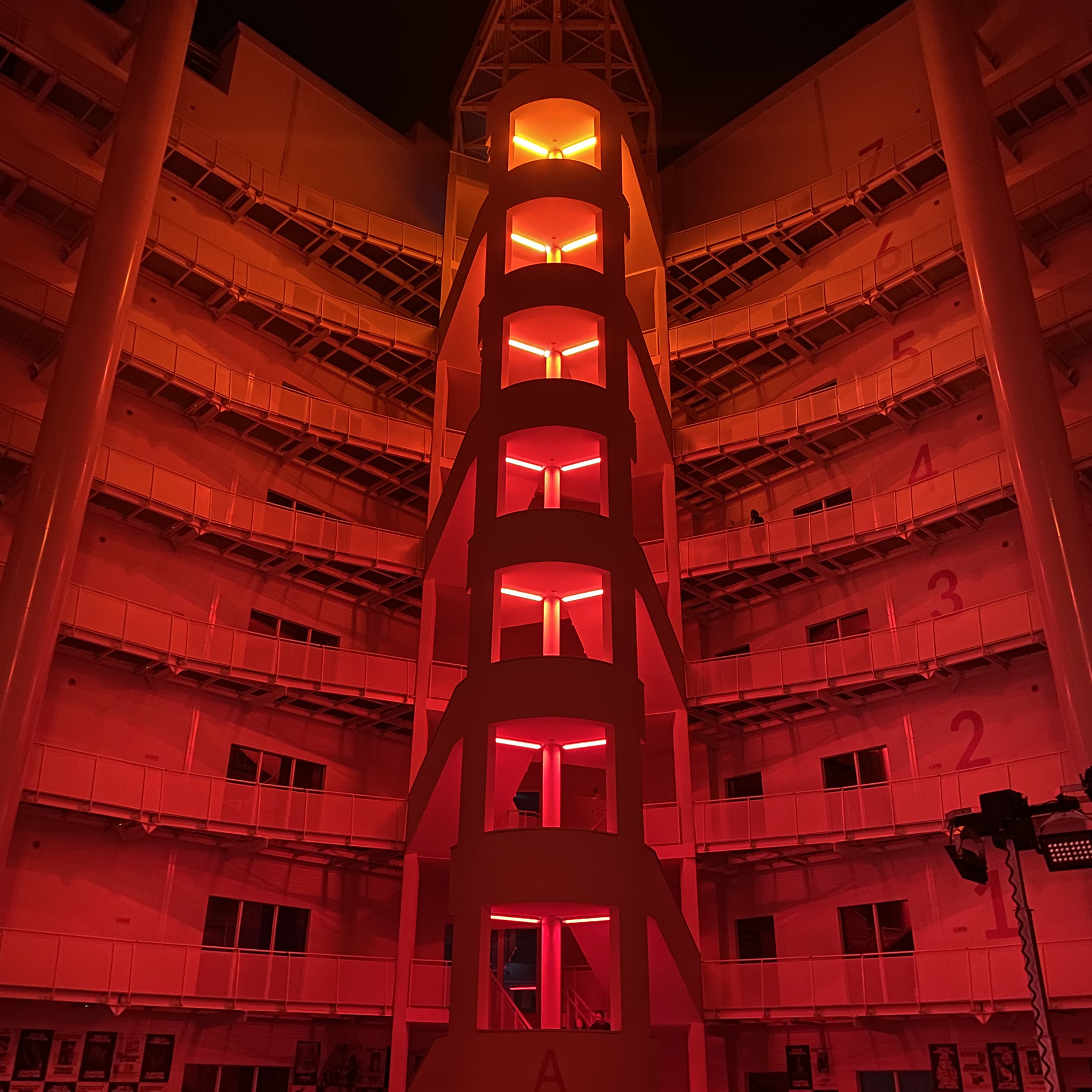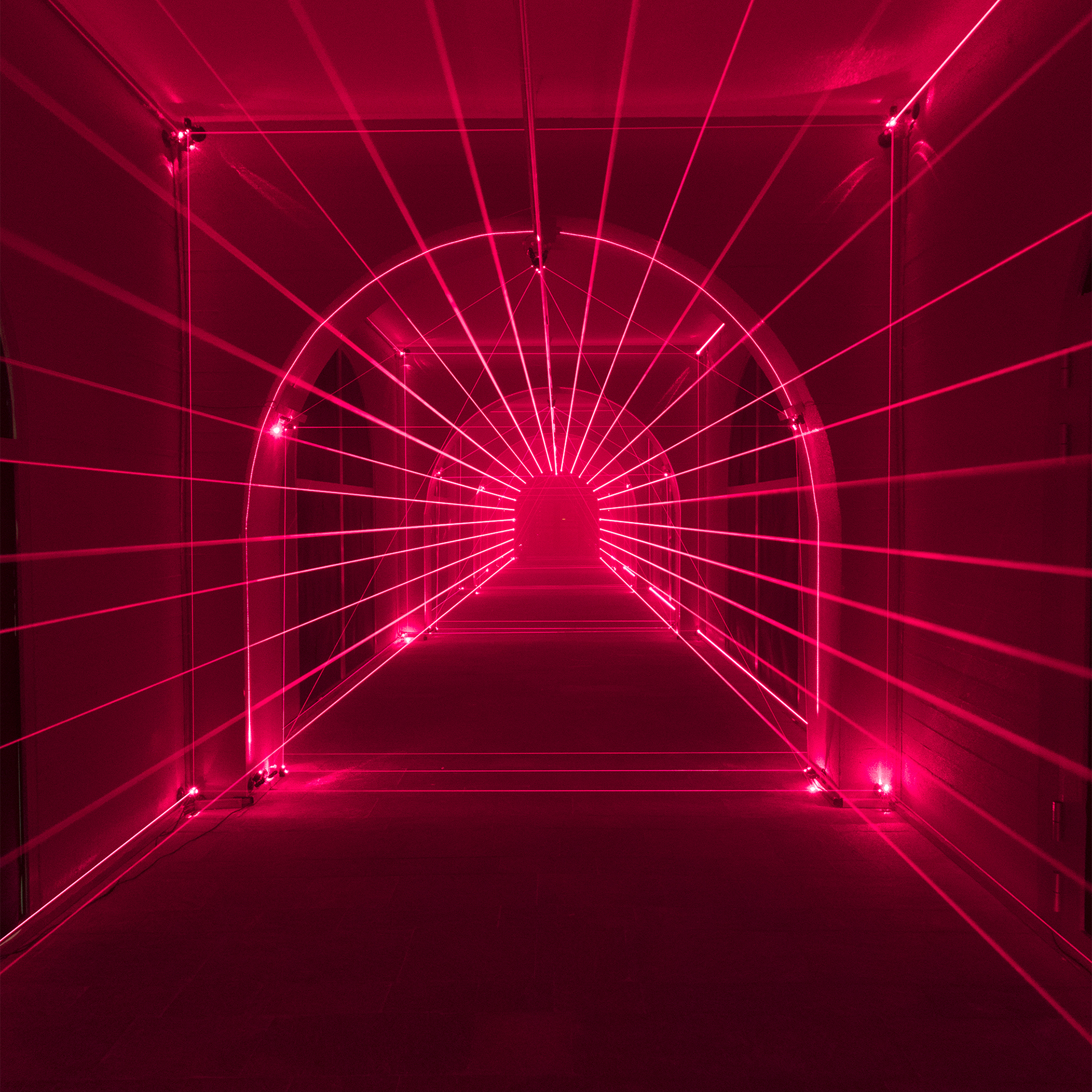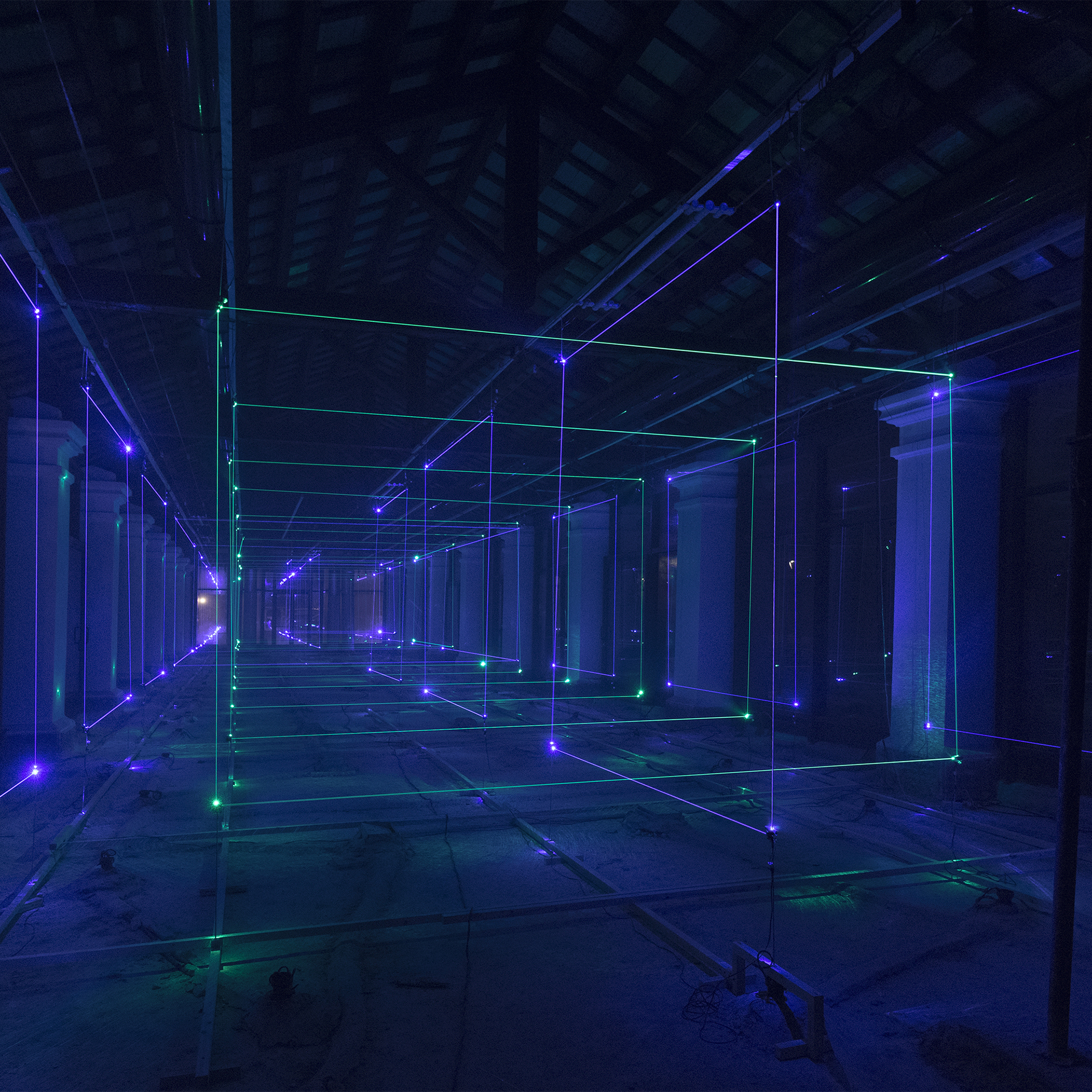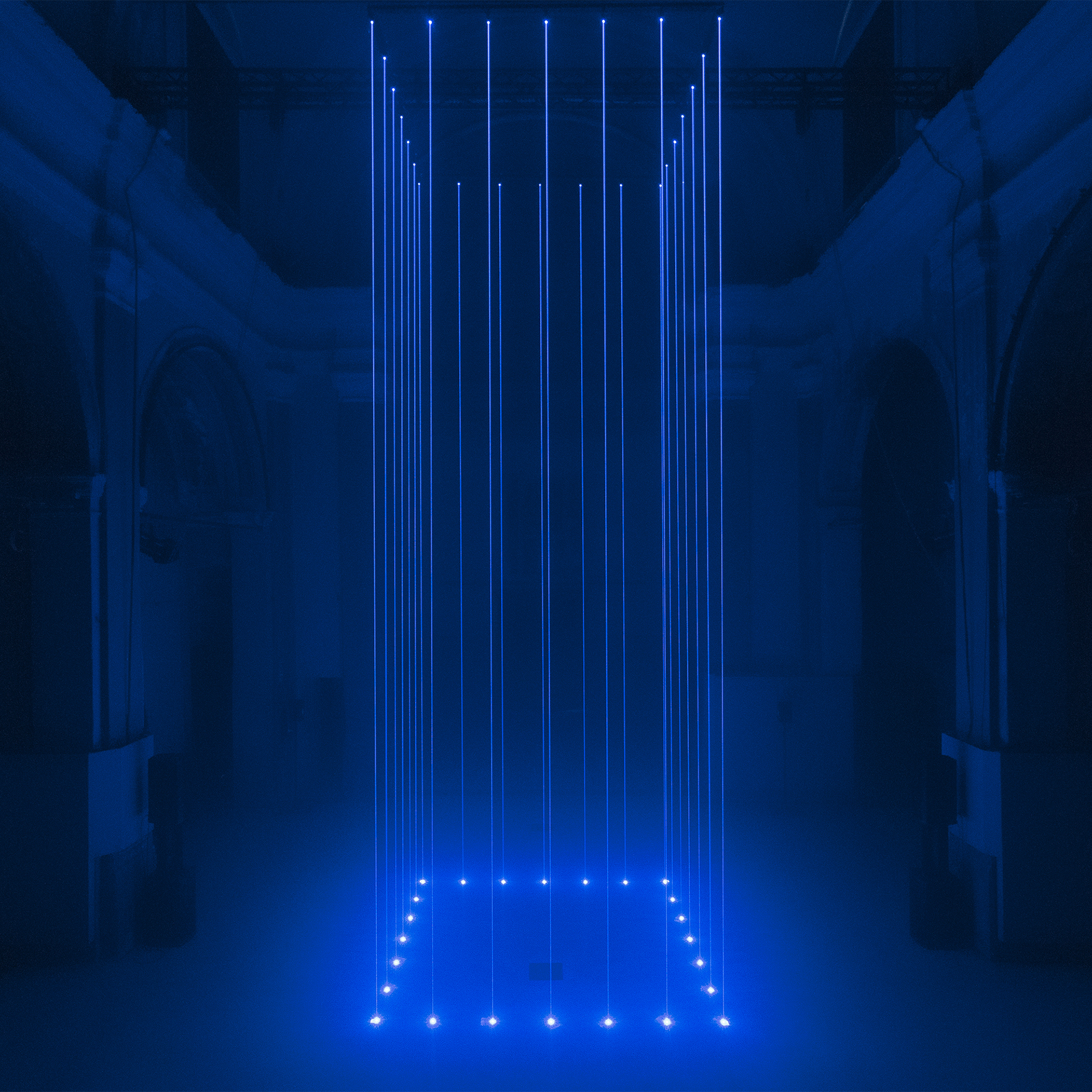 Stefania is also a DJ with the moniker Sister Effect. Is there a relationship between light and music, and how do you use it?
S: «Music is a passion I have had since childhood and it has always accompanied me. At 18 I began to explore the world of electronic music; I felt I needed to take an active approach, so I started mixing. I would have never imagined that work and my passion could come together, but this happened at the inauguration of our first personal exhibition for BDC in Parma – 444 linee. They said 'why not have music for the vernissage?'. Instead of having a djset, we asked sound artist Katatonic Silentio to create a live session that would blend sound and light together. The idea was to create a new ambience with its own rules and balance to immerse in with what was going on and to invade people both acoustically and visually. The experiment was a real hit and became an ongoing project that is still continuing today. When creating immersive spaces, a blend of sight and sound has a very powerful emotional impact. We want to generate a 'natural'-looking vision of sound that resonates at an architectural, environmental and emotional level».
What is your attitude to the relationship between art and technology?
«Even though our installations are both conceptual and aesthetic, they require robust technical expertise, which is an integral part of our work. We are a bit skeptical about using state-of-the-art technologies because in our view they should be used creatively and not merely implemented. Technology is a means to an end. By using just the portion or the application we need, we are able to obtain something that goes beyond the purpose of that technology. It takes more human 'work', but it's what gives warmth and personality to a project».