Work companions at the desk, mood lights tactically positioned on a sideboard in the living room, courtesy or reading lights on the bedside table: table lamps are among the most versatile lighting products, with which you can play by focusing on combining style and furnishings, maxi or mini sizes, almost infinite colors and shapes. It is not surprising that the market offers thousands of alternatives, different in shape, material and emission. There are models that have become real must-haves for design lovers, long sellers born in the middle of the last century and still appreciated by the public today, or breaking proposals that have become instant classics since the early 2000s.
The hat lamp was one of the first to appear in homes with the advent of electricity. Originally composed of a more or less elaborated base and a fabric lampshade, it has been reinvented dozens of times by the Masters of industrial design and by the new generation of creativity. Two models above all the others have marked the milestones of its evolution: Costanza by Luceplan, essential and unscrupulous like all of the 80s production, defined by a slender metal structure on which an interchangeable polycarbonate lampshade rests, sold in a flat package to be assembled in a few simple steps. Or Bourgie by Kartell, with a pleated lampshade and base with baroque volutes; transparent, colored or totally golden, is now produced with a new plastic material from renewable sources.
Ideas that break the mould
Irony was the basis of all the work of the Castiglioni brothers, who often took inspiration from common objects, transforming them into something else. It is perhaps by looking at the Doric columns that they created the support for Taccia, a very elegant table lamp erroneously labeled as postmodern, which has been in the Flos catalog for over 50 years. A more technical mood instead for the brilliant guy from Artemide, designed for the desk; its source can be fixed in different positions by adjusting the metal counterweight system which makes it a small tabletop engineering masterpiece.
There are objects that were born perfect and, right from the moment of conception, have touched the hearts of architects, interior decorators and ordinary people. Like the "mythical" Original 1227 by Anglepoise, with such an iconic silhouette that it has been revived as a character-symbol of a well-known film production company, the Uovo by FontanaArte, a curious cross between Murano craftsmanship, Art Deco and organic design, or the AJ by Arne Jacobsen with its unmistakable downward lampshade.
Here is our selection of the 10 table lamps that have marked the history of design.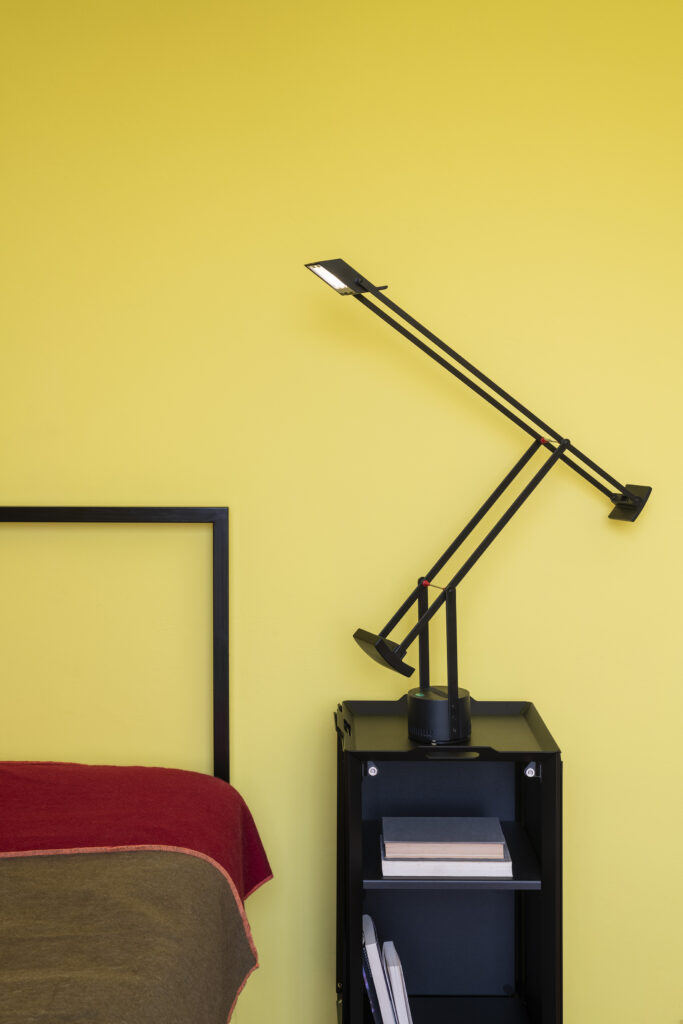 Designed by Richard Sapper for Artemide in 1972, Tizio is a small concentrate of engineering. Icon of hi-tech design, it is made up of metal parts joined by pressure without the use of screws, it has no visible electric cables because it is the structure itself that conducts the current. Ideal for working at a desk, it can be fixed in different positions thanks to a system of counterweights. Always proposed in black and white, it was edited in bright red for its 50th anniversary. Ernesto Gismondi, founder of Artemide, declared: «When we presented it, there was nothing like it on the market, it was revolutionary. Tizio is beautiful in any position, it is a harmonious object in all of its parts, it moves with just one hand and is always extremely precise. It's not that we don't change anything over the years because we can't, we don't change anything because that's the way it is».
The light diffused by Taccia by Flos is delicate and indirect, one of the most elegant table lamps whose graphic line is always up-to-date. Conceived by Achille and Pier Giacomo Castiglioni, it is composed of a grooved aluminum body that recalls Doric columns, supporting white reflector that's glossy on the outside and opaque on the inside, enclosed by an adjustable blown glass diffuser. Achille Castiglioni joked about Taccia in 1987 as follows: «This is an interesting lamp for its history, and because some people today mistake it for a post-modern object. This amuses us a lot, because it's from 1962 and my brother and I had no intention of making a post-modern lamp».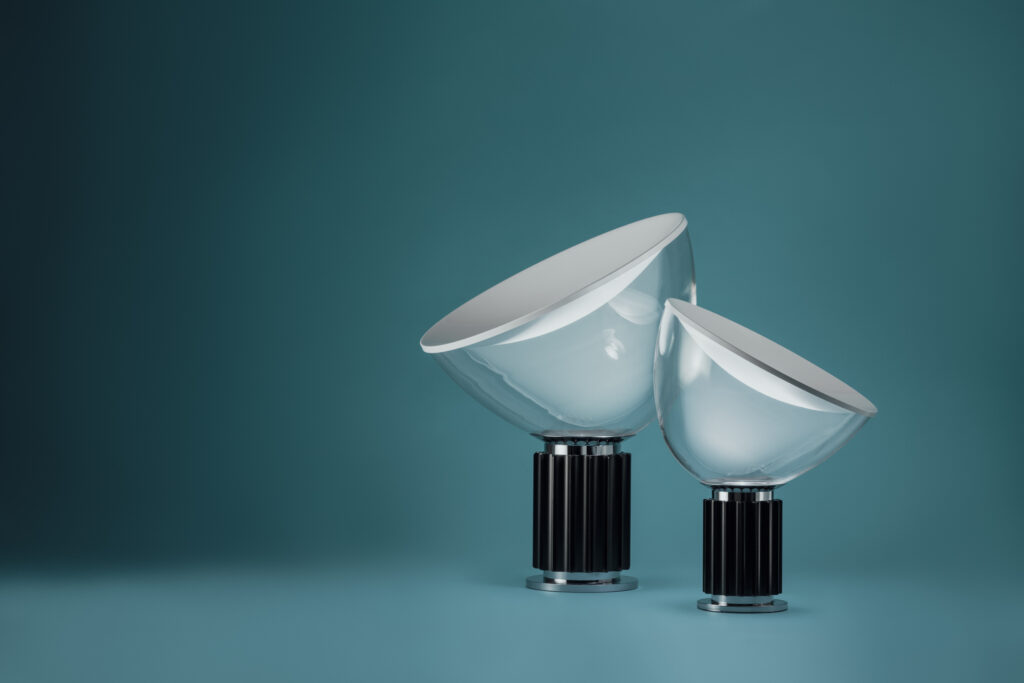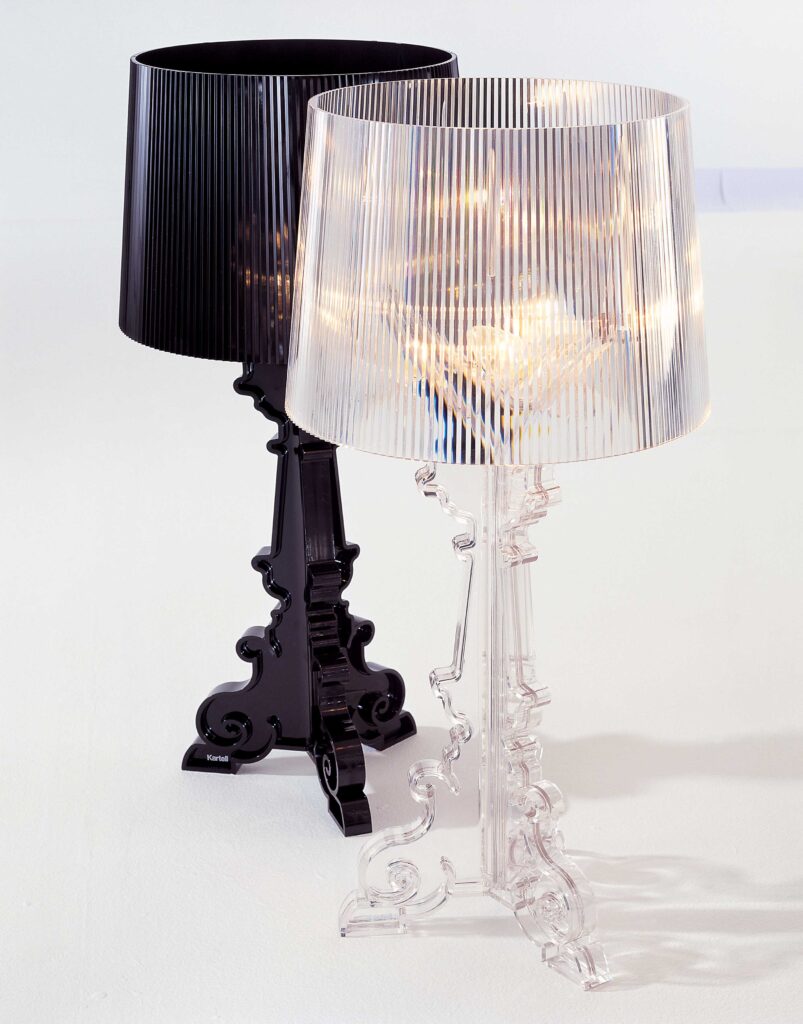 Ferruccio Laviani has played with classic concepts when creating Bourge by Kartell, a lamp with a hat made in rich shapes and with a technological heart. The baroque base is made up of intertwined volutes and holds a pleated lampshade that can be fixed at three different heights. Compared to the original 2004 version in methacrylate, Bourgie is now produced in polycarbonate 2.0, created by synthesizing a renewable raw material derived from the cellulose and paper industry. In the catalog there are the famous transparent versions, but also metallic or batch-dyed variants.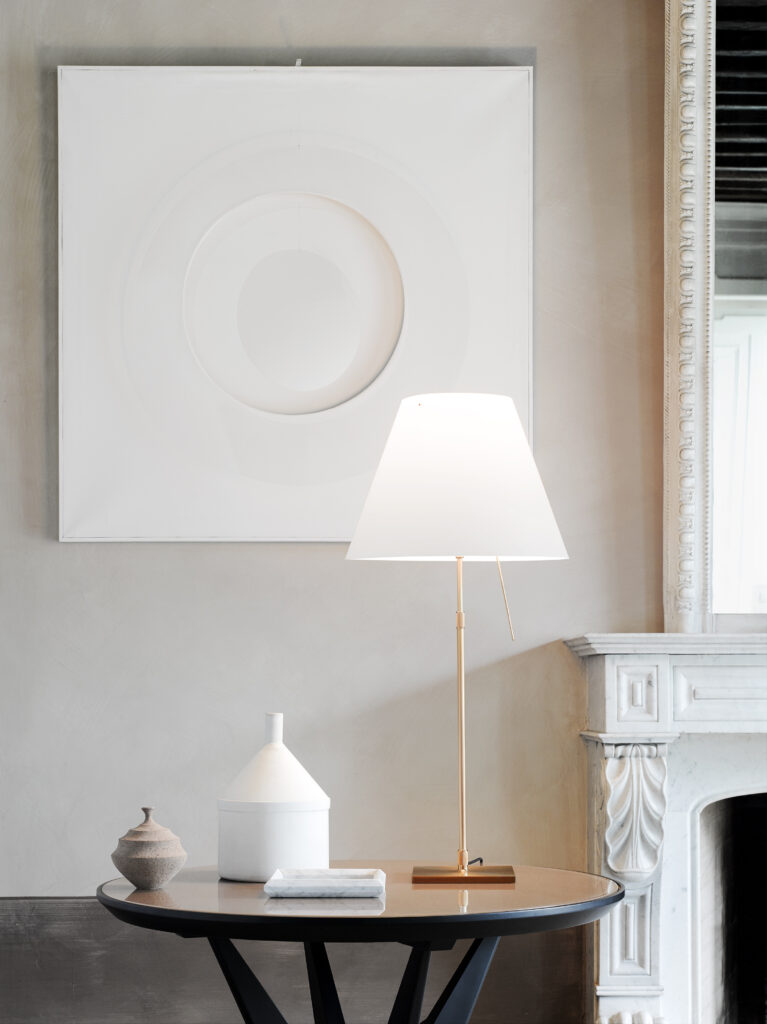 Another example of a reinterpretation of the classic, Costanza by Luceplan focuses entirely on an essential and archetypal form. Born from the mind of Paolo Rizzatto in 1986 and never gone out of production since, it has also been declined in its floor and mini versions. Its metal structure, available in steel or brass colour, is complemented by a white or colored polycarbonate lampshade. The lamp turns on by touching a rod sensory dimmer which allows you to switch between four different light intensities.
5. Original 1227 - Anglepoise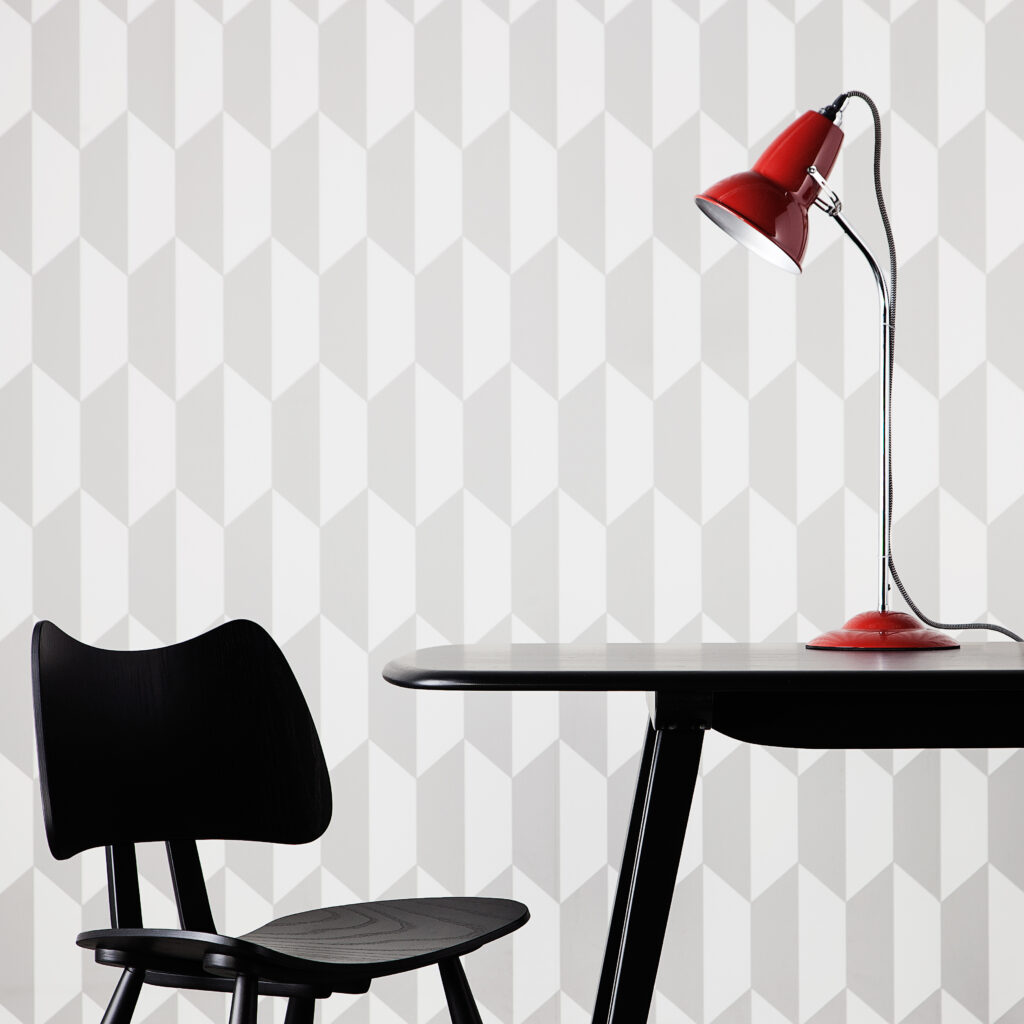 The lamp hopping over the Pixar logo, the famous film production company, is very similar to the Original 1227 by Anglepoise, the quintessential desk lamp. Launched in 1935, it strikes through the heart thanks to its vaguely anthropomorphic shape of its painted metal structure with contrasting chrome fittings and a cast iron base that acts as a counterweight.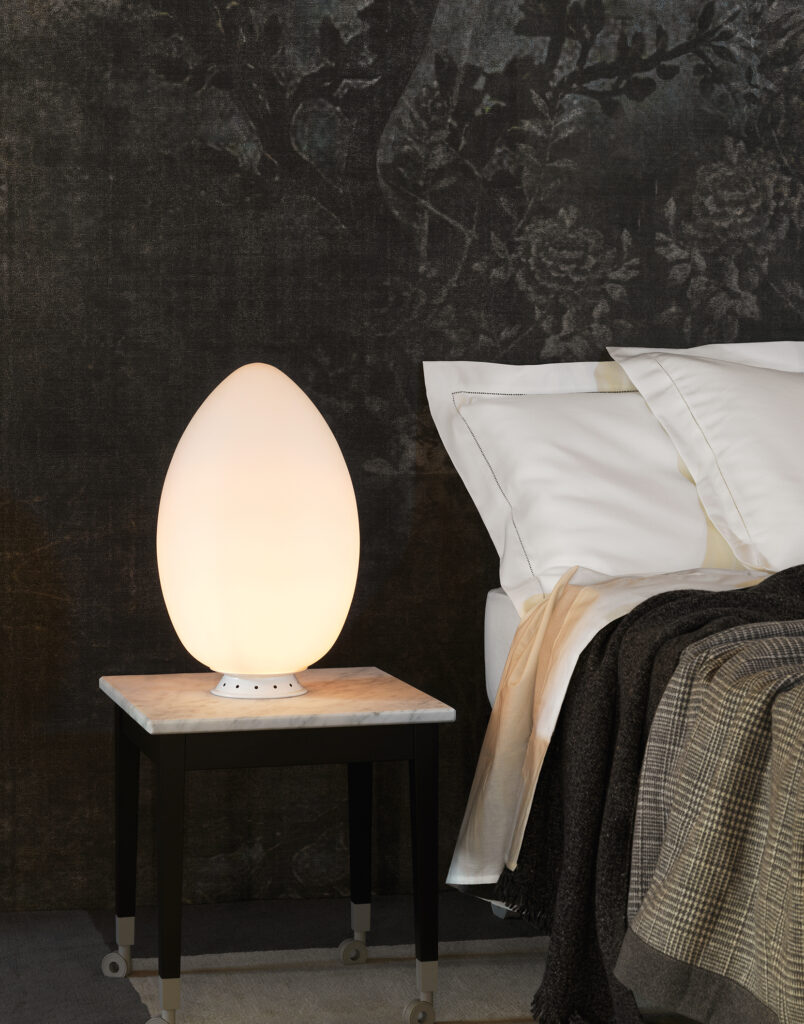 An Egg, both in name and in form, is the shape that Ben Swildens thought up for his lamp produced since 1972 by FontanaArte. Always a symbol of perfection, as it is the union of symmetry and asymmetry, the Egg is a thin shell in satin blown glass with a Deco touch. Declined in three dimensions, it can be a small service lamp or an essential domestic sculpture.
The Signal SI333 desk lamp by Jiedé recalls library lamps. Designed to be functional and simple to use, it is still produced today in Lyon following the original designs. A small metal switch on the base turns the light source on and off, which can be positioned at different heights by moving the two metal arms.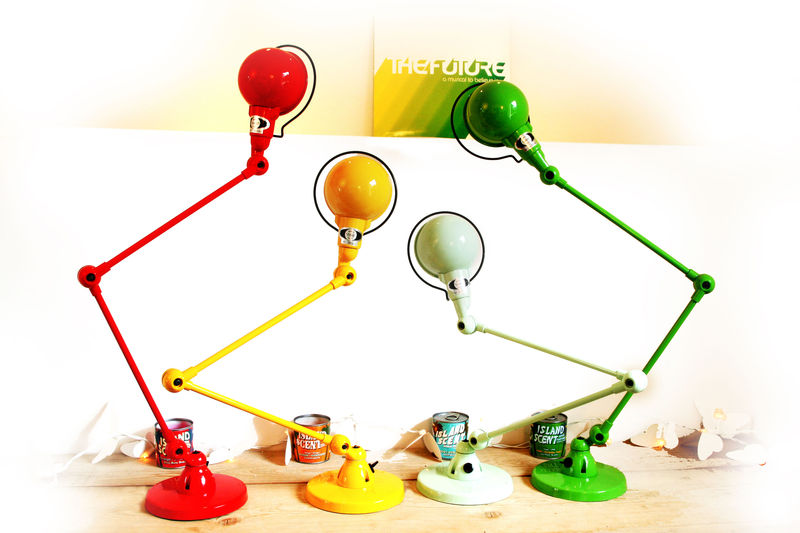 8. Cobra - Martinelli Luce
Its Sixties allure betrays the age of Cobra, produced by Martinelli Luce since 1968. Characterized by a simple line and a geometric shape inscribed in a sphere, with the rotation on a central joint of the arm the reflector assumes a position that recalls the head of a snake ready to shoot. The lamp is formed by two resin bodies, and was one of the first lighting fixtures in products with a particular molding system. Available in white, black or red.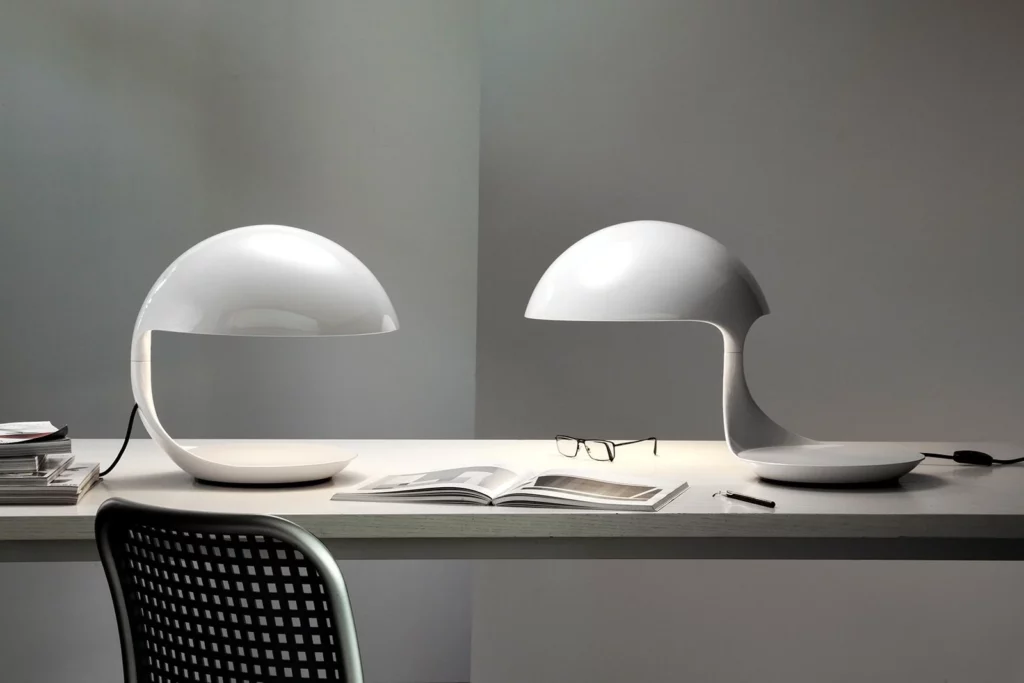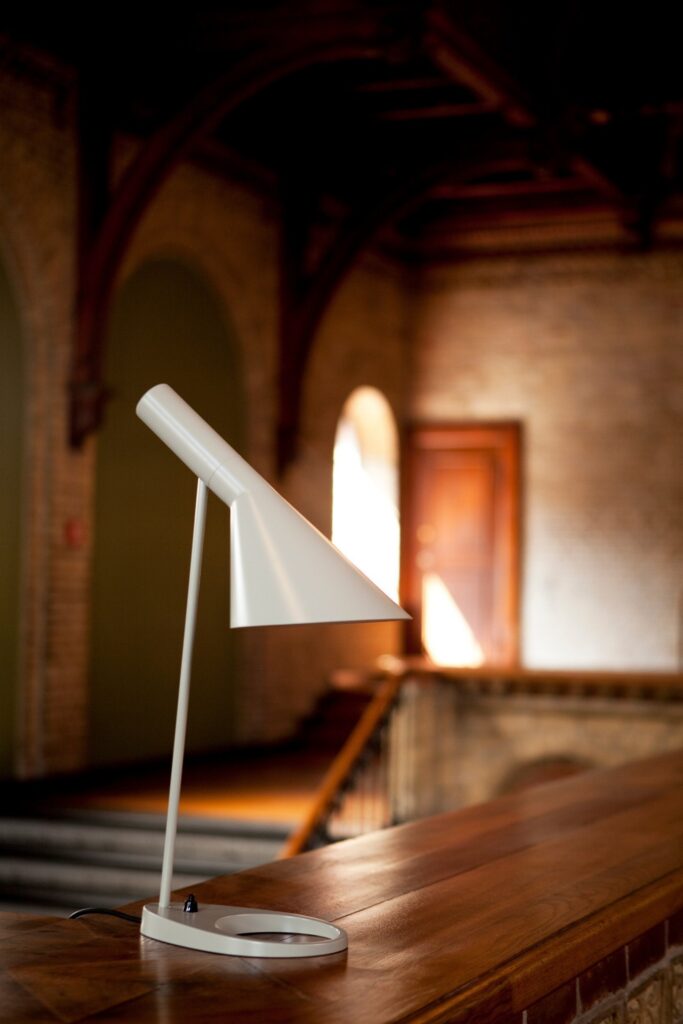 The very famous AJ by Arne Jacobsen comes from the North, produced by Louis Poulsen since 1957, when it was created for the SAS Royal Hotel in Copenhagen (Radisson Collection). Small, compact and slightly asymmetrical, it emits a downward directed light and the angle of the shade can be adjusted to optimize its beam distribution. The screen is painted white on the inside to ensure a soft and comfortable light, while the body and the lampshade are available in dozens of colours.
Like the astronomical event from which it takes its name, Eclisse allows the light source to be partially obscured thanks to two metal caps that slide one inside the other. Designed by Vico Magistretti in 1965 and awarded the Compasso d'Oro two years later, it is inspired by the blind lanterns of miners; it seems that the Milanese Master made his first sketch on a subway ticket while on the train. The curiosity that not everyone knows is that this table lamp can also be mounted on the wall.