When lighting a home, there are areas that tend to be underestimated and end up being underlit, overlit or having too much contrast. A professional redesign of lighting, however, can improve the look of the entire house, both aesthetically and functionally. Let's have a look at these areas and how they can be highlighted by rethinking their lighting.
The mirror light should be built into the design of the bathroom. A vanity mirror with a led strip that runs around it suits a minimal and contemporary style and gives the mirror a nice floating effect, while sophisticated sconce lighting – maybe with wrought iron arms and trimmings as in Officina Ciani's Ambra – creates a romantic and retro mood. Take for example the clean lines of the bathroom of the first photo in the following carousel (Design Folders), LED lights have been used to frame the mirror but also for ambient lighting, to achieve a minimal look without the eyesore of wires and to avoid the encumbrance of spotlights and ceiling lamps.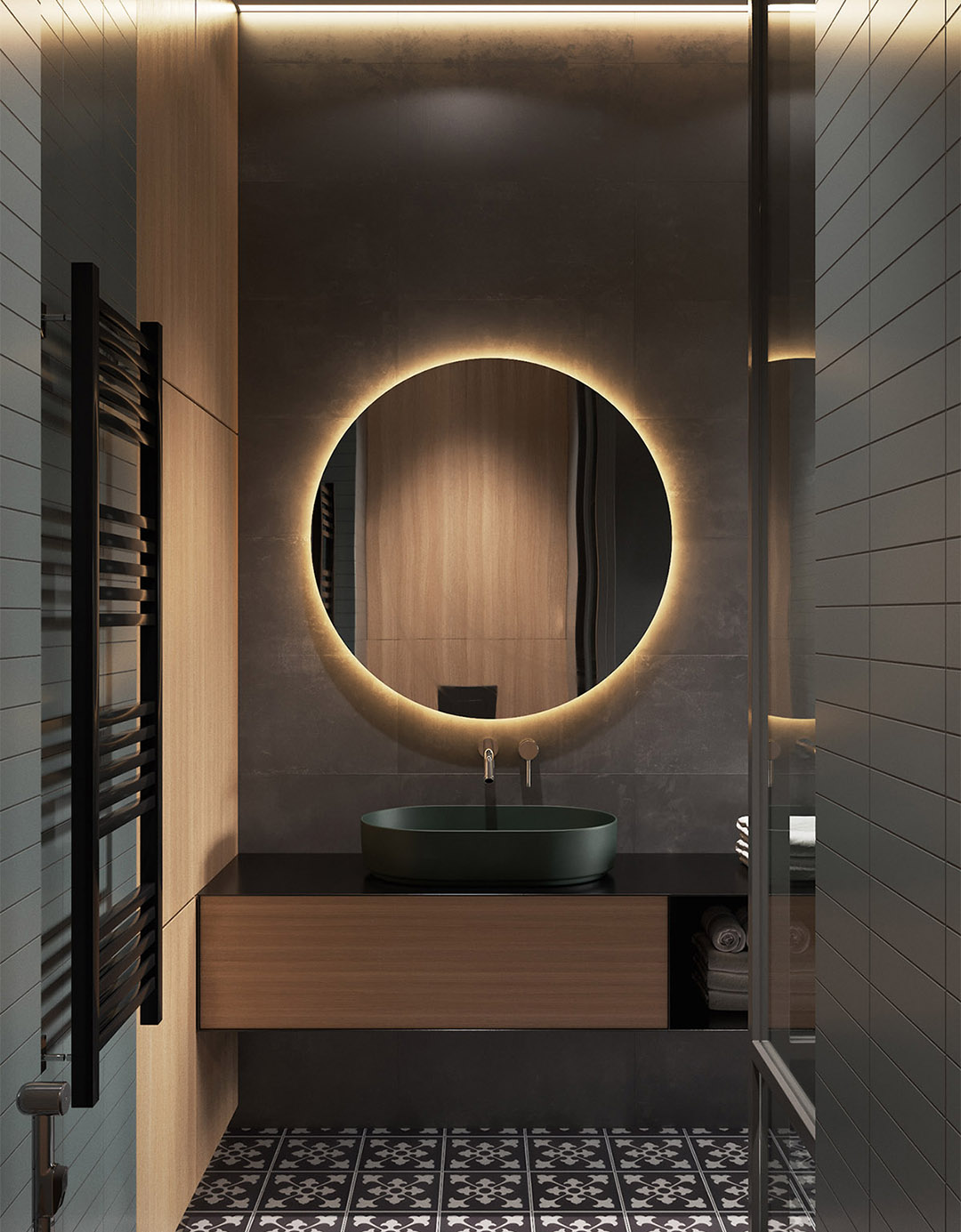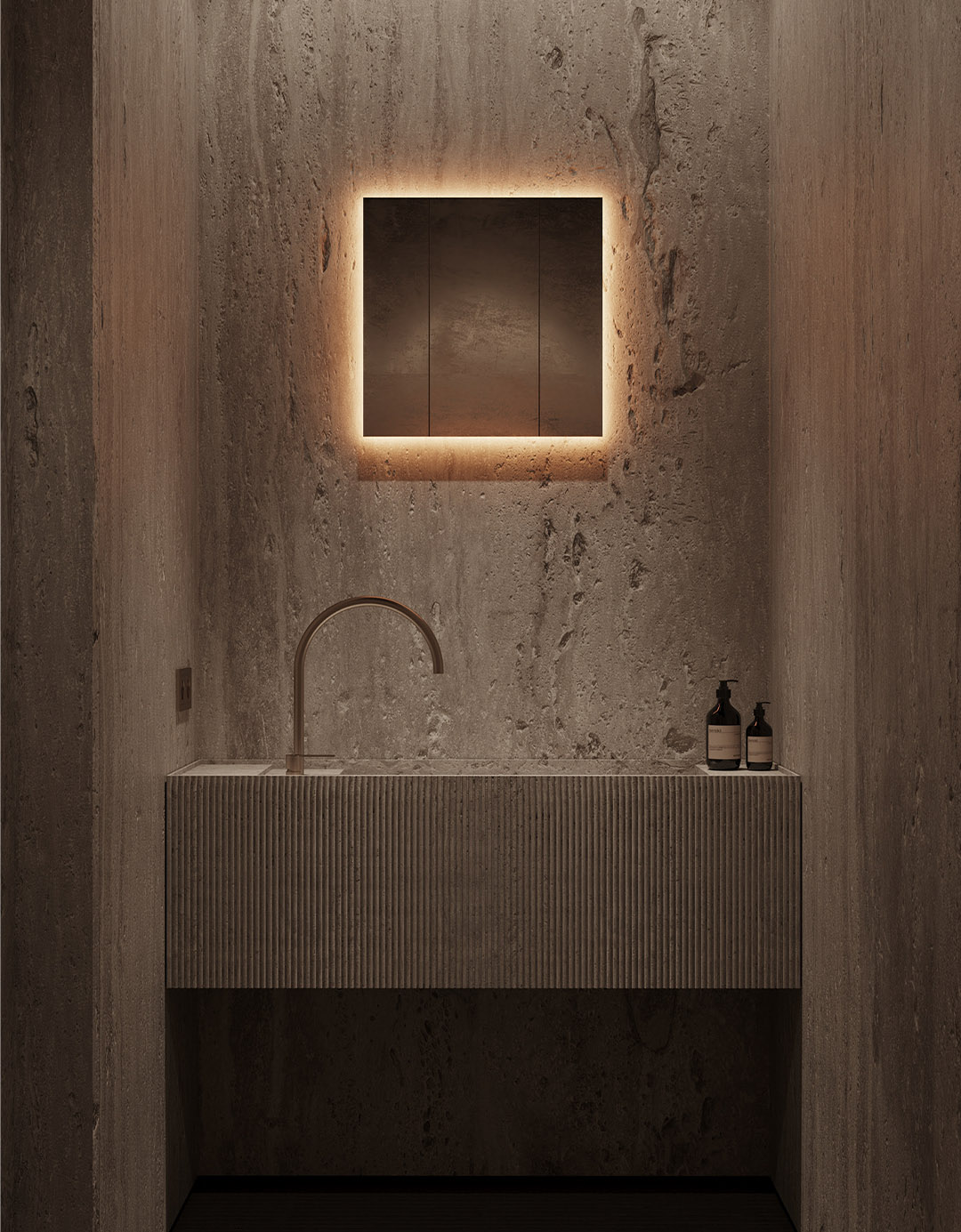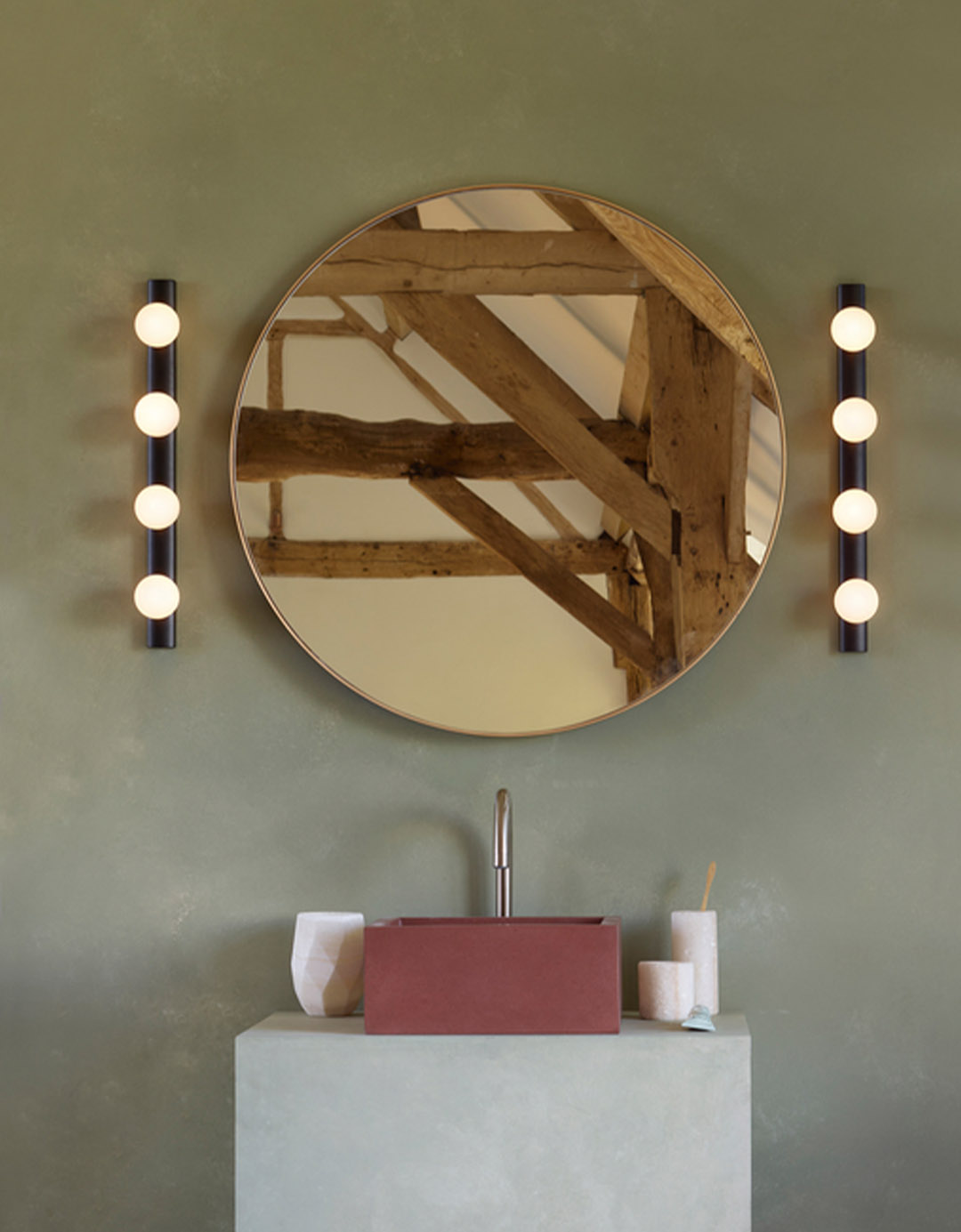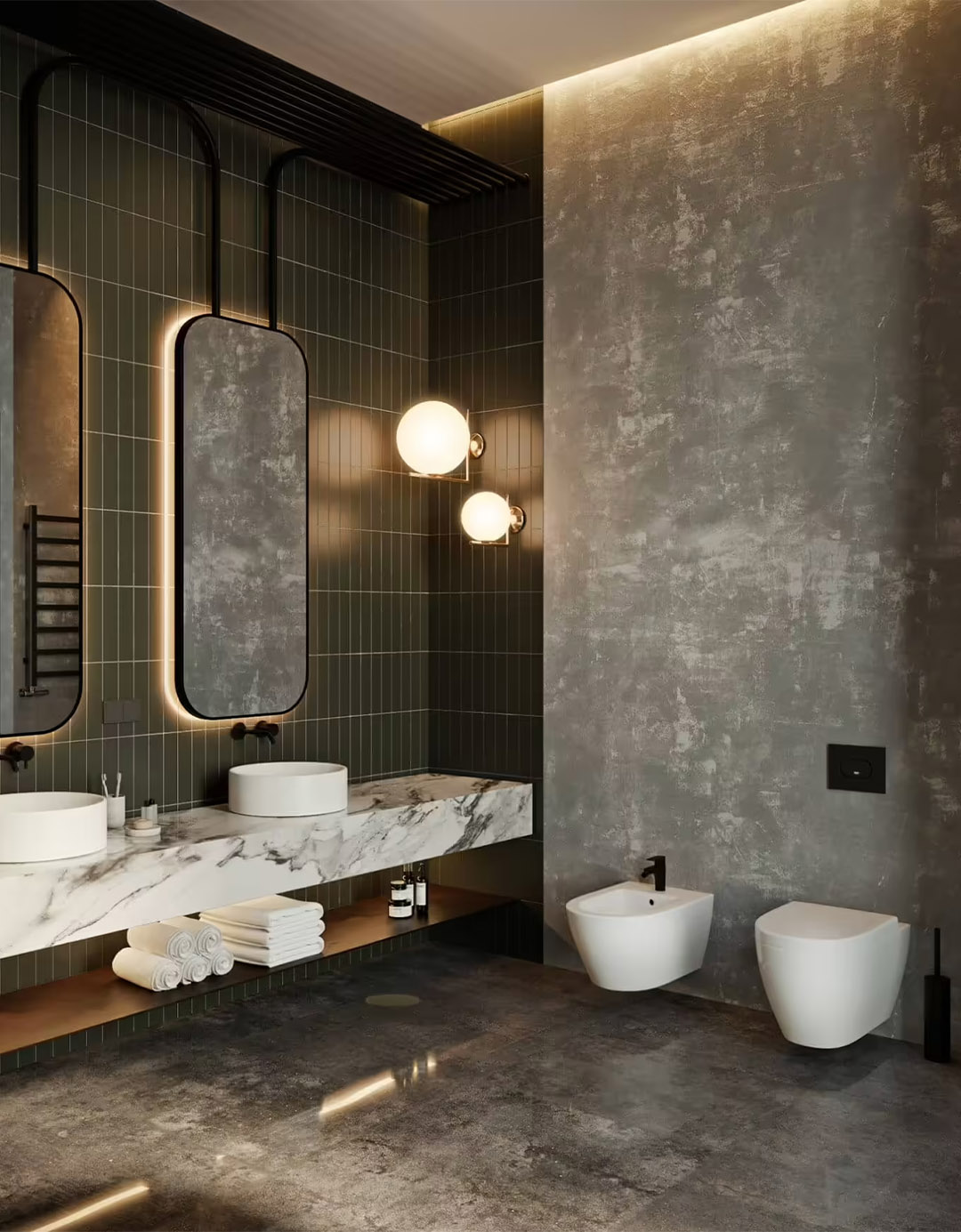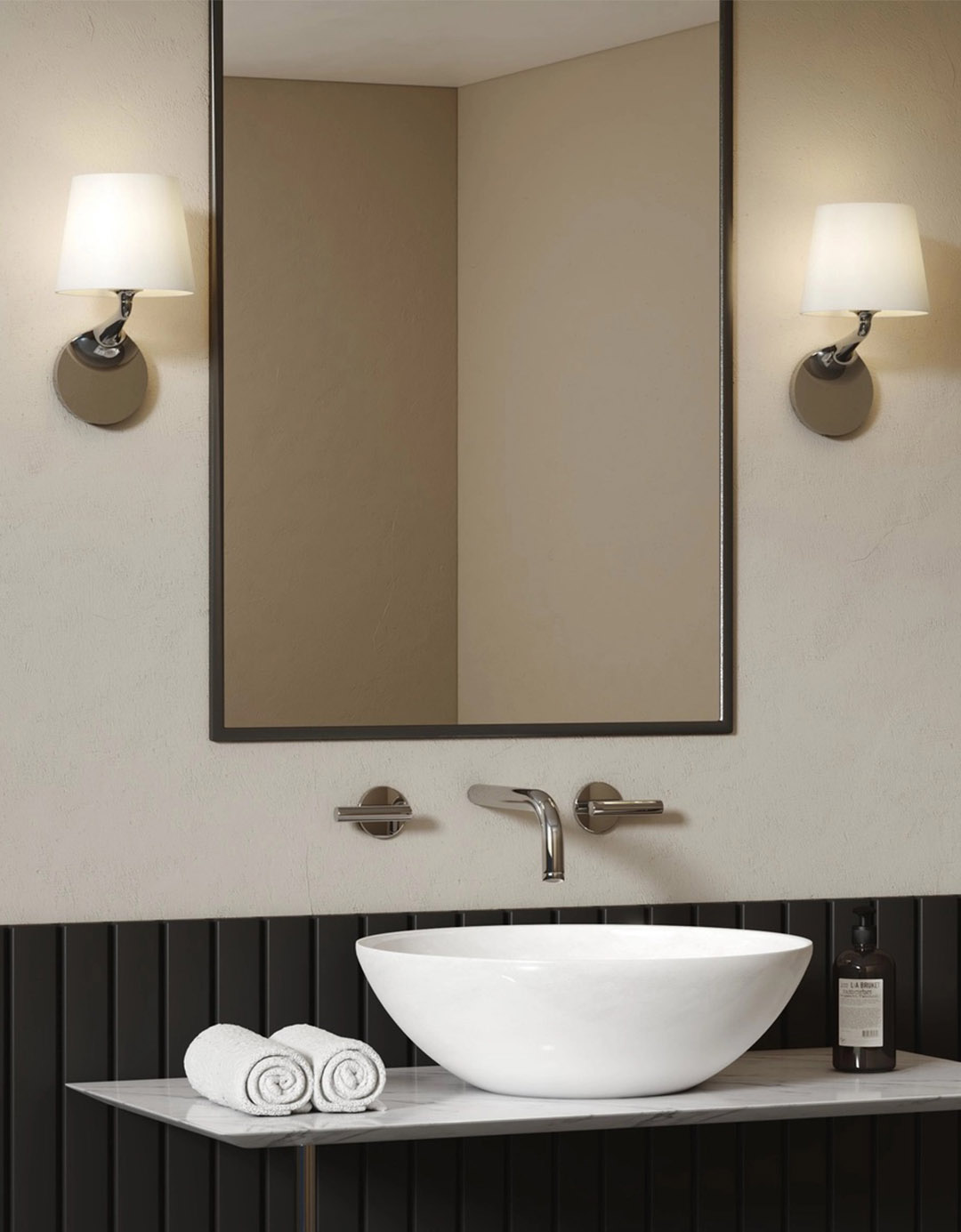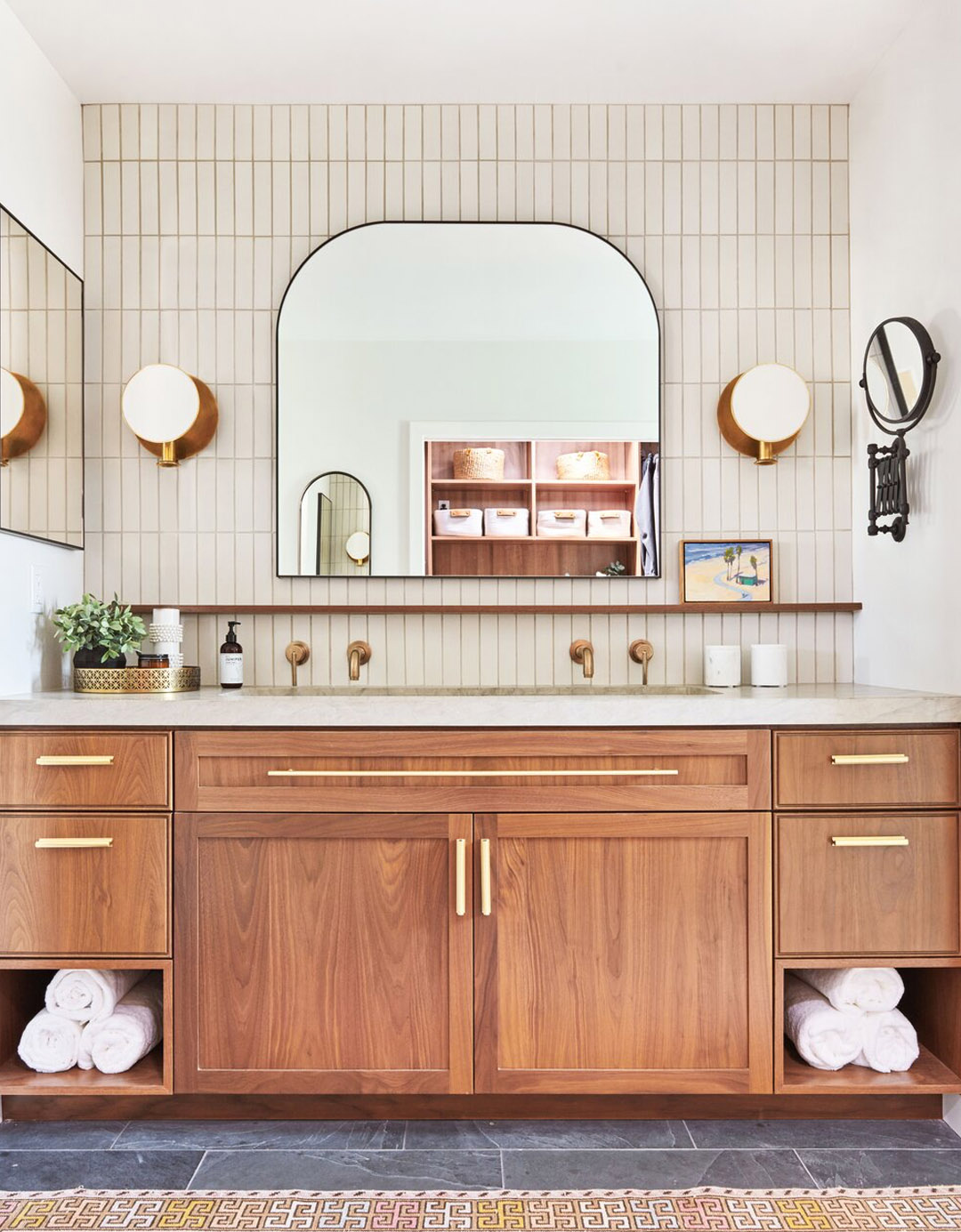 LED lights are also particularly suitable when the wall behind the mirror has an interesting texture that is worth highlighting, as in the second picture in the carousel (Ivan Stoyka): the concrete effect wall is accented by the soft grazing light. Given the location, a waterproof IP65-rated LED strip is highly recommended. Better still, if it has an RGB feature its colour can be changed according to day and night time.
Another option is fitting a single light fixture above the mirror, taking care to place it at least 10 centimetres above head height. It should preferably be a horizontal light, such as LUXXU's Waterfall Technical. When choosing an exposed light fixture, a suitable IP rating should be carefully considered to ensure protection against water splashes. Other important factors to be considered are the light source's CRI value, which measures the ability of a light source to produce an accurate colour rendering of objects – less than 80 is not recommended – and colour temperature. A neutral white light has a colour temperature ranging between 3000 and 4000K.
However, the overall design of a bathroom is not the only factor to be considered. Incorrectly placed vanity lights cast shadows that hinder personal grooming tasks such as shaving or putting make-up on, and this should also be taken into account. Ideally, vanity lights should be positioned symmetrically, with light coming from the front and also from the sides. 
This explains why professional environments such as dressing rooms use rectangular mirrors surrounded by lights, which ensure distribution of light and reflect it  from all directions. Why not to adopt this style in the house? For those who prefer a more sober style, there is a wide choice of options; one is Cantoni's Unica mirrors, with lights all around it, and another is Salvatori's Mirari mirrors, with LED lighting along the rim.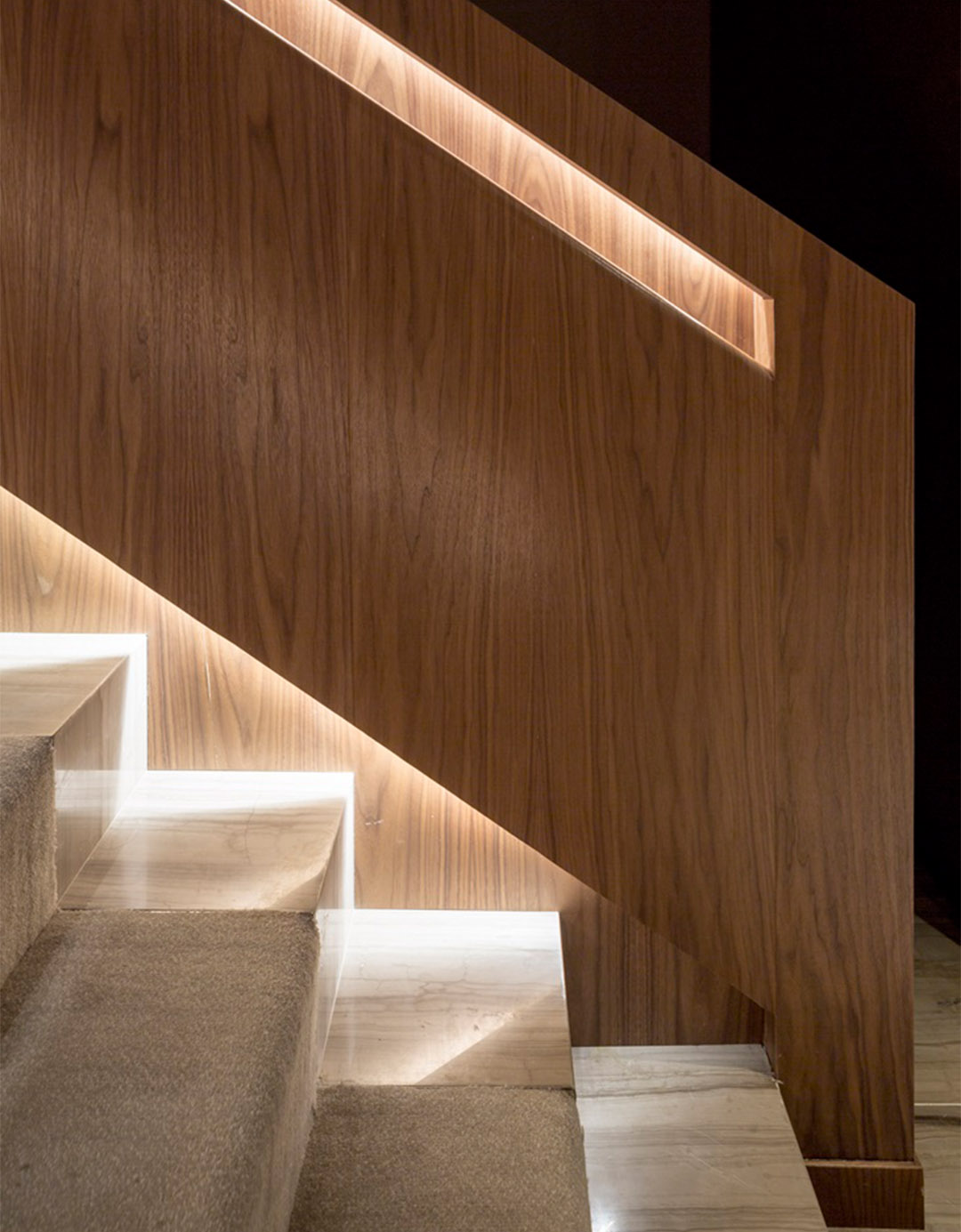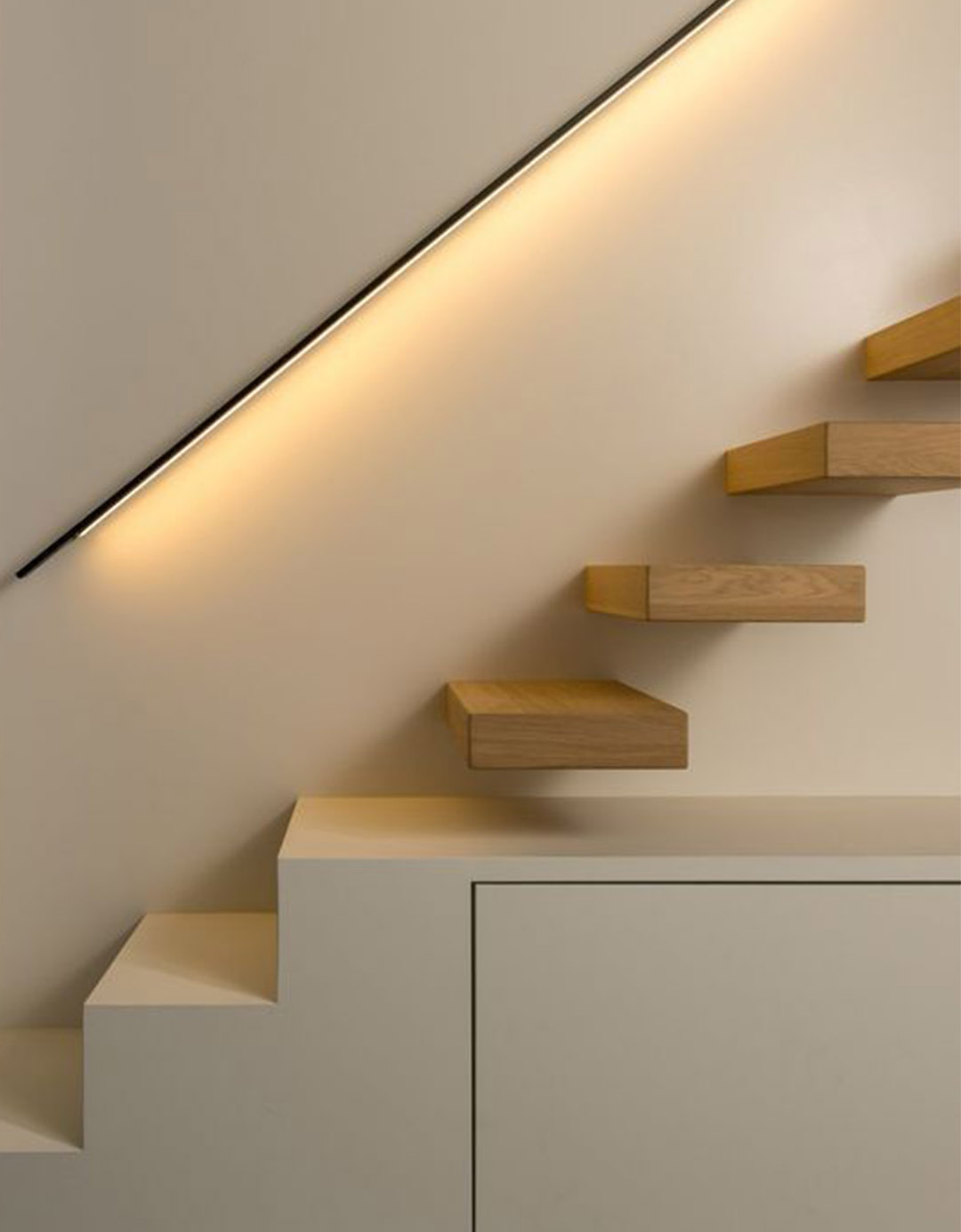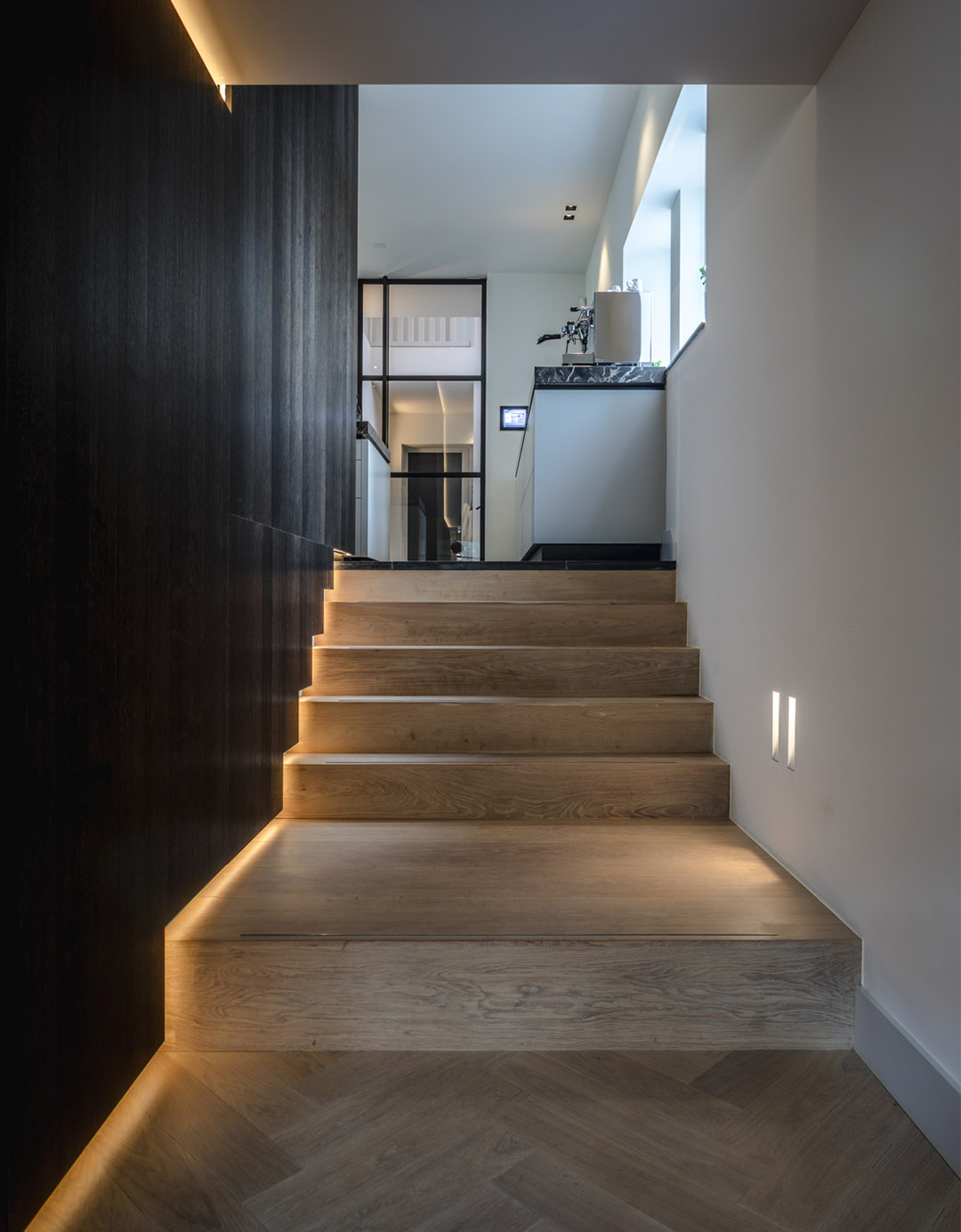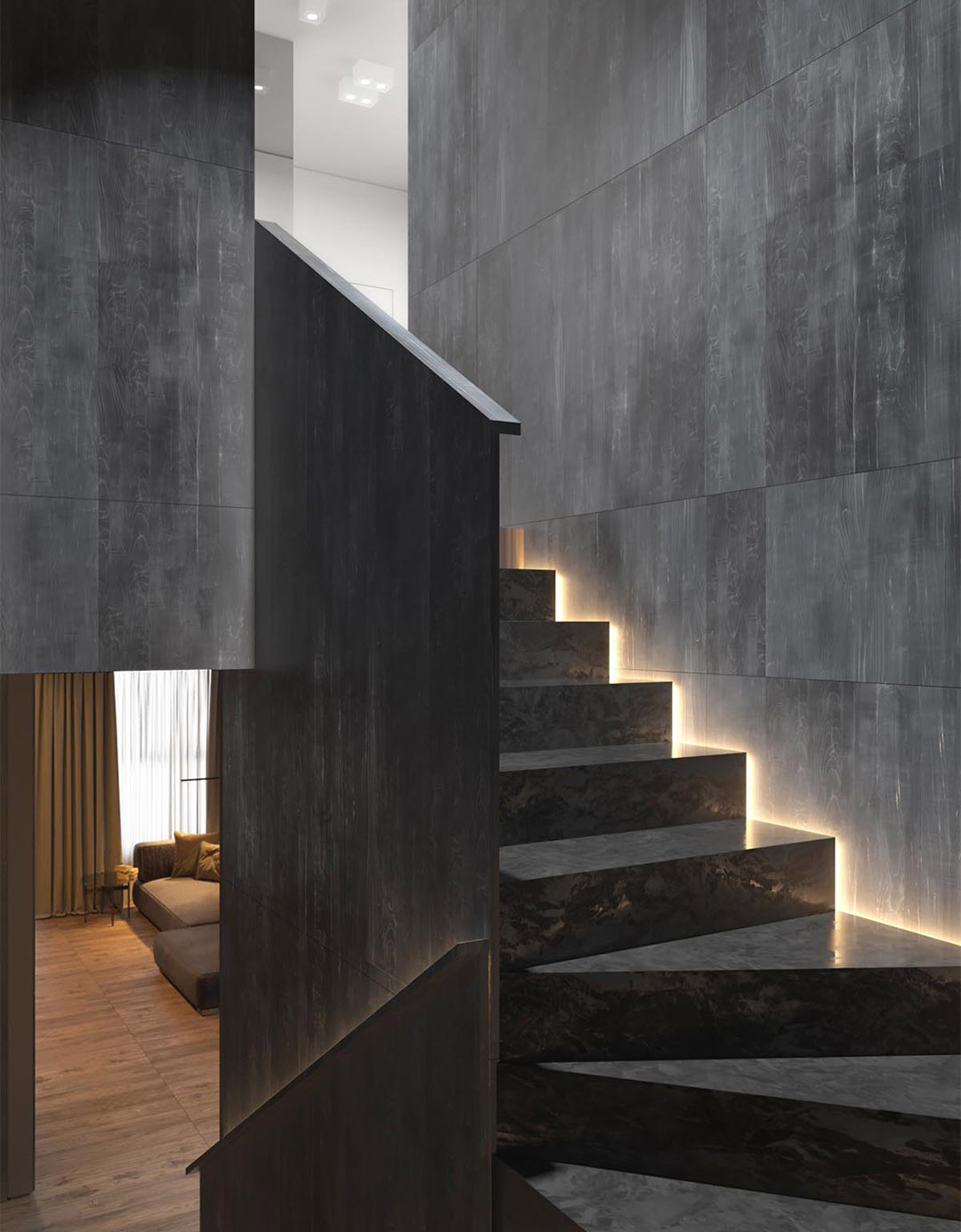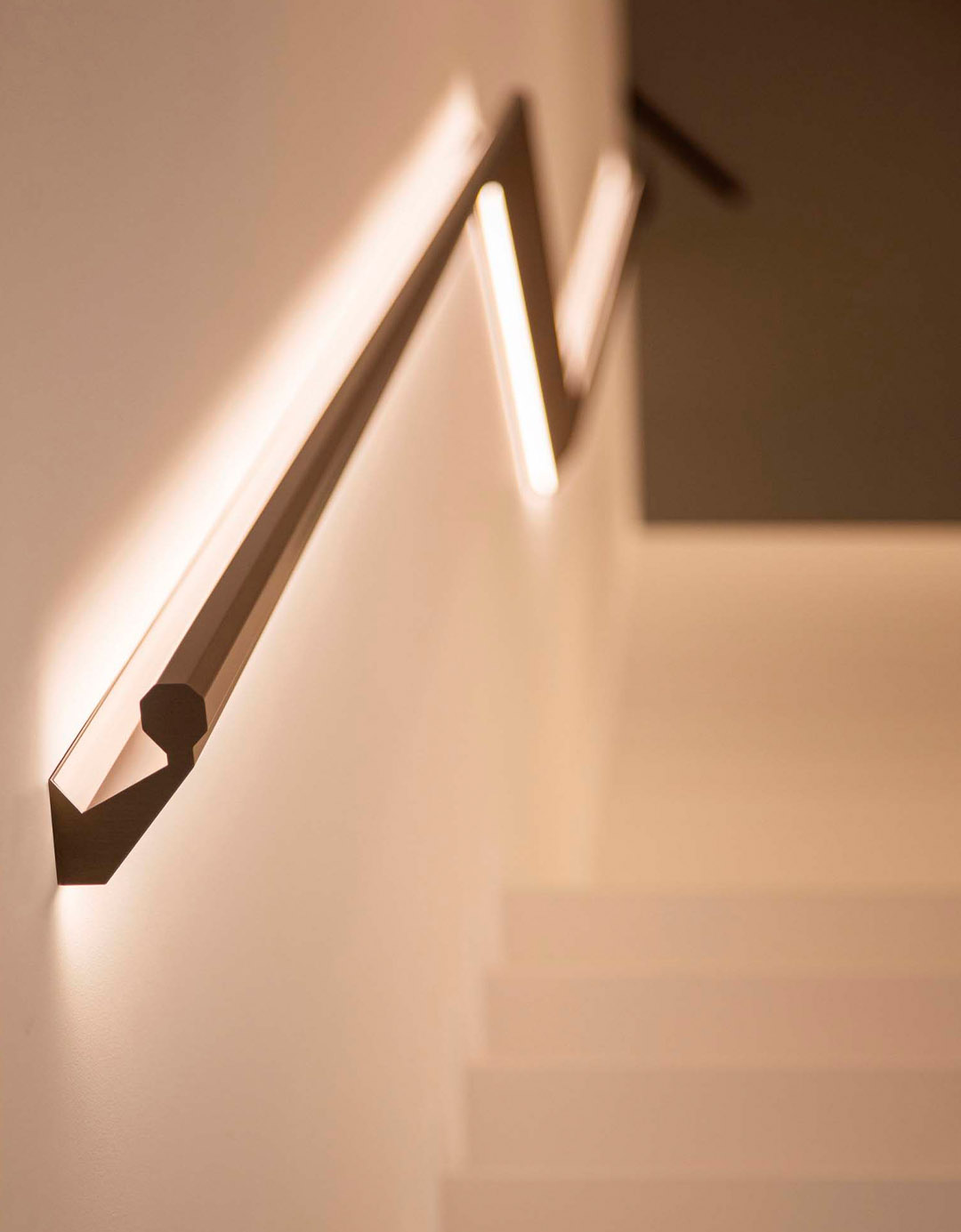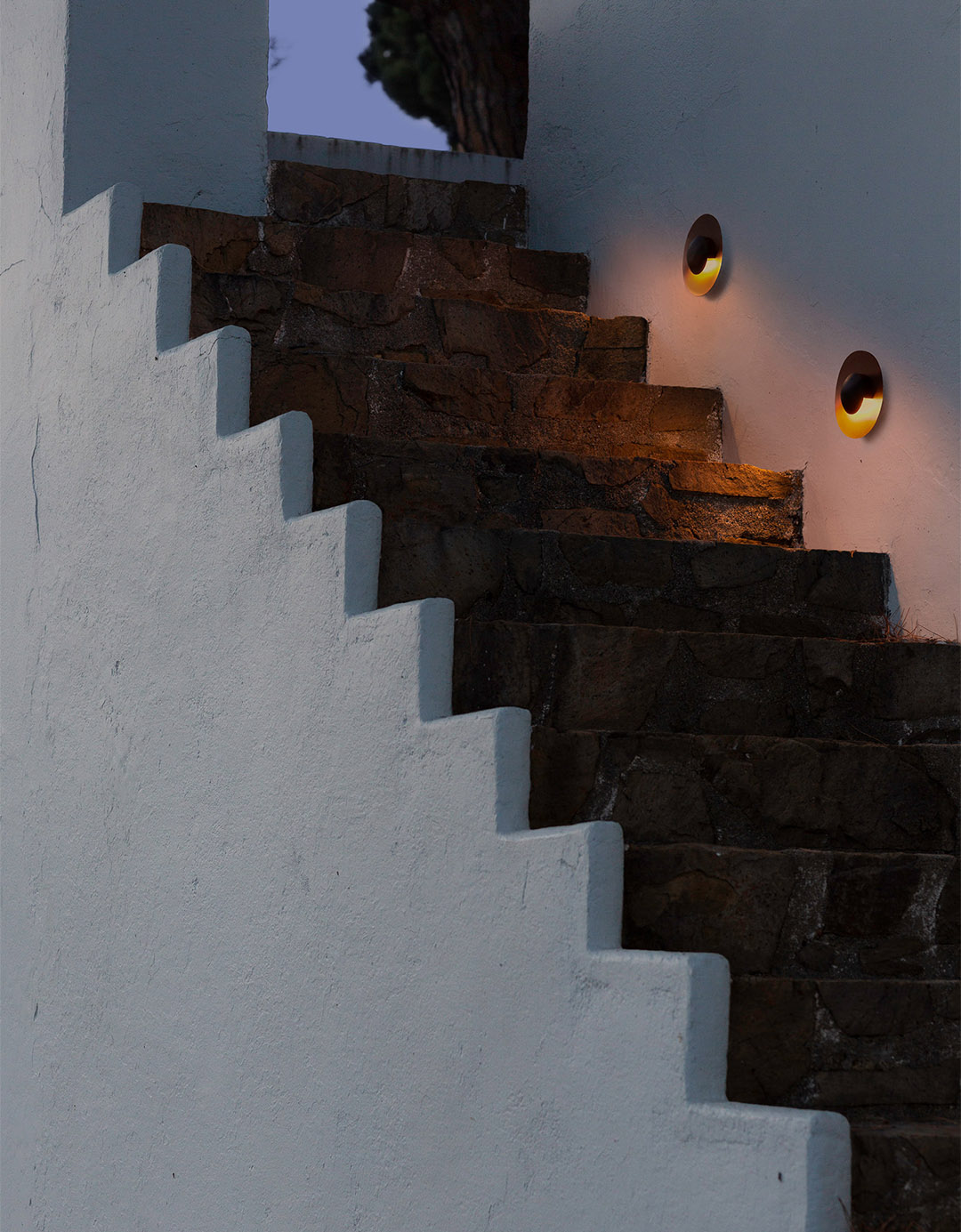 The first and foremost concern when designing a staircase lighting scheme is with safety, since the steps should be visible from any angle regardless of ambient light conditions. This said, there are lighting options that do not sacrifice aesthetics: for example, a concealed contour strip on the side of the staircase provides an interesting accent light which casts a beautiful glow along the pathway, giving the stair a wider appearance. 
One option is to bury led strips underneath the lip of each step; this way, the light source is hidden but light is reflected on the surface, ensuring excellent visibility. Another option is recessed lighting in the steps or, if not possible, recessed low-level lighting on the wall about 1 foot above each step, thus illuminating where it is needed the most. 
Another interesting option is a led light along the banister or railing, which emphasises the silhouette and articulates the directionality of the stairs, though the staircase area will probably require added lighting to prevent stumbling. In the picture, for example, the continuous handrail light is echoed by a led light source along the steps whose light shines perpendicularly on the marble, which seems to emit a glow. 
Another, less obvious choice for lighting a staircase would be pendant or hanging lights, but they should be hung at least seven feet above the surface so that they are not in the way. Combining these options together and adding the convenience of motion sensors at the top and bottom of the stairs for hands-free illumination in the middle of the night could be an ideal solution. Integrated systems allow to choose between different lighting modes – warm light, automatic switch-on, flowing light mode.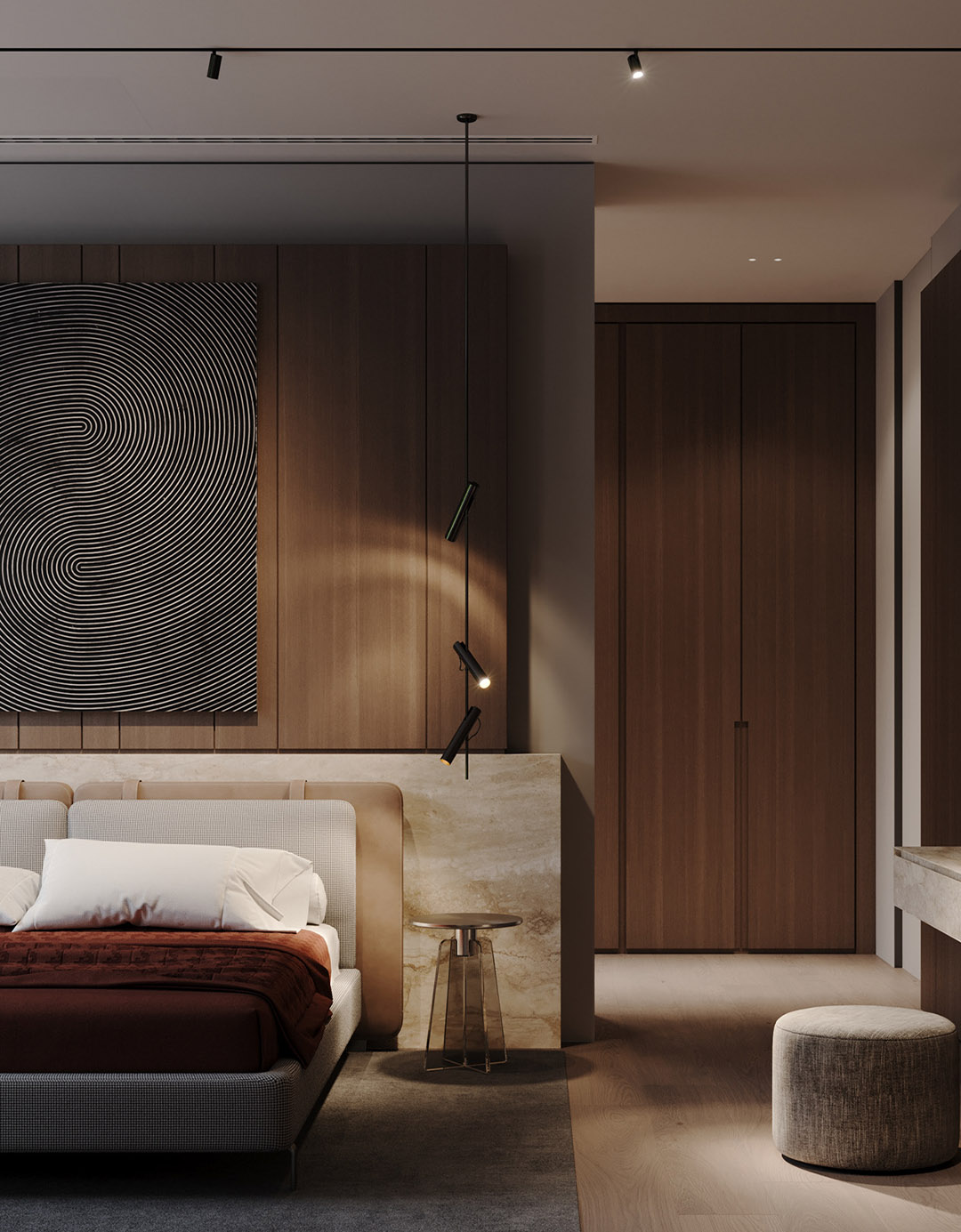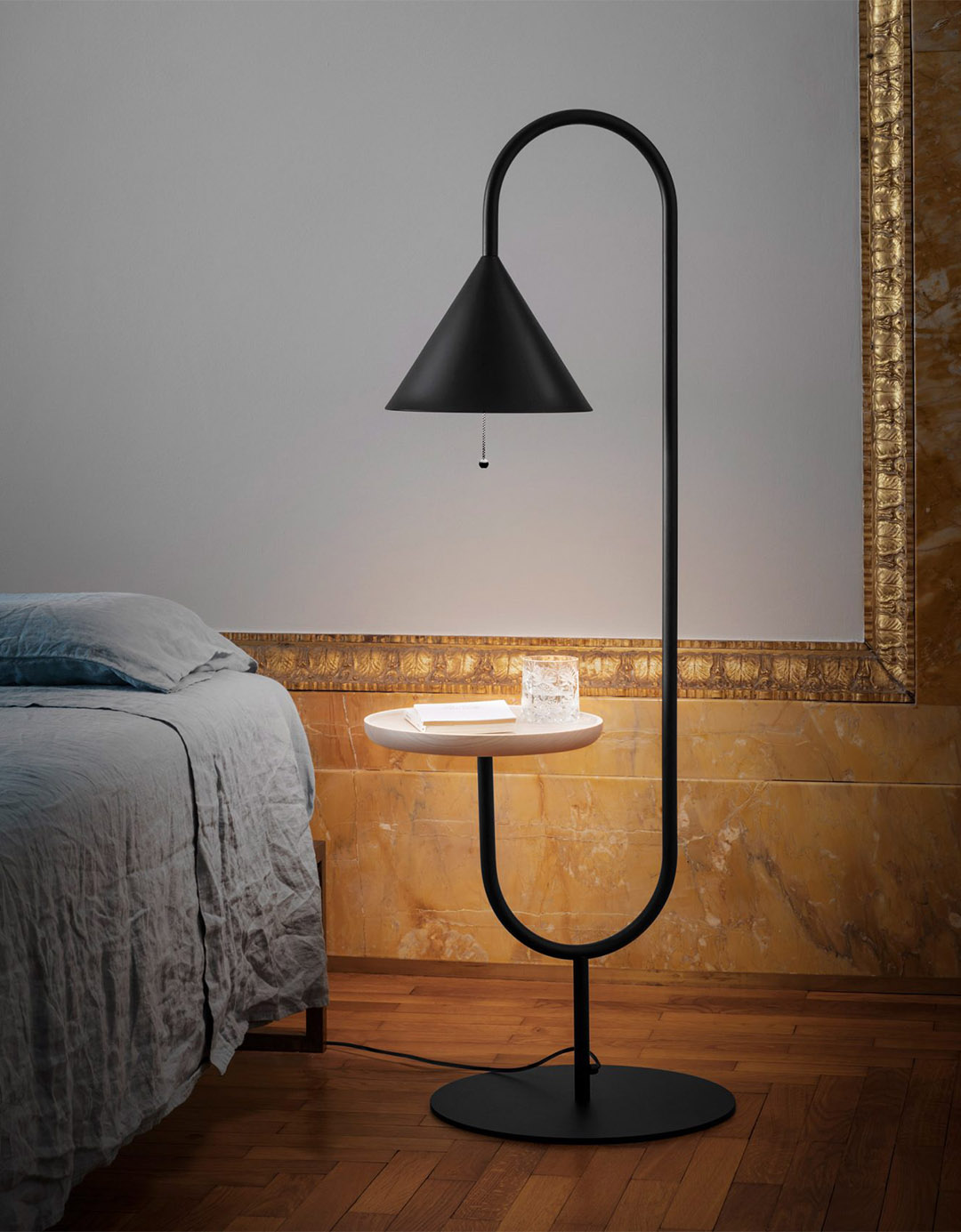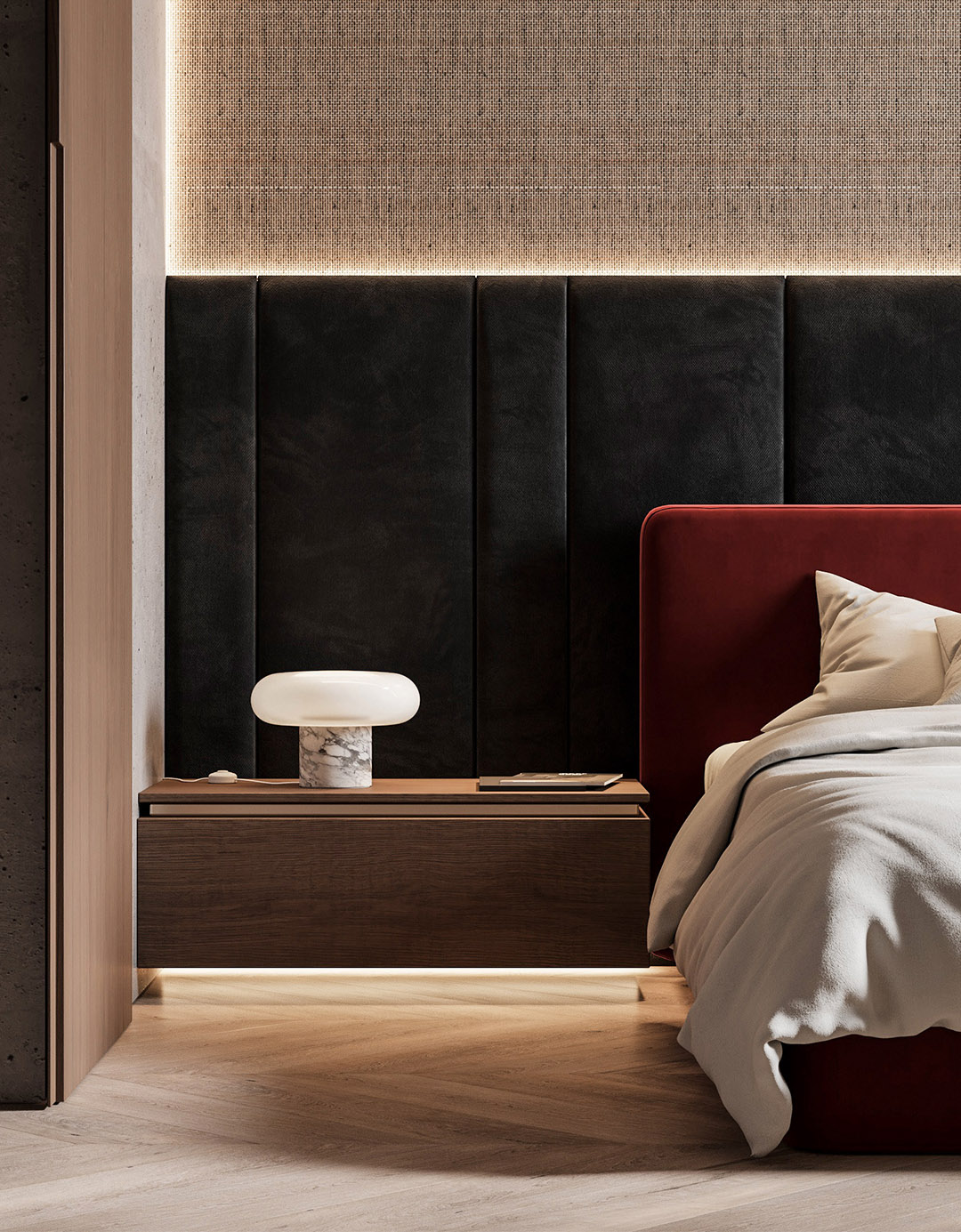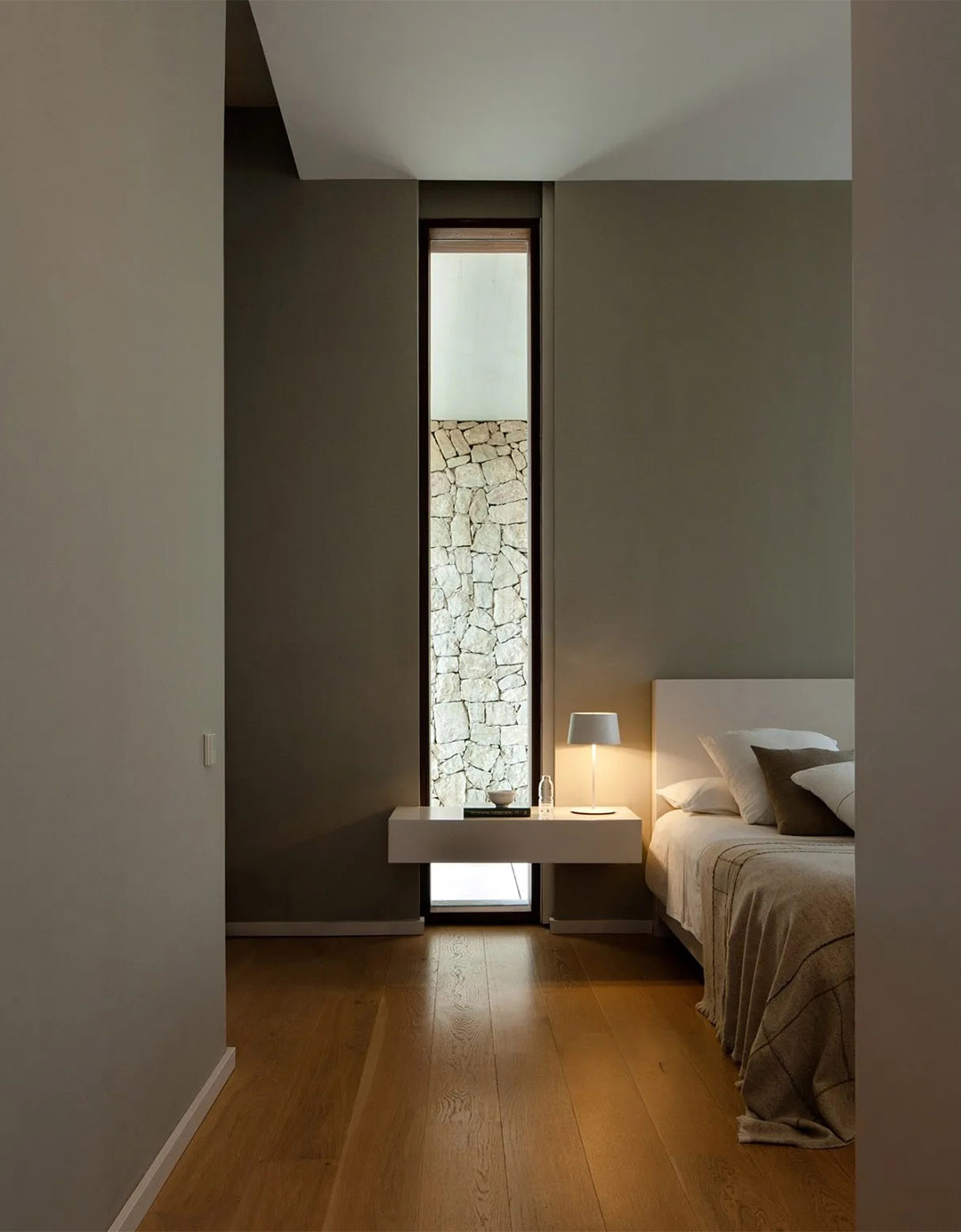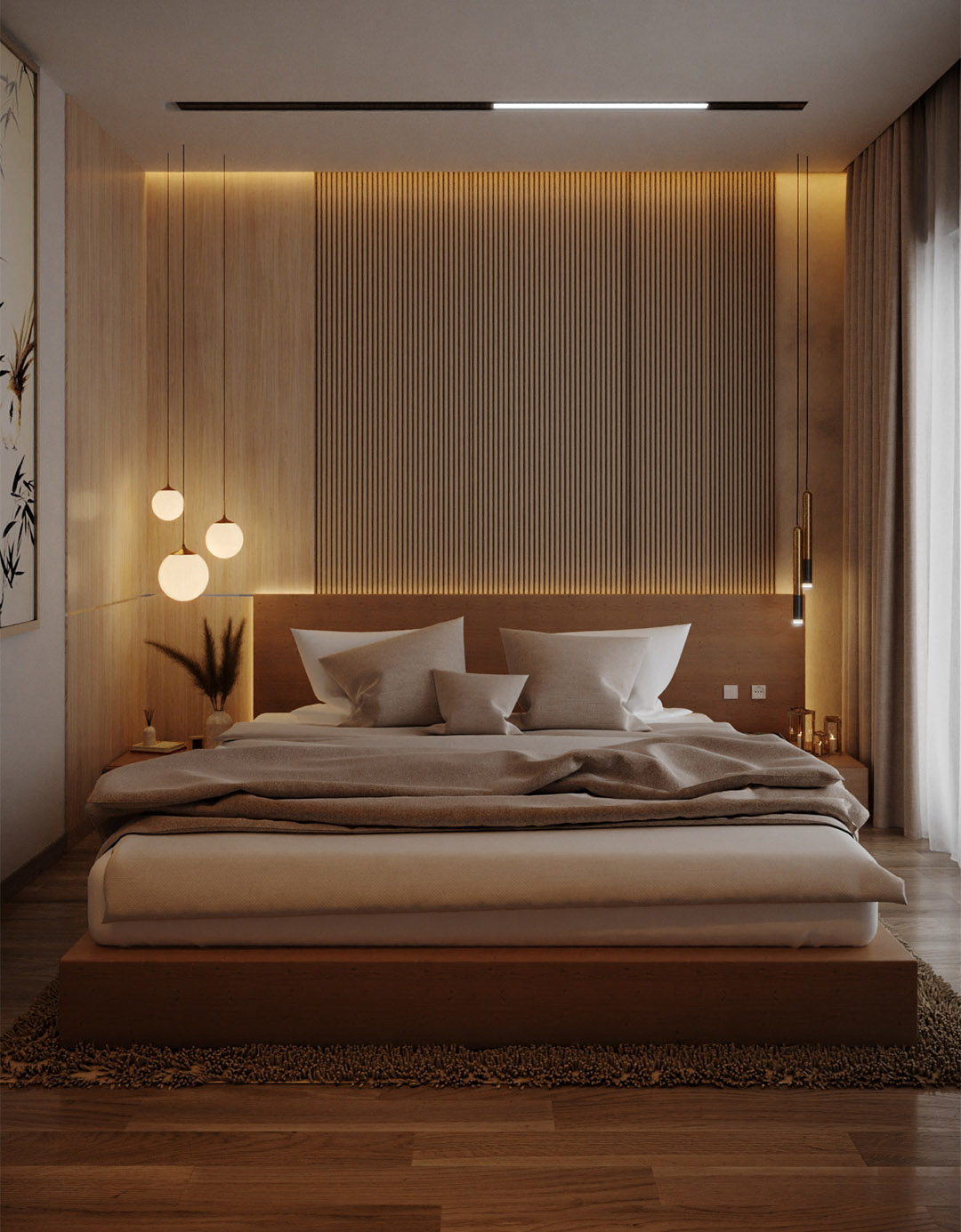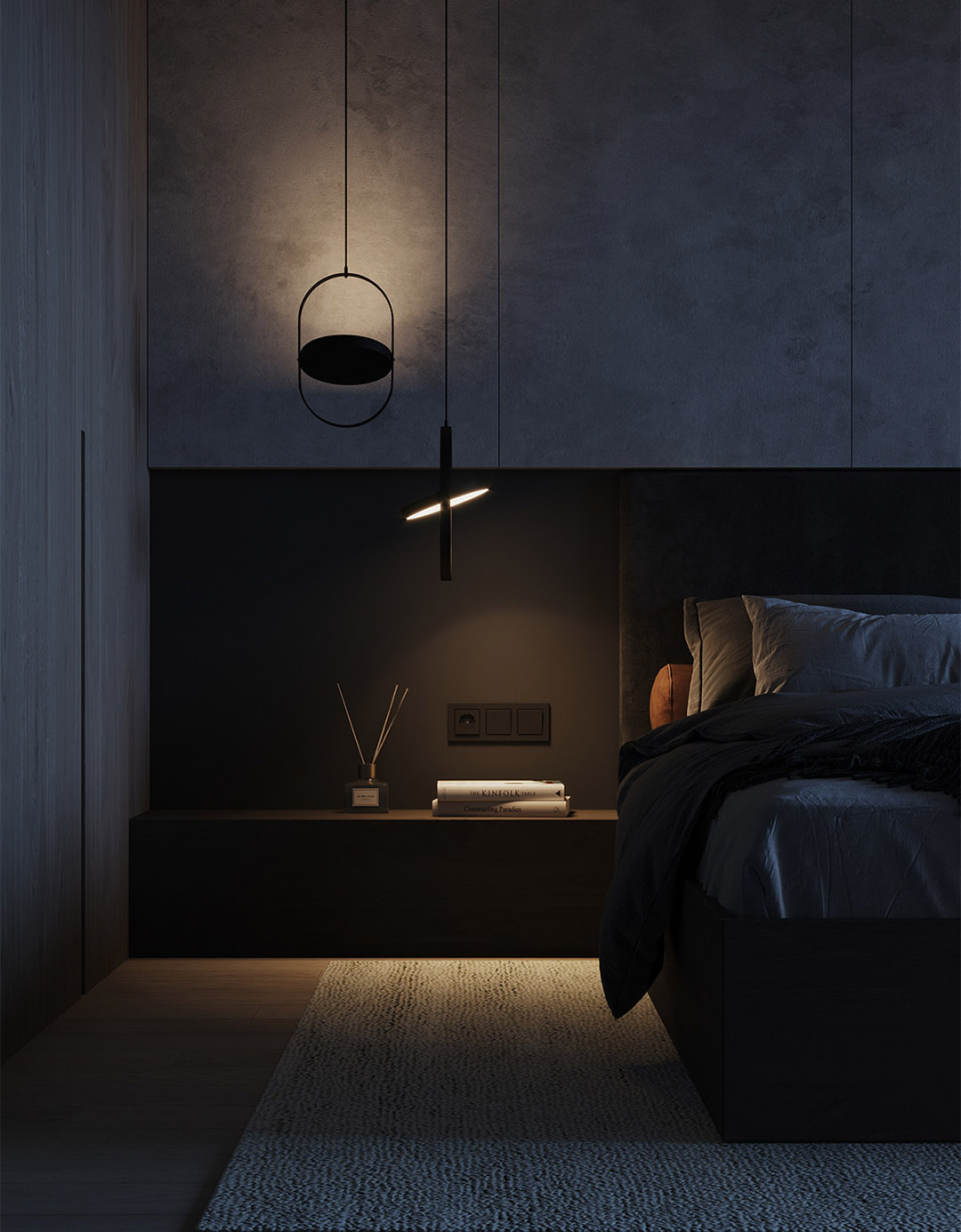 The main point to a well-lit bedroom is to consider the bed area as a major lighting focal point. One key ingredient is the colour temperature, which should not exceed 2700K to ensure good sleep quality. Another key element is the shade of the bedside lamp. It should not cause glaring or dazzling while lying in bed and its texture can contrast beautifully with other décor.
It is even better if the lamp is dimmable as this allows to adjust brightness levels. Likewise, it is best to choose a bedside lamp that does not cast unwanted shadows as it is more suitable for tasks such as reading. Finally, you can play around with the design of luminaires by, for example, installing different bed lamps on each side of the bed (a table lamp and a hanging light) or by installing a LED strip behind the headboard to add an accent light.
In the bedroom of the first picture (Nikita Riasov), for example, a skilful combination of track lights and downlights illuminates surfaces from multiple sides in a unique way. it is simultaneously providing ambient light by reflecting off the wood panelling and the ceiling and a task light aimed at the bed area for reading.it also creates an accent light which highlights décor items like the marble top and the artwork hanging above the headboard.
4. Illuminating cabinet interiors and décor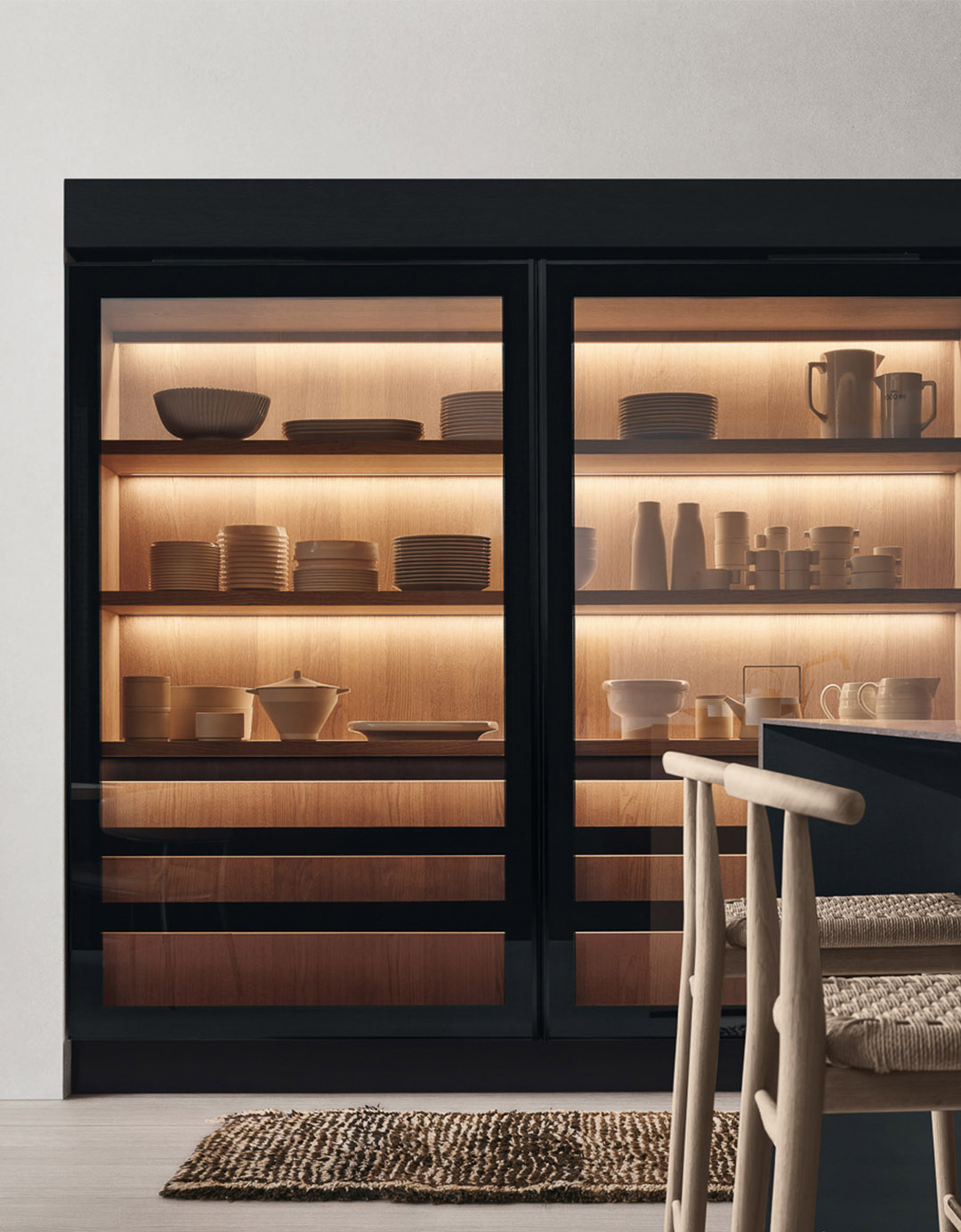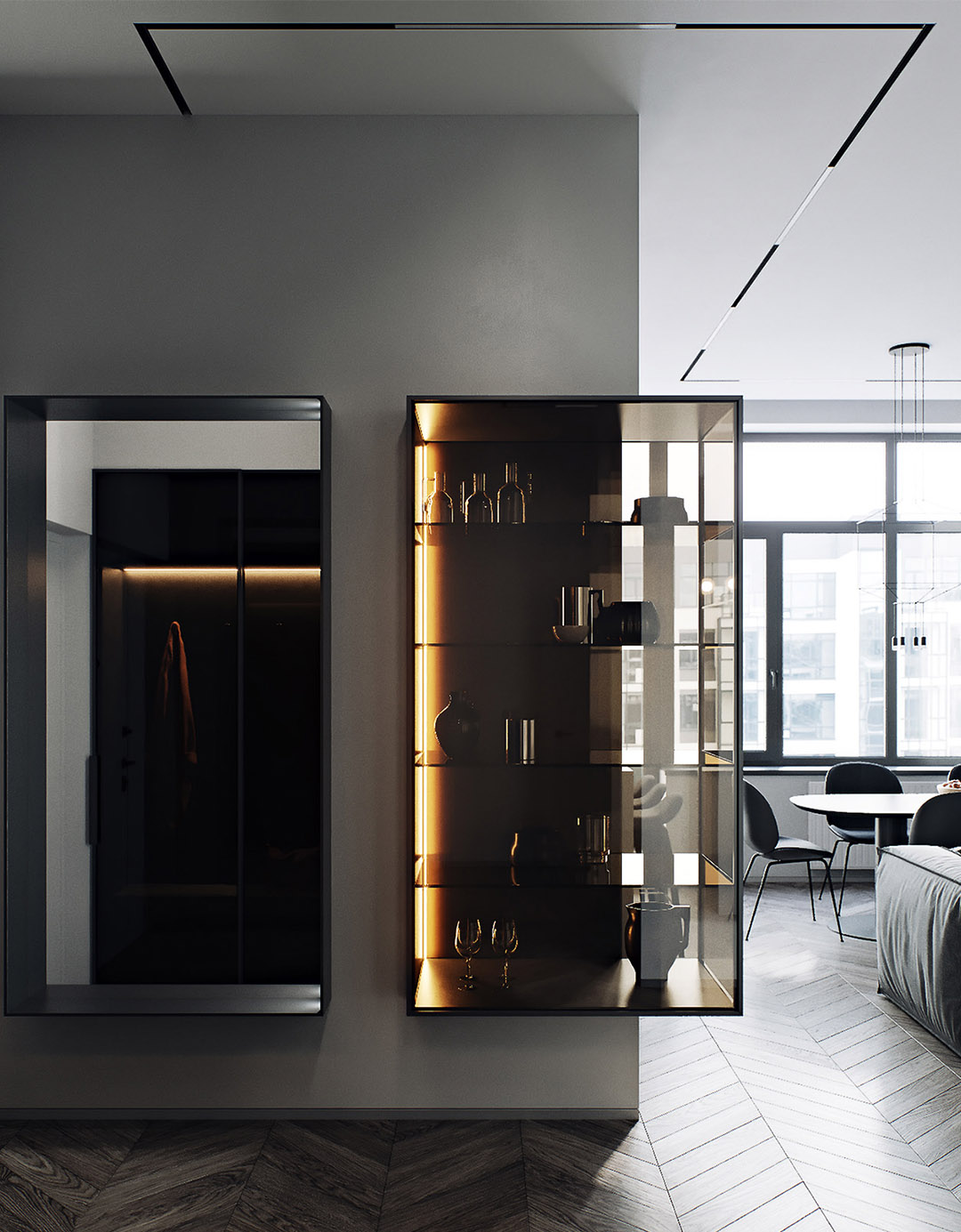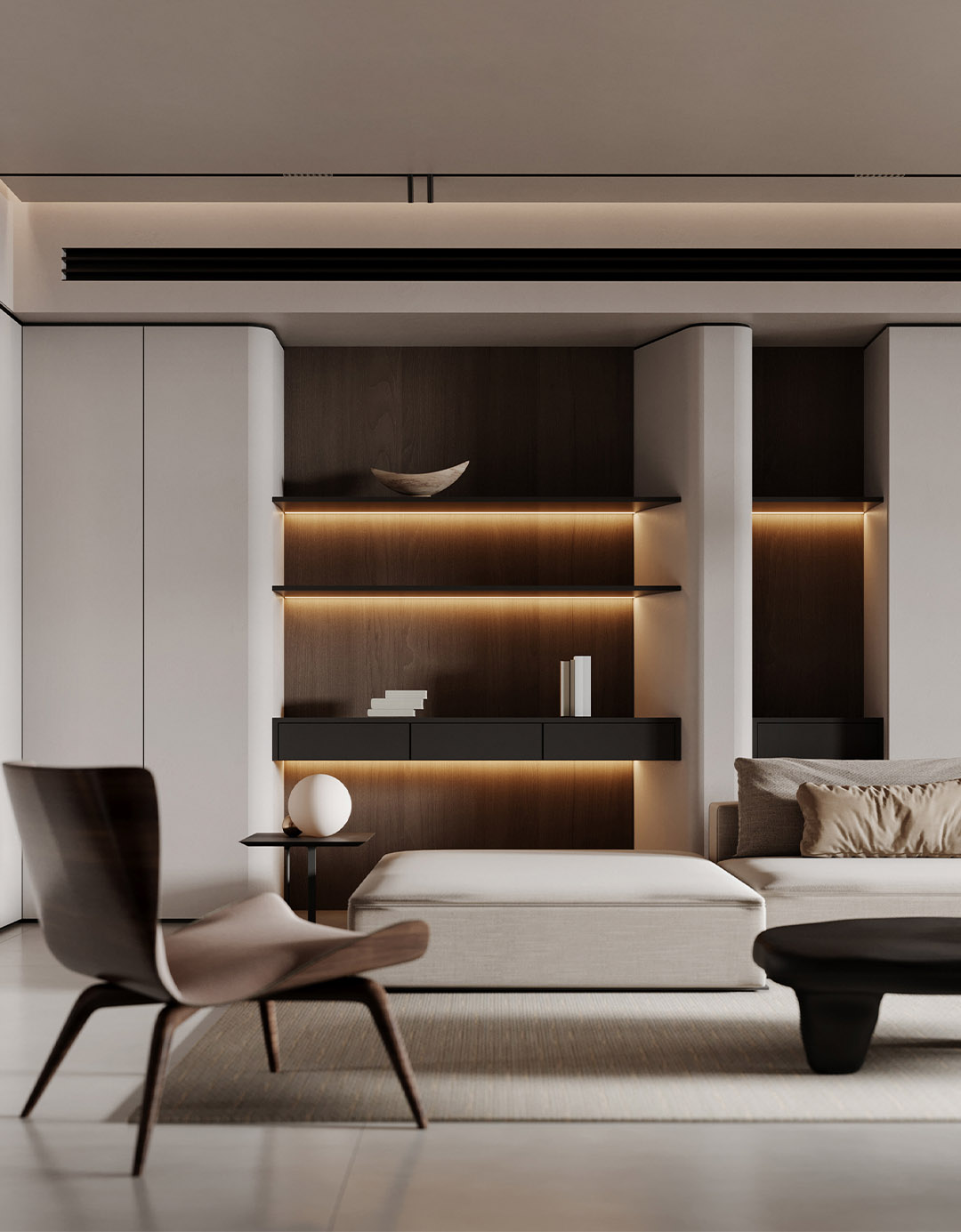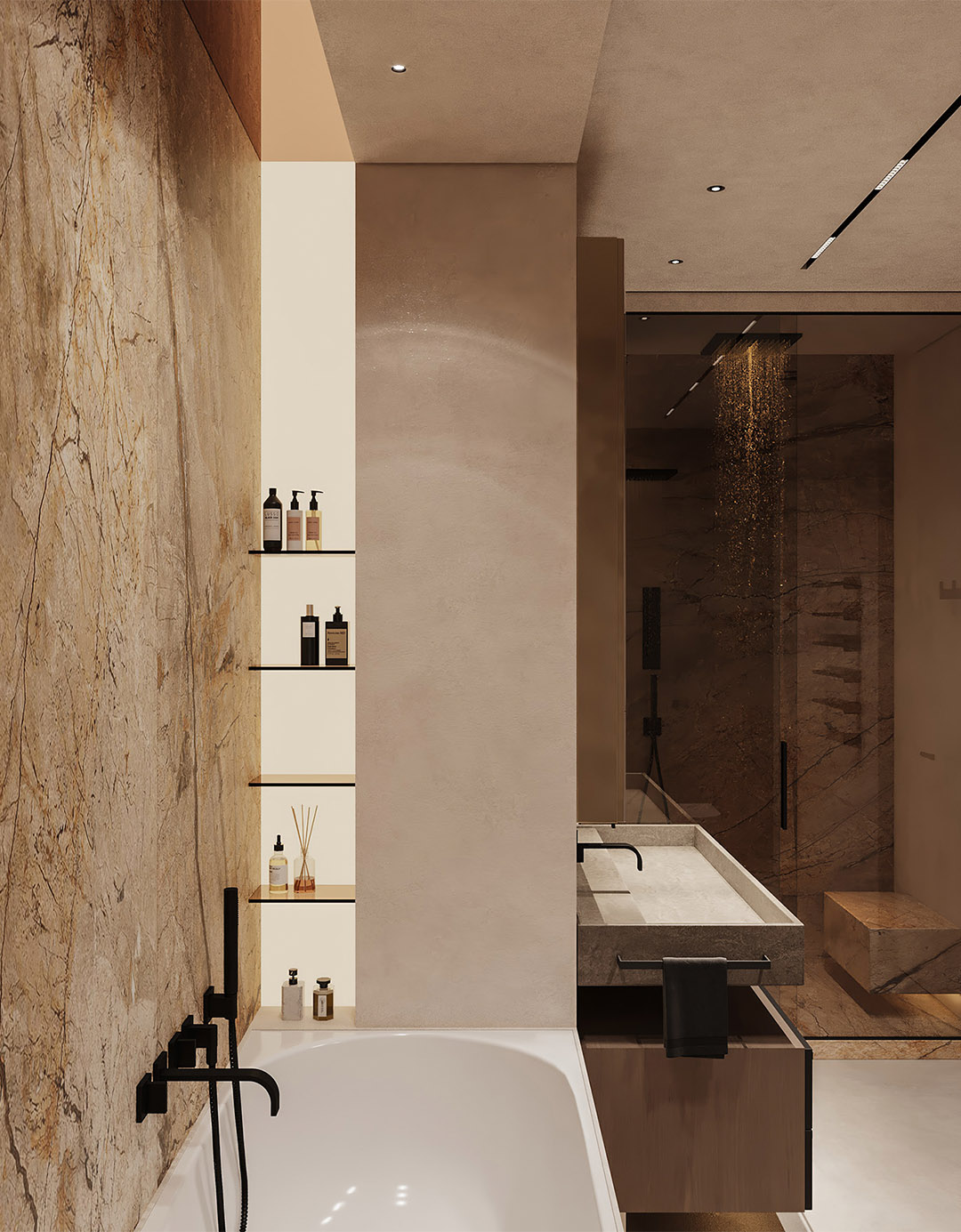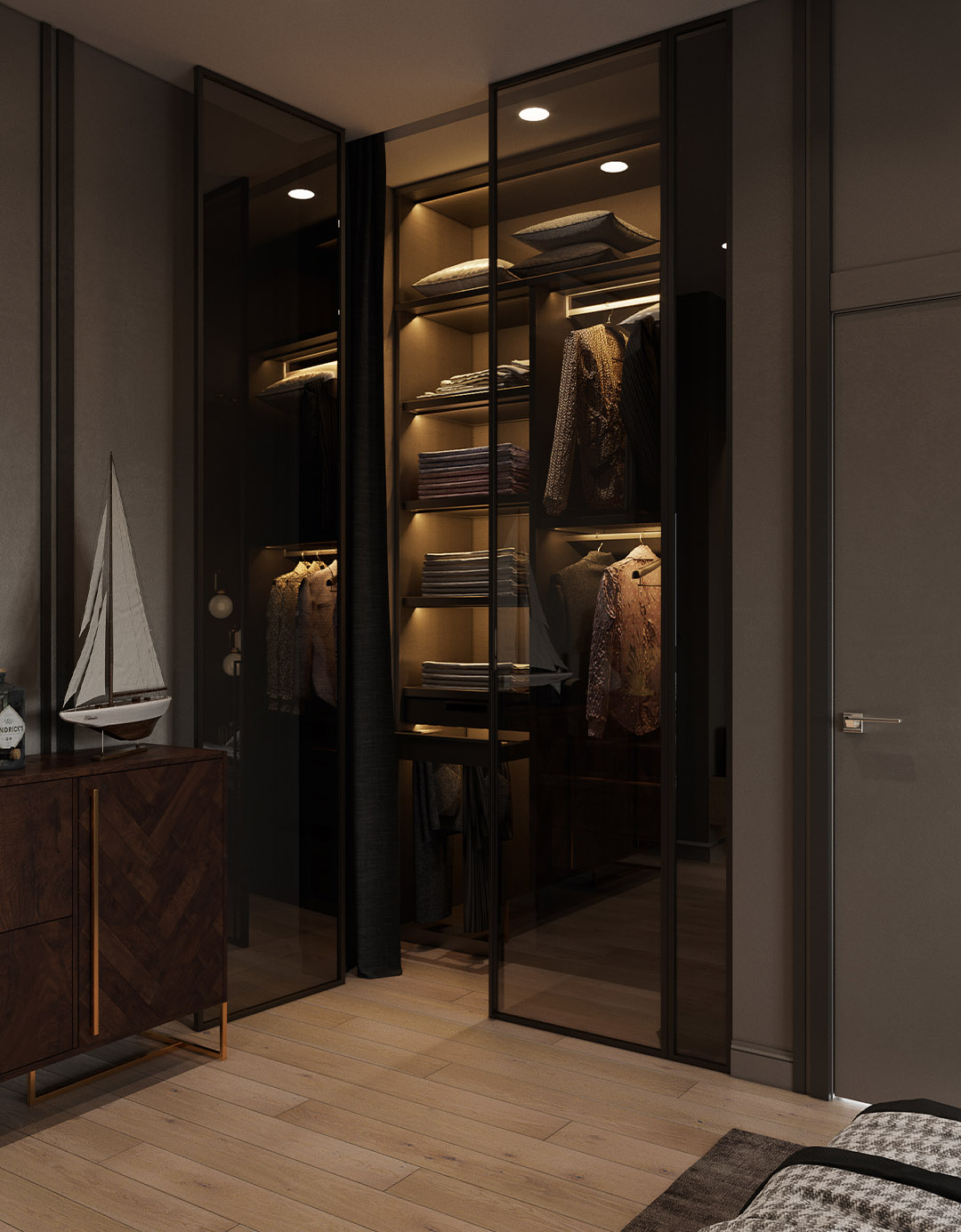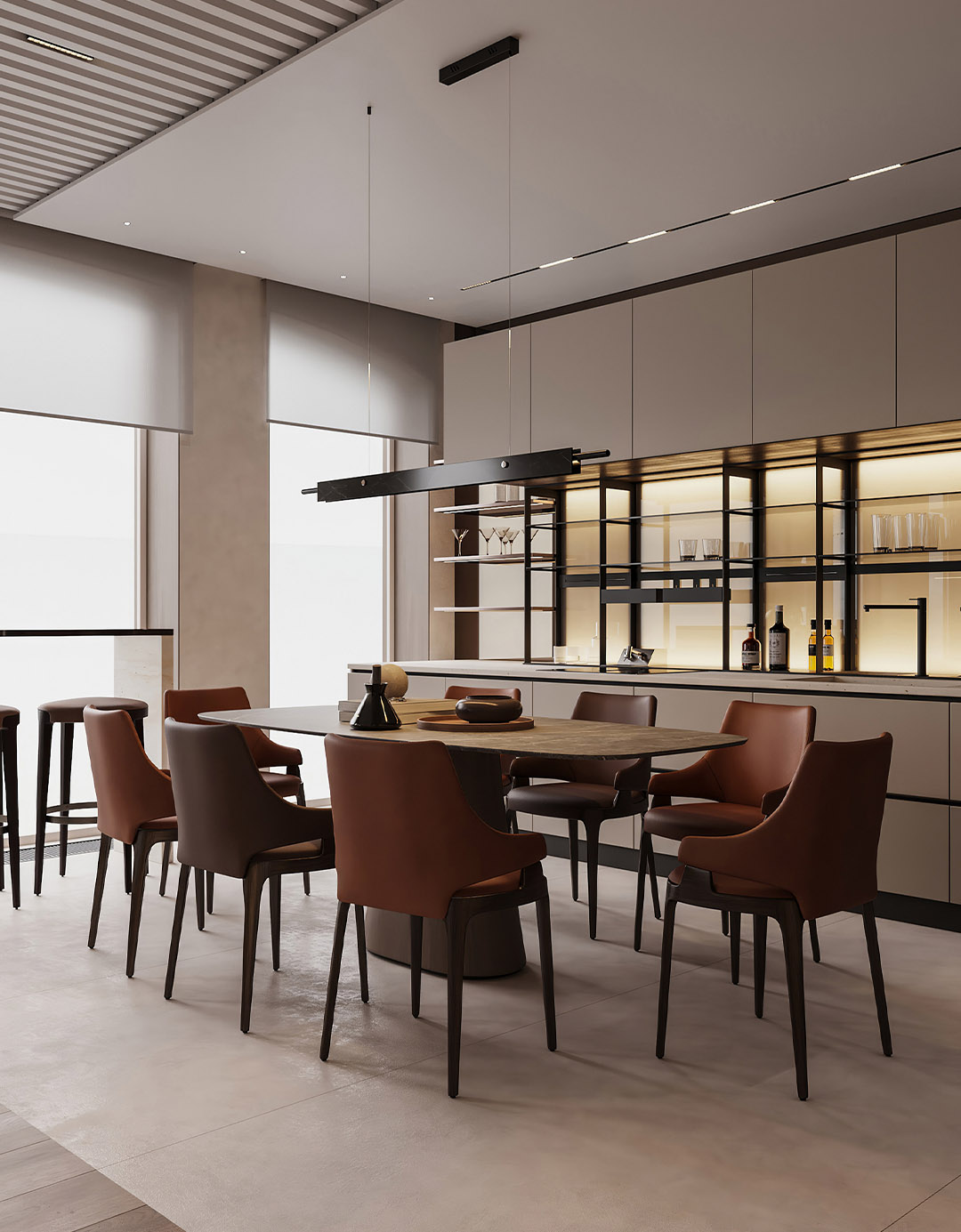 Glass cabinets, wall niches, shelves and kitchen cabinets can be made more functional if equipped with lighting, but they can also enhance the cosiness of areas such as the bathroom and kitchen.
In a glass display cabinet, small battery-powered recessed lights highlight precious crockery and make glassware and crystalware glow. In a bathroom niche, led lights help to create an intimate and cosy atmosphere, which is especially ideal for the shower and bath area. In-cabinet lighting is also an important feature, though it is used for functional rather than aesthetic reasons.
A kitchen where ambient lights cast shadows on the cooking space can benefit from under-cabinet lights mounted under cupboard units, which brighten up work surfaces. If the kitchen backsplash is made of tiles, marble or glass, it is even more important to avoid shadows in this area in order to highlight the backsplash pattern.
Finally, an original idea to give a more modern and sophisticated look to the living room is to use spotlights to illuminate plants in pots and cast the shadow of their silhouette against the wall. Alternatively, hanging grow lights above plants in dark corners creates interesting colour contrasts.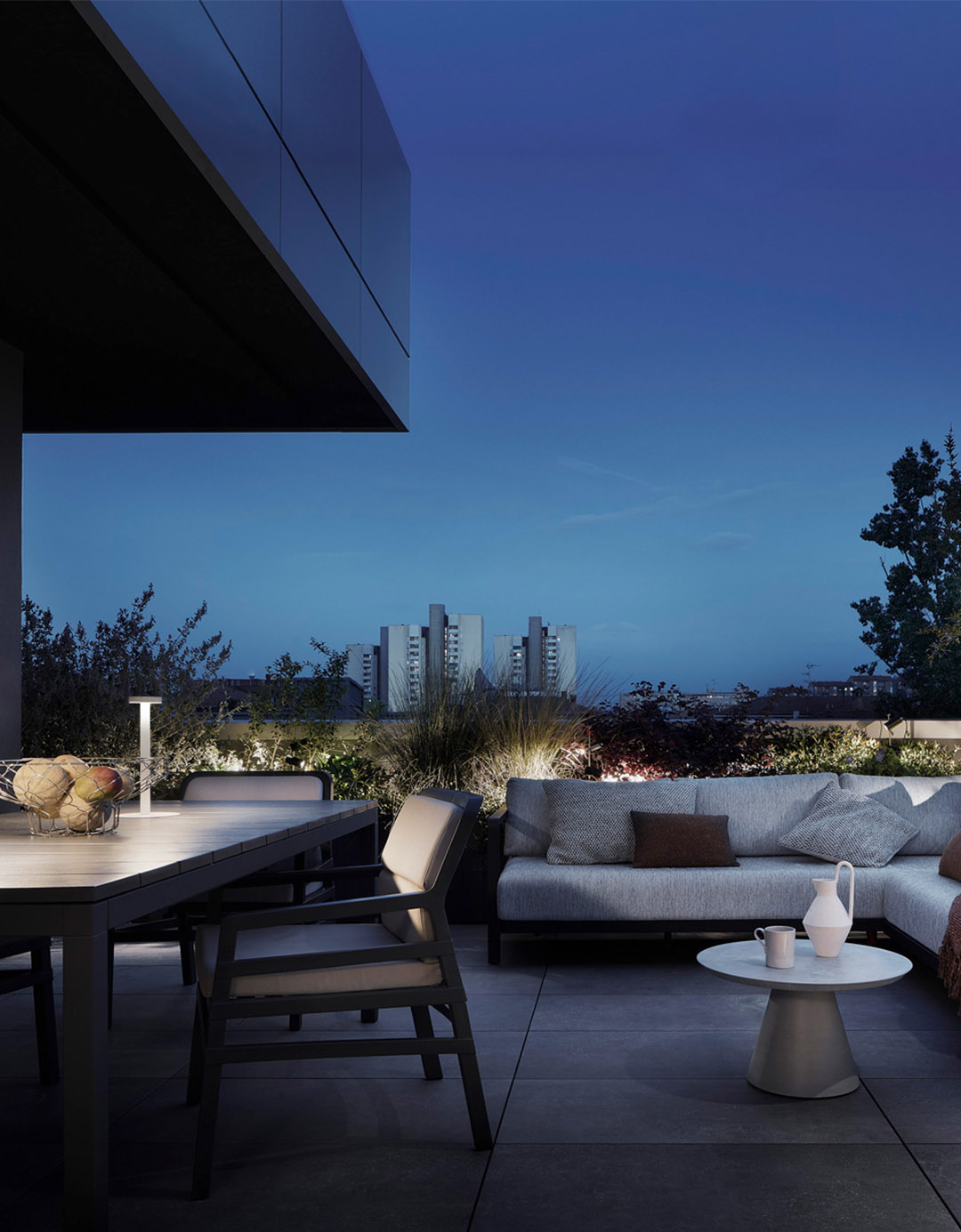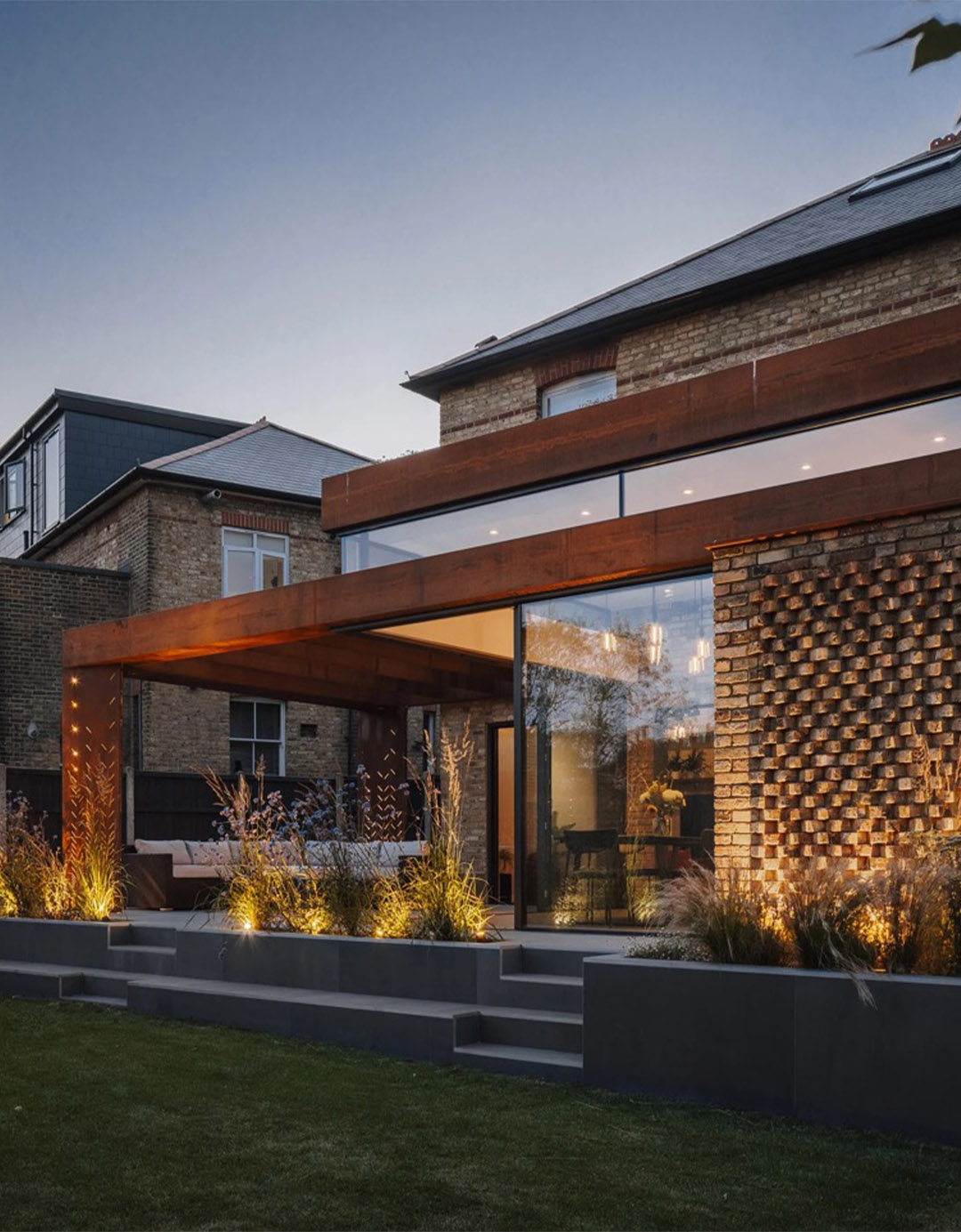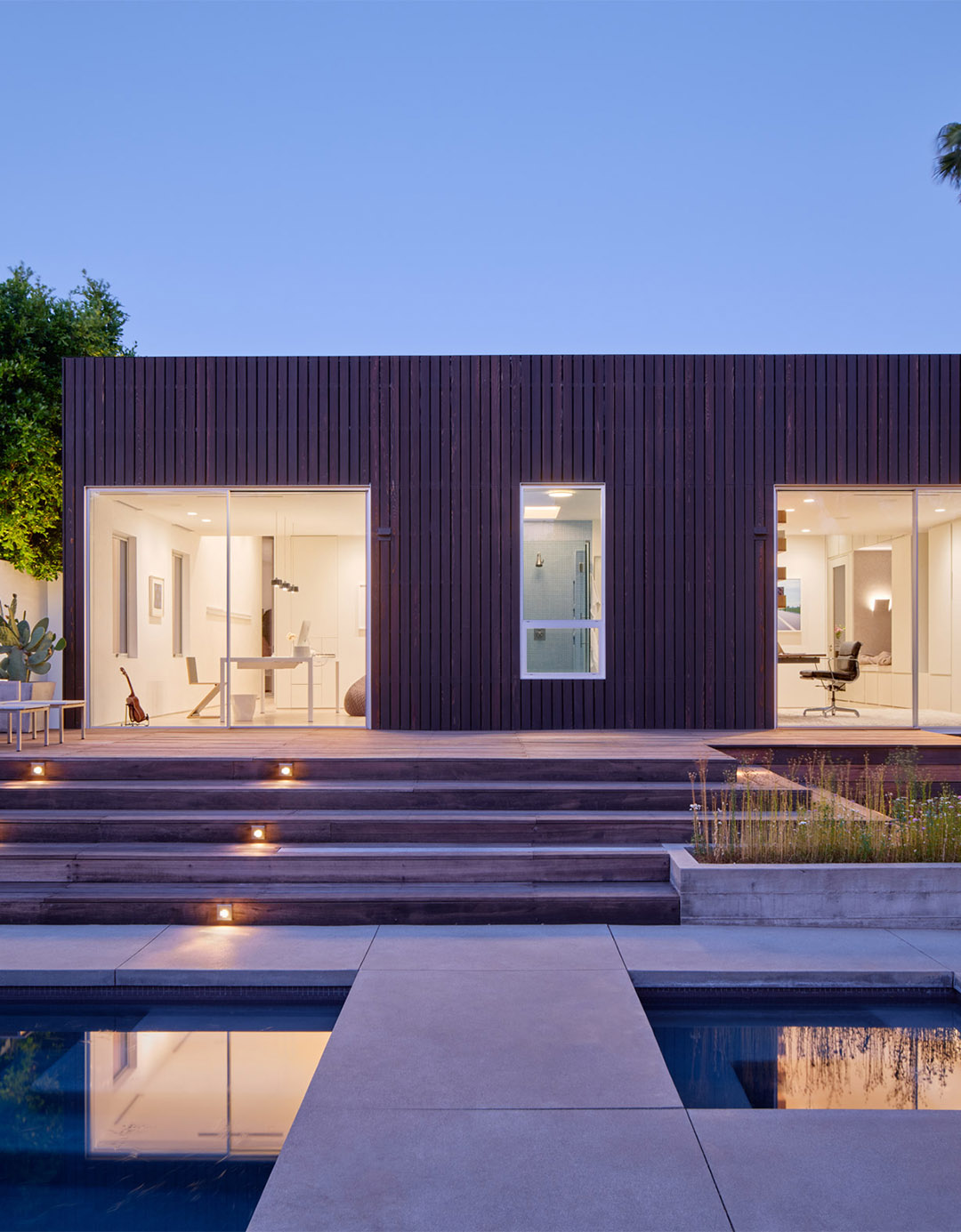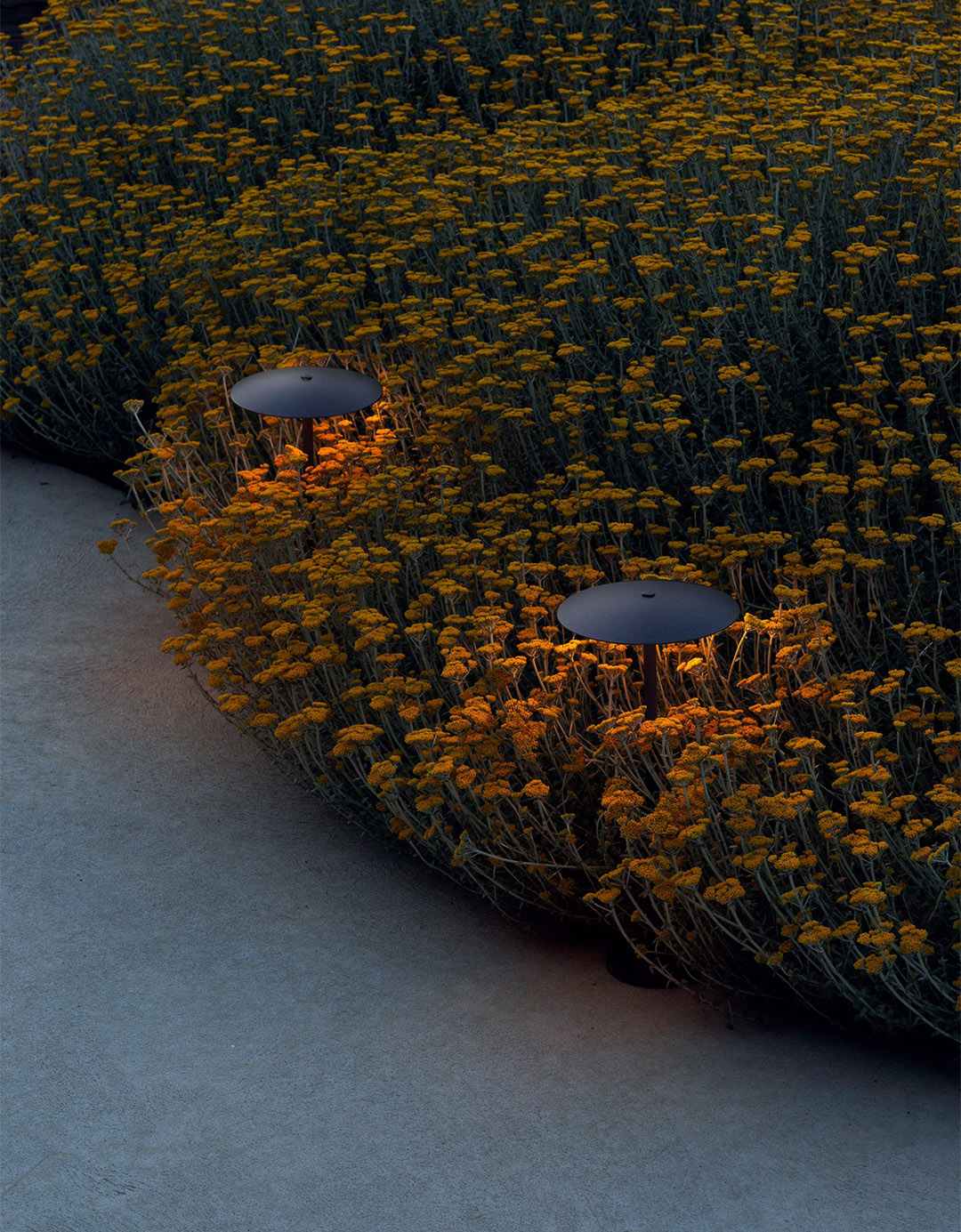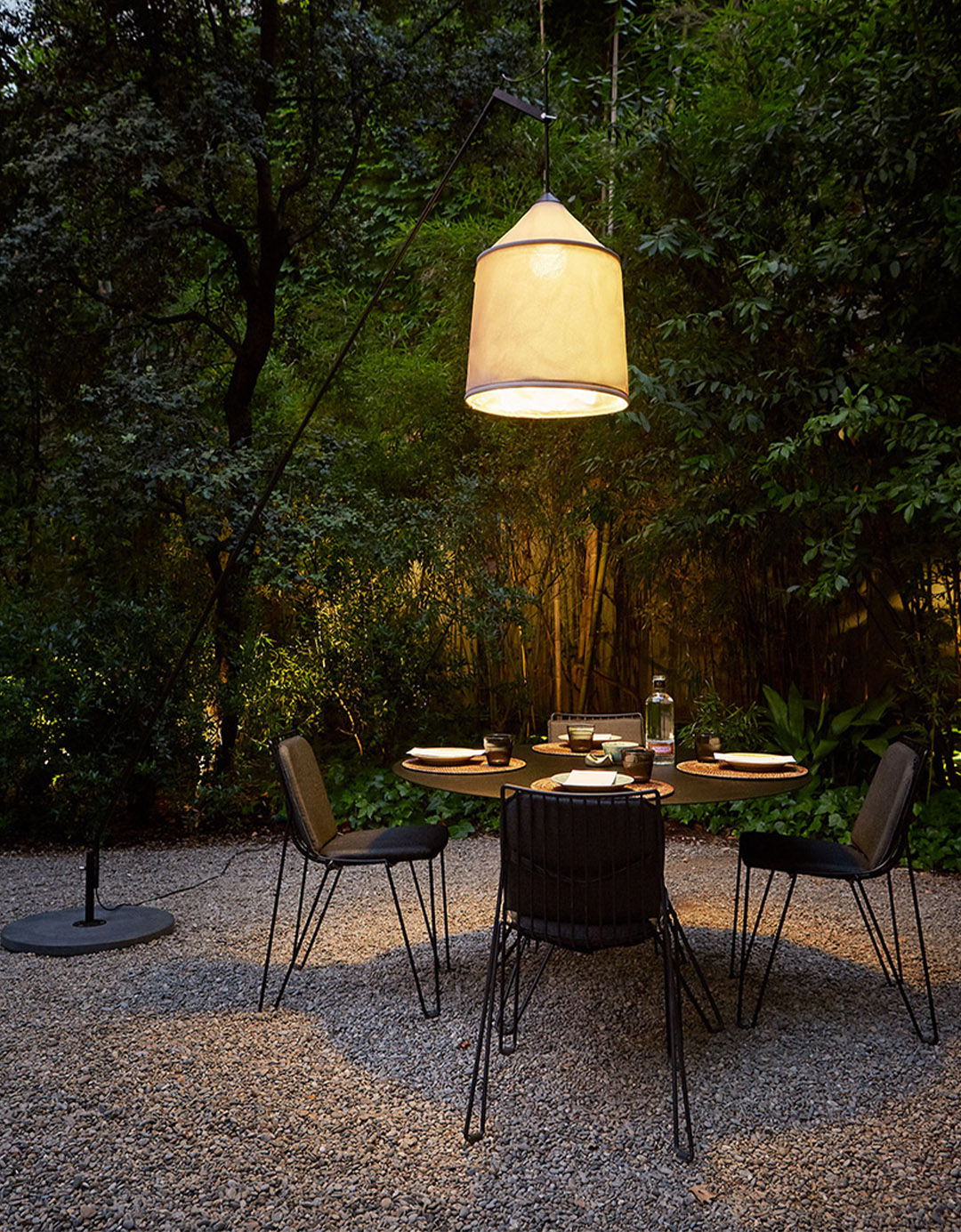 With the proper lighting, balconies, terraces, and gardens enhance the user's experience of these areas, but can improve the aesthetics of the interior as well. Large windows separating the interior and a balcony or a garden add to the lighting and expanse of the interior room, making it look more spacious. If the exterior has plants, moreover, it creates a feeling of one continuous space that blends the house  with nature.
There is much more to it than just spotlights: you can layer lighting outdoors too, combining lantern lamps, floor lamps, and solar-powered spike lights with built-in solar panels. 
In the first picture by Thomas Pagani, for example, for example, is thoroughly enhanced by the use of Davide Groppi's Tetatet table lamps, which have a built-in battery concealed in the head and whose essential style echoes the skyline. Exterior lights must have the correct IP rating – no less than IP44 for lighting a patio or a verandah and no more than IP65 for lighting a garden.
An outdoor area that includes small fountains can be made even more original by creating water and light plays that can be seen from indoors (since such lights are exposed to water, they should be at least IP68-rated).