Courtyards, gardens and poolside areas are being designed with greater care. From home exteriors to public spaces such as hotels and restaurants, the popular trend is to recreate relaxing outdoor corners as comfortable as indoor living spaces. The new outdoor lights presented in 2023 meet the desire for alfresco comfort with design solutions that focus on sophisticated materials, attractive lines and higher weatherproof and rain-safe standards. Inside each garden light lies a technological heart, consisting of a high-performance, energy-saving LED source paired with lightweight drivers or rechargeable batteries that make lamps easily carried.
Rechargeable garden lights 
Simple in concept, battery powered portable lamps have revolutionised lighting. They are lightweight lamps designed to illuminate the table during summer dining or to create the right ambience when the sun goes down. Small and compact, such as Poldina Reverso by Zafferano, which is also a small storage vase, or larger, such as Clara by Contardi, they are the modern equivalent of romantic lanterns.
Outdoor chandeliers: must-have classic models
The appetite for out of doors style can be especially seen in the great variety of pendants showcased at the fair. Quintessential house lamps, chandeliers ditch the dining room and "head outside" retaining their old glamour. As it happens, classic models are revamped for the outdoors, such as Costanza by Luceplan or Neuro by Davide Groppi, or technical lamps are displayed in an ornamental version as well, such as the Gople spotlight by Artemide.
Outdoor floor lamps, relaxing nooks
Once it was the fixed bollards, today it is the slender and agile floor lamps that bring light into our gardens. Increasingly similar to their indoor 'sisters' in their materials – metal for the structure, state of the art and eco-friendly plastic or glass for the diffusers – they feature long cables in order to be carried whenever needed. Among the new products displayed at Euroluce 2023 there were Atmosphere by Karman, with its PVC glowing sphere, and Tee Outdoor by Masiero, with its 1970s vaguely inspired look.
A trend inside the trend: complete and modular product ranges
Not just single products, companies now strive to create complete collections, modular and suited to a variety of settings (wall, pendant, floor, table), that meet the lighting demands of any architectural space.
In the gallery some of the new outdoor products introduced in 2023.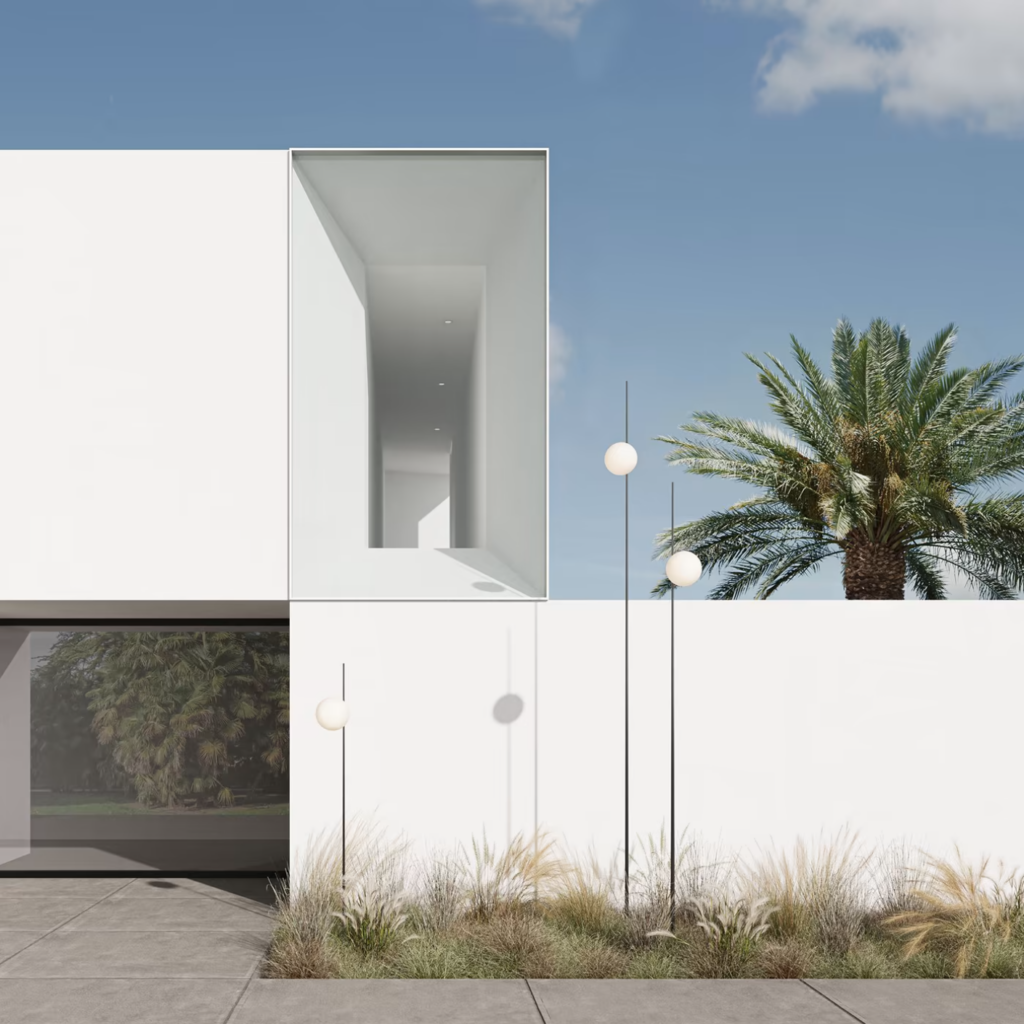 The new outdoor floor lamp designed by Matteo Ugolini takes inspiration from nature and re-proposes a supersized blade of grass with a drop of dew. The blade is a ribbed fibreglass bar available in white or black, fixed to a circular metal base that acts as a counterweight, while the drop is a spherical PVC luminous body. As seen on the catalogue, it is available in three heights, to create different compositions: 180, 260 and 350 cm. Also available with spike and floor attachment and from the same collection there is also the wall/ceiling model. 
2. Gople Outdoor Led - Artemide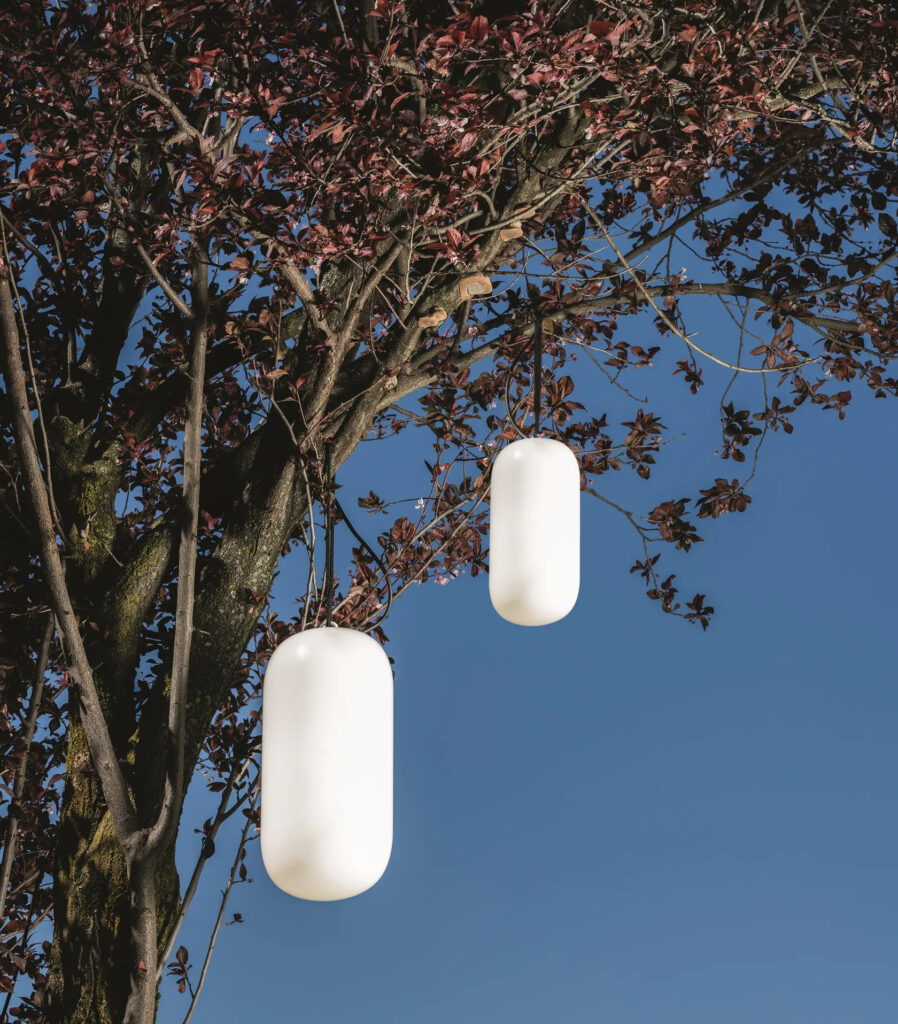 Part of a wider collection of outdoor spotlights and bollards designed by BIG- Bjarke Ingels Group, the addition to the range is a rotational moulded polyethylene suspension diffuser with white glossy finishing. Tied to a patented weatherproof power cable, the lamp can be conveniently moved and hung from branches.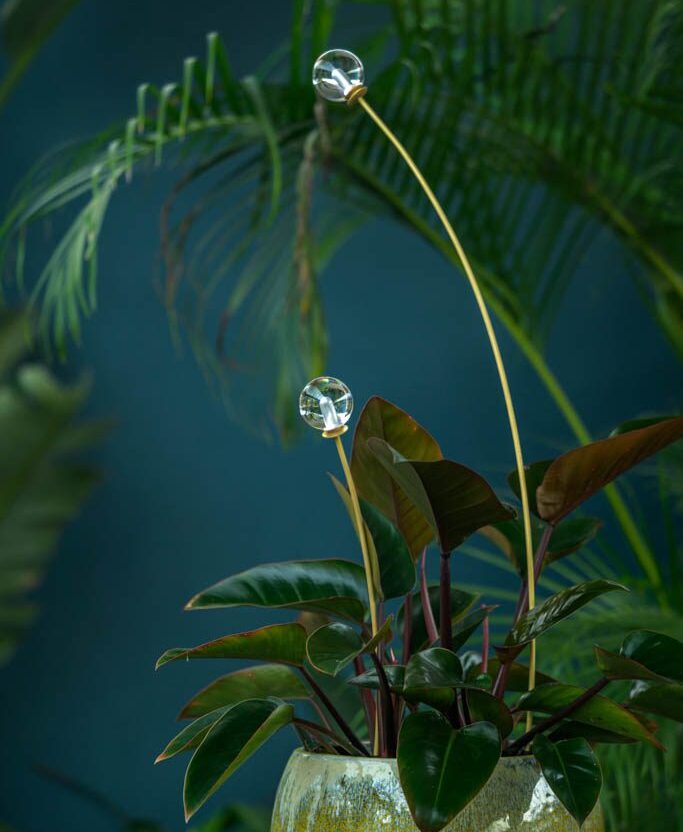 It is a delicate and almost ethereal spike lamp featuring a steel spike and a milk glass or transparent glass diffuser. The smaller transparent glass version (pictured) blends in the greenery during broad daylight while in the dark it resembles a firefly. Available in two sizes: smaller milk glass transparent Ø 6 cm sphere coming in three heights, or spike, wall or suspension with a Ø 12 cm sphere. Designed by Sara Moroni.
Designed by Gabriele and Oscar Buratti, Artico is an outdoor floor lamp with diffused dimmable light. Base, stem and head are made of painted metal, available in white or black, the diffuser is printed in frosted polycarbonate. Designed to illuminate gardens, patios, porches, lounge and dining areas in villas, public spaces and buildings, it features an integrated downlight Led.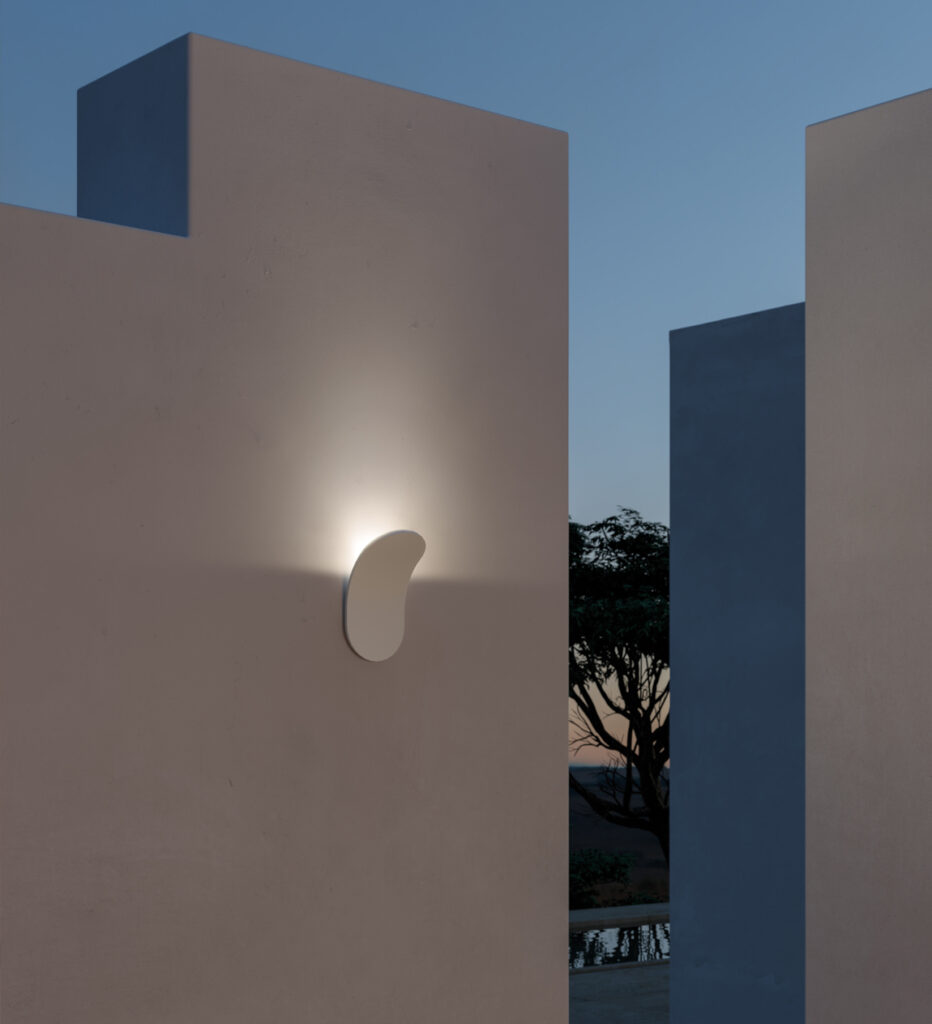 Wall lamp designed by Serge and Robert Cornelissen. Placed behind the lamp frame, the light spreads a soft and indirect glow reflecting on the wall. Available in three colours.
Portable lamp with a rechargeable battery reinventing the shape of classic lanterns. The diffuser is made of Vienna straw effect resin and can be hung by a ring at the top. The lamp is fastened on the upper part and can be easily removed and transformed into a spotlight to be used on the dining table or to walk in the dark. Designed by CaberlonCaroppi in collaboration with Marco Forbicioni.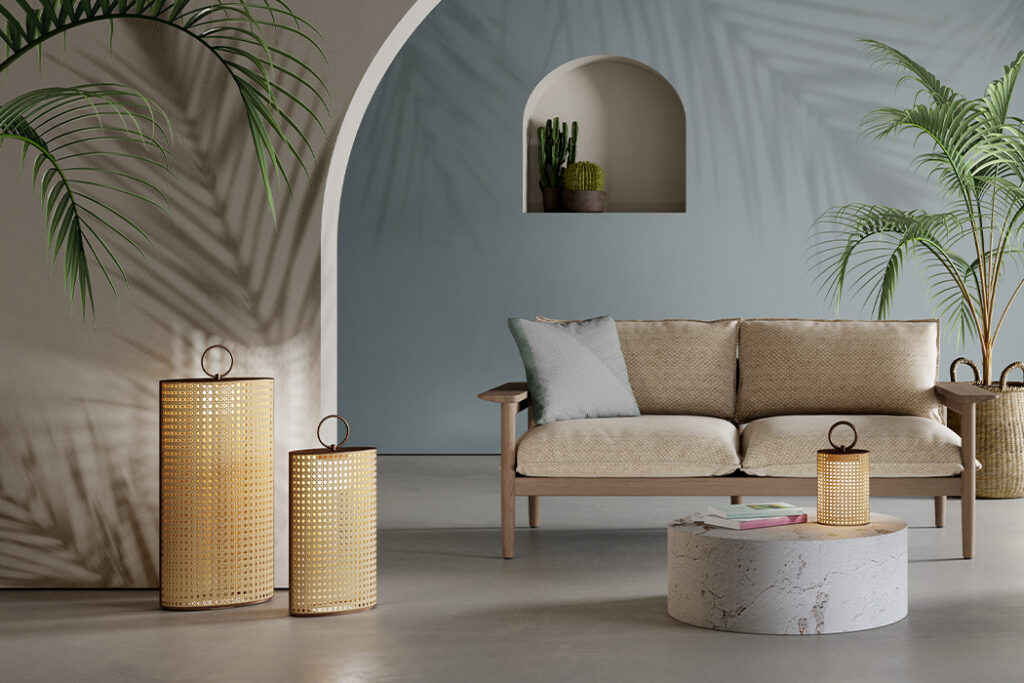 7. Cyborg Big - Martinelli Luce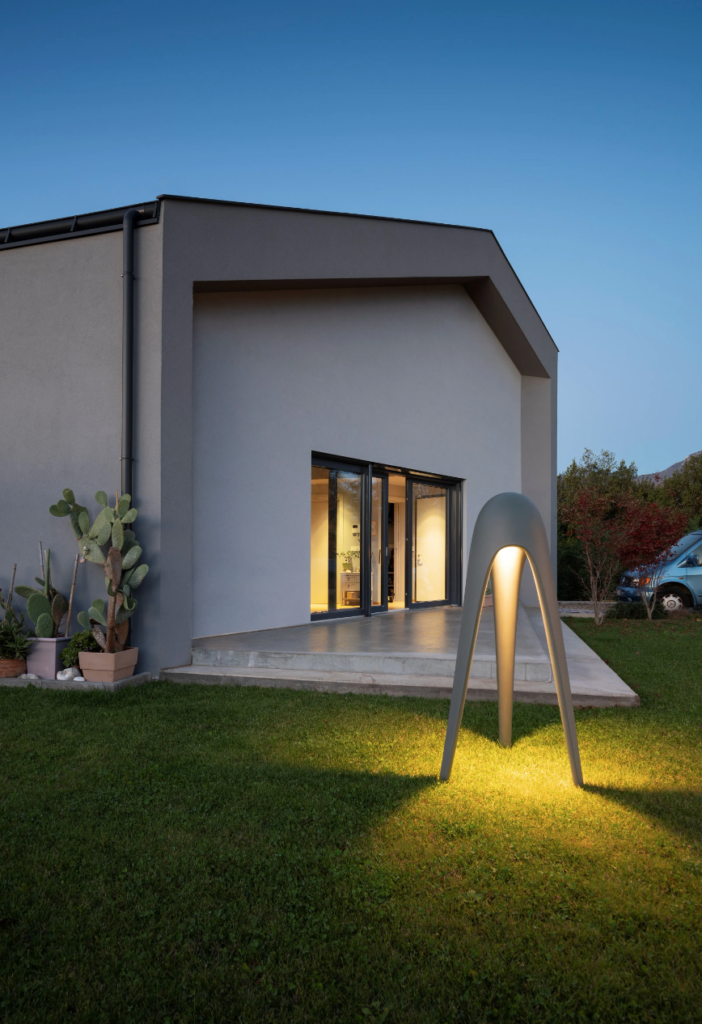 This outdoor floor lamp is the bigger version of the table lamp designed by Karim Rashid. Available in two versions: a diffused light in rotational moulded white polyethylene, and an indirect light in rotational moulded eco-friendly green coloured EcoAllene®. Led light source, plug and power cable.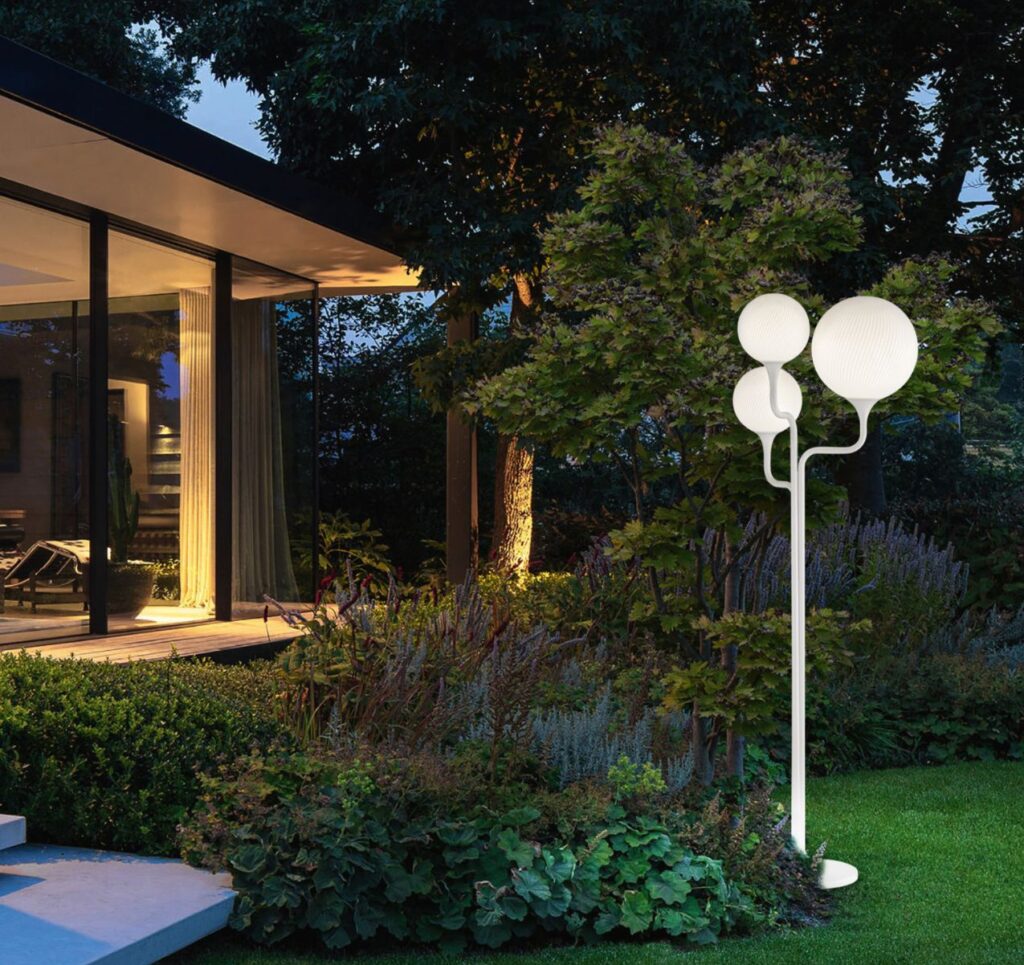 Floor lamp with a polyethylene spherical diffuser, decorated with engraved spiraling parallel lines that seem to impress a slow rotation to the globes. The painted tubular metal stem, white or hazelnut coloured, ends with a truncated cone from which the diffuser stems reminiscent of a calla lily. Part of a family of outdoor lamps, wall, table and ceiling.
9. Grande Costanza Open Air Suspension - Luceplan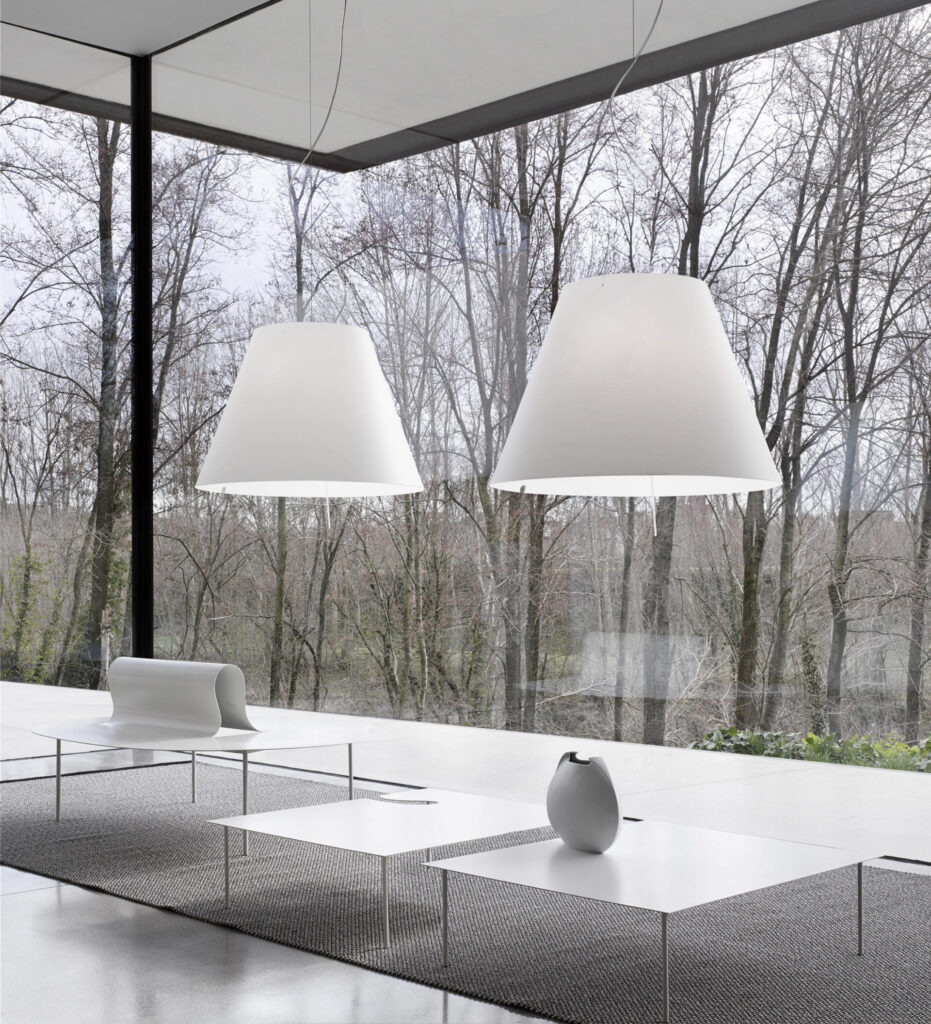 A true modern classic in indoor lighting, the iconic lamp designed by Paolo Rizzato is launched in its new outdoor suspension version. Ideally placed above a dining table or under a gazebo, it features a polycarbonate diffuser (50 and 70 cm diameter) and an IP65 optical assembly connected to the shade by three small pegs.
10. Neuro Outdoor - Davide Groppi
Outdoor version of the homonymous indoor lamp, it uses the same creative principle of bringing light wherever you like, starting from a socket. The lamp consists of a plug, a power cable, a lamp holder and a Led module; simply fasten the cable to the wall or suspend it from raised supports. Designed by Davide Groppi – Beppe Merlano. 
11. Poldina Reverso - Zafferano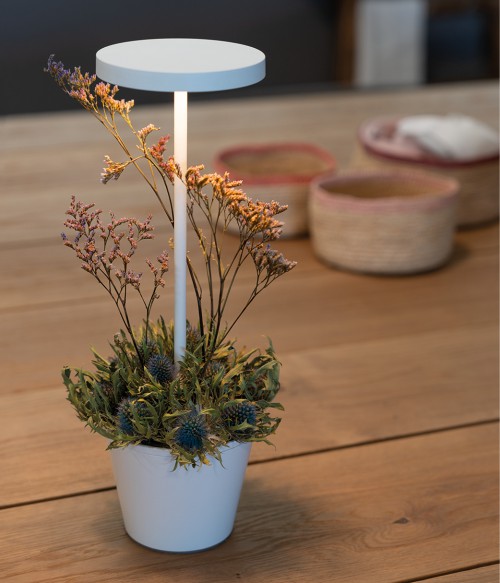 Pioneer of rechargeable lamps, iconic Poldina introduces its new version: Reverso. The original lampshade becomes a container tray, suitable for food contact, while the base is turned into a diffuser. The lamp is made of die-cast aluminum in five finishes: white, rust, dark grey, sage green and sand powder-coating. The diffuser is in satin-finish polycarbonate. It is equipped with LED light source, dimmer touch control, and light color temperature selection function between 2200K, 2700K and 3000K. The battery lasts 12 h, charging time is 6/7 h.