Sound-absorbing lamps perform a dual function: they illuminate and assist the acoustic comfort of the rooms, while still keeping up with good aesthetics and the environment. The first models were rather technical because they were mainly designed for offices (especially for meeting rooms or open spaces where the workstations are arranged in sequences and the buzz is inevitable), for lobbies, large shops or restaurant halls. Today, more and more brands are approaching this type of product with a more domestic twist, as they've realized that a system that can muffle background noise, making conversation more pleasant and direct, can also be useful at home. Acoustic well-being helps to hear and feel better, therefore the number of people and designers who choose to install a sound-absorbing lamp in the living room or above the dining table is growing. Soft textile finishes and virtually infinite color charts help create welcoming and muffled living areas, in which the sound-absorbing component "is there but you can't see it".
How sound-absorbing lamps wok
From a technical point of view, sound-absorbing lamps absorb sound waves which thus do not reverberate on other surfaces, reducing the buzz and perceived background noise. Their shape is generally wide and linear to maximize the active surface, as demonstrated by Artemide's Silent Field 2.0 which adds grooves to the width to increase functionality or Fabbian's Acustica, inspired by drum cymbals. There are also dome models that work great, like BuzziDome by BuzziSpace, or more experimental ideas that veer towards design like Trypta by Luceplan or the Butterfly wall light by Modo Luce.
The insulating materials forming the core of these products range from common foam to PET. The green-oriented solutions are interesting, as they fit the specific sensitivity of consumers who are increasingly attentive to their purchase of low-impact products; Under the Dome by Muuto takes this direction, using up to 41% of fibers from recycled plastic bottles. Finally, there are also experimental proposals, such as Eclipse Nuance Silence by Olev, exploiting the anti-reverberation properties of the reduced thickness micro-perforated sheet metal.
Here's a selection of sound-absorbing lamps that can be suitable for public environments but also perfect at home.
1. BuzziDome - BuzziSpace
Very colorful, BuzziDome by BuzziSpace is a lamp with a textile finish that absorbs noise thanks to its semi-dome shape and a special foam. The LED suspension with PMMA diffuser is perfect for workplaces, accommodation facilities, restaurant halls but also for domestic environments. In the catalog it's also possible to choose between different finishes and colors.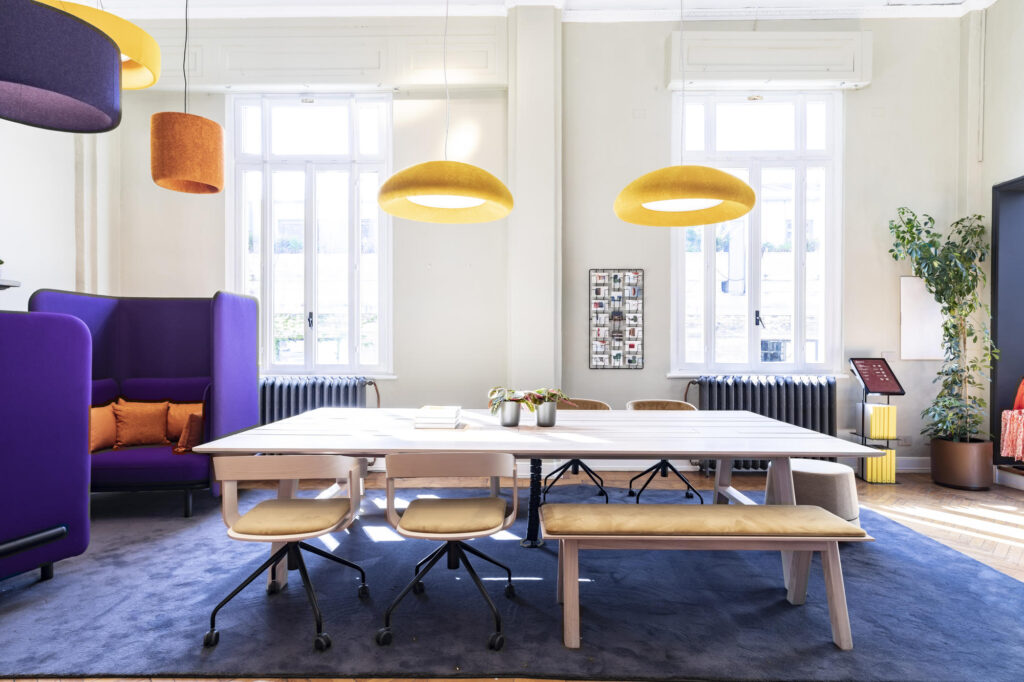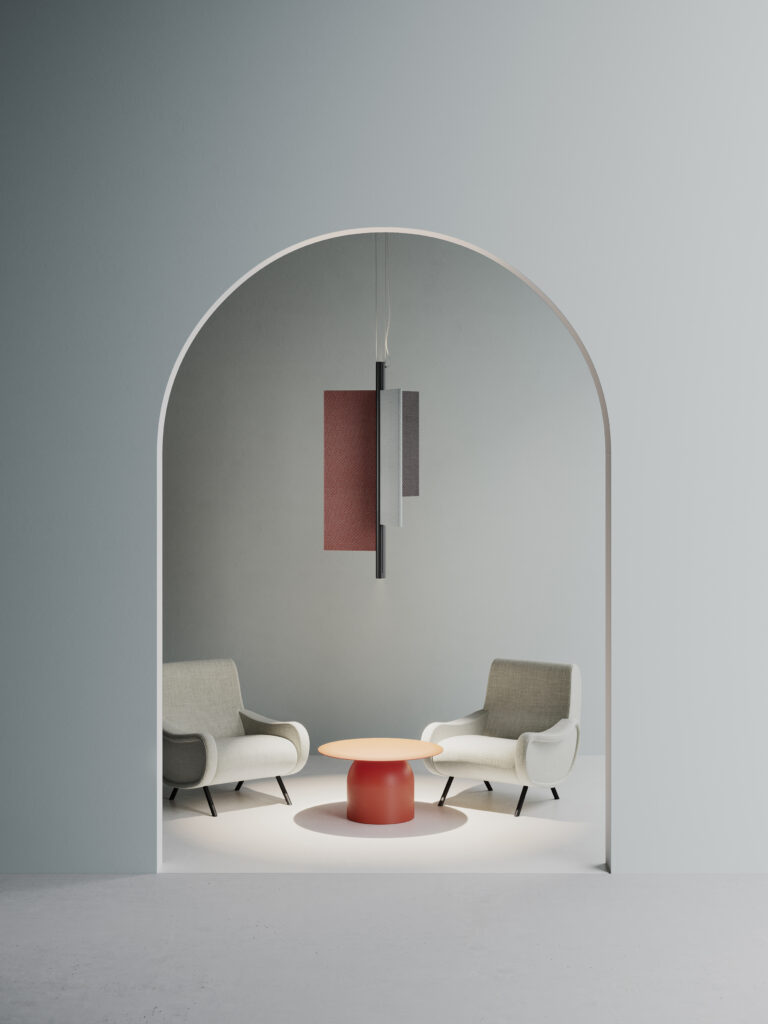 «With its 120° symmetry, Trypta is an effective element in the design of architectural spaces. The central column acts as an illuminating axis around which three fabric-covered floors create a welcoming environment, both graphically and acoustically defining the space» declares designer Stephen Burks, who came up with Trypta for Luceplan. This chandelier can adapt itself perfectly to any environment thanks to its two light sources with separate switches located at the ends of the central body, capable of providing both direct and non-direct light diffusion. It is possible to create multiple combinations by combining panels of different fabrics and colors, which vary in size and arrangement; in the catalog, there are panels in three different shades and six sizes.
3. Under the Bell - Muuto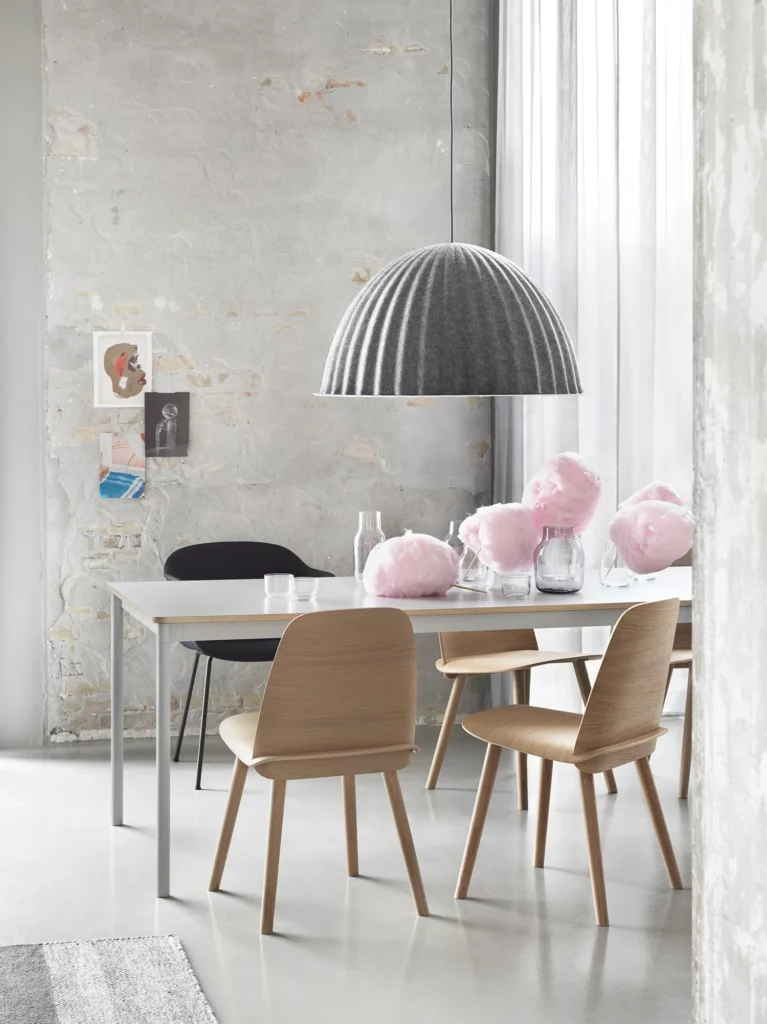 Under the Bell is the funny name of this maxi acoustic suspension produced by Muuto, perfect for generously sized rooms. Made with a sustainable sound-absorbing material that uses up to 41% of fibers from recycled plastic bottles, it is proposed, as per the usual discreet Scandinavian elegance, in the three neutral colors: white, black and grey.
4. Silent Field 2.0 - Artemide
Thanks to the characteristics of the material and the geometry of the lamp body, Silent Field 2.0 by Artemide decreases the reverberation time of sounds. The effect is optimal compared to the frequencies of human speech. The light emission is direct and indirect and can be controlled via the app.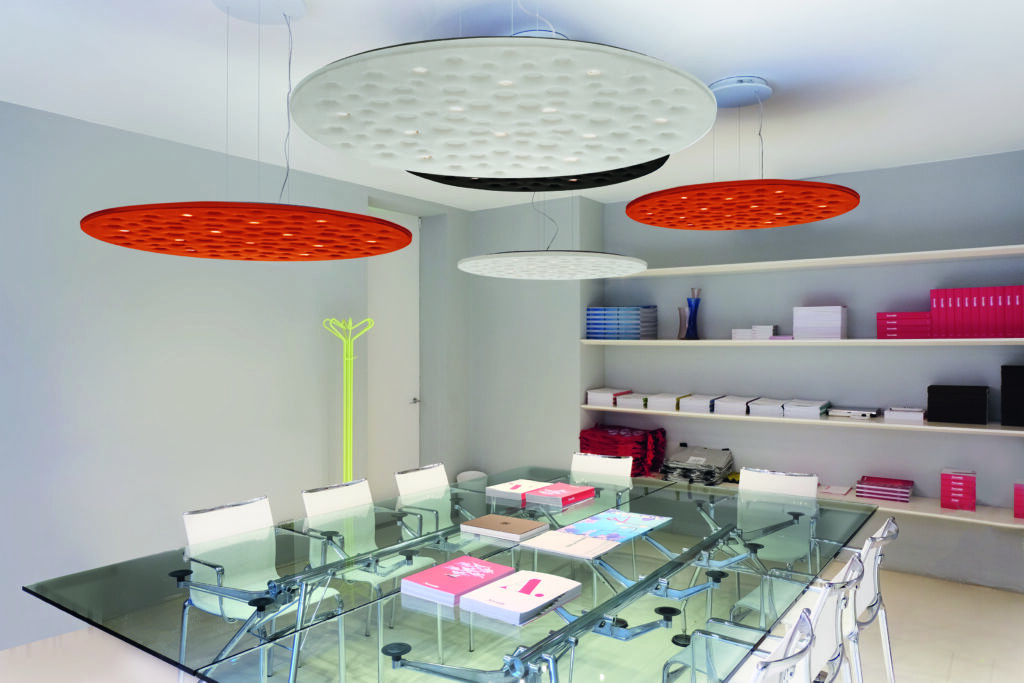 Inspired by a drum plate, this large and thin lampshade by Acustica overturns its own concept, absorbing sound waves rather than emitting them. Produced by Fabbian, it can be installed in a slightly inclined position to create suspended "constellations". Available in a 90 cm or a 120 cm diameter, the shell is made of recycled PET with black anodized aluminum structure and an opal PMMA diffuser that hides the dimmable LED source from view.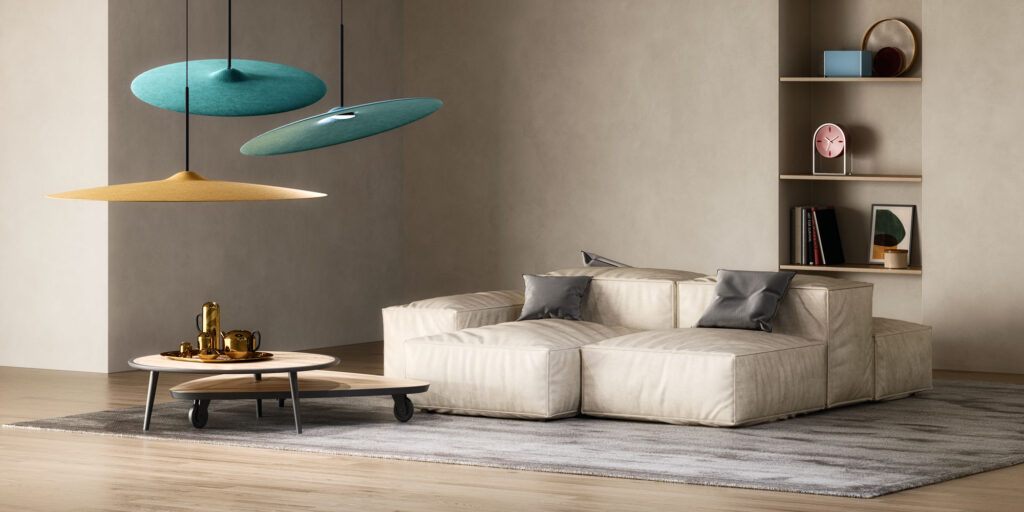 Metal and fabric define the lightweight Butterfly acoustic wall light by Modo Luce. Designed by the Romano + Menegon duo, it is available in two versions (54 and 75 cm in diameter) and is perfect for "moving" the wall like a work of art.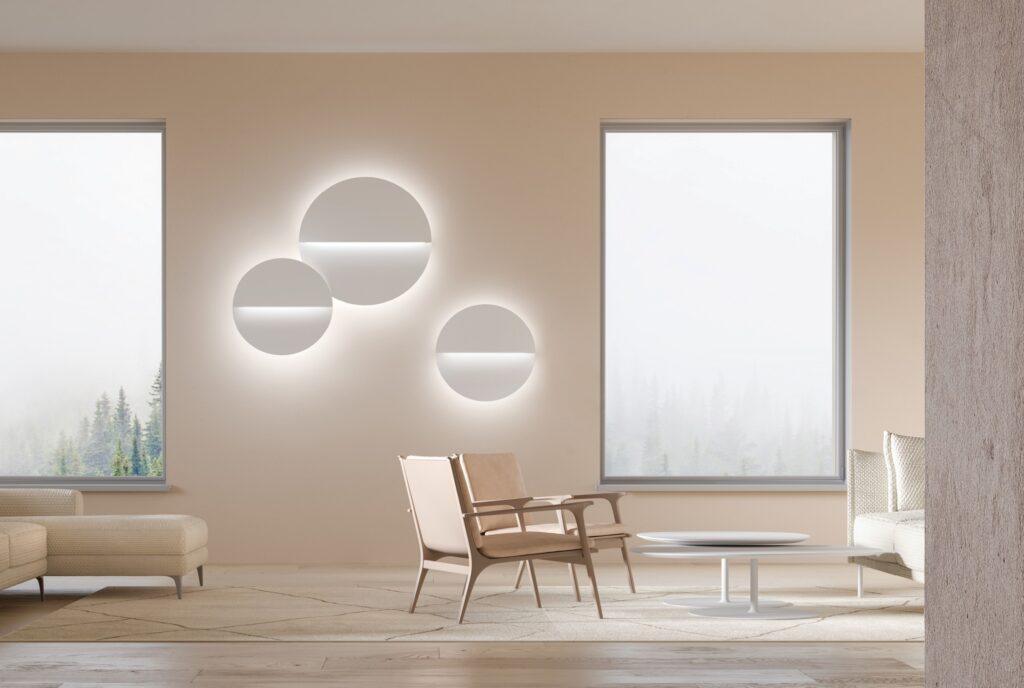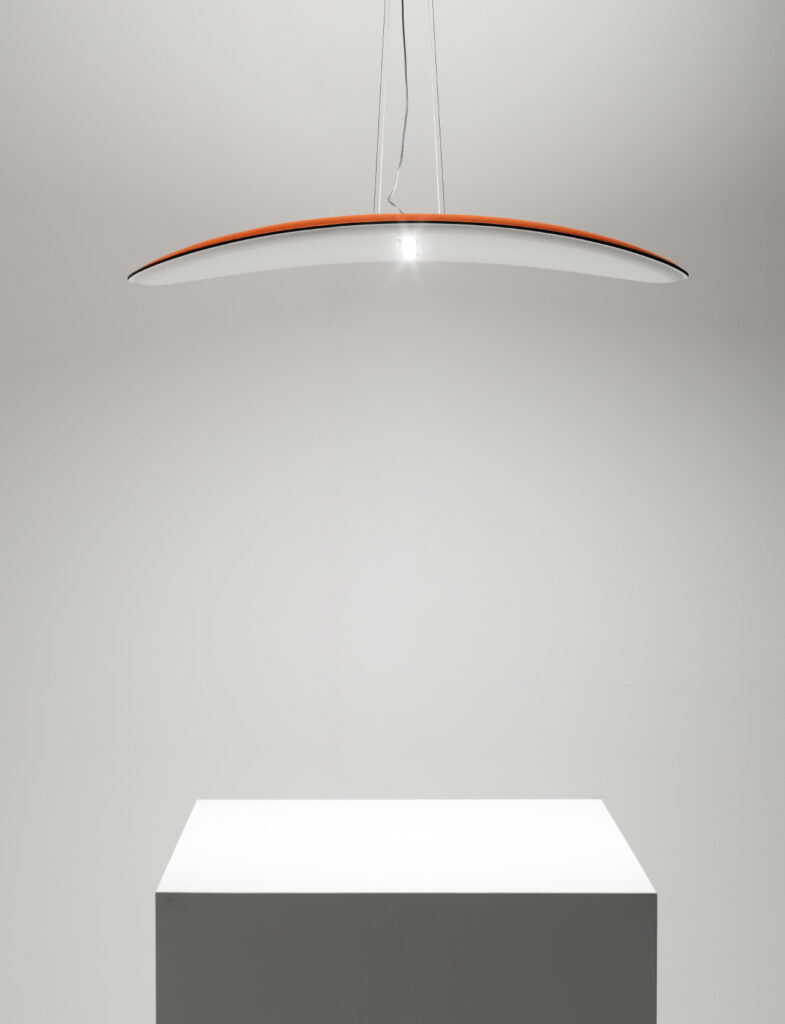 Derby by Stilnovo has an original parabolic shape with a double dimmable topLED source which allows both a non-direct diffused emission and a direct emission in the diffused variants or with darklight optics. The lamp body is in 100% sound-absorbing staple polyester fiber covered in fabric, available in grey, brown and two-tone orange/white.
8. Lent - Martinelli Luce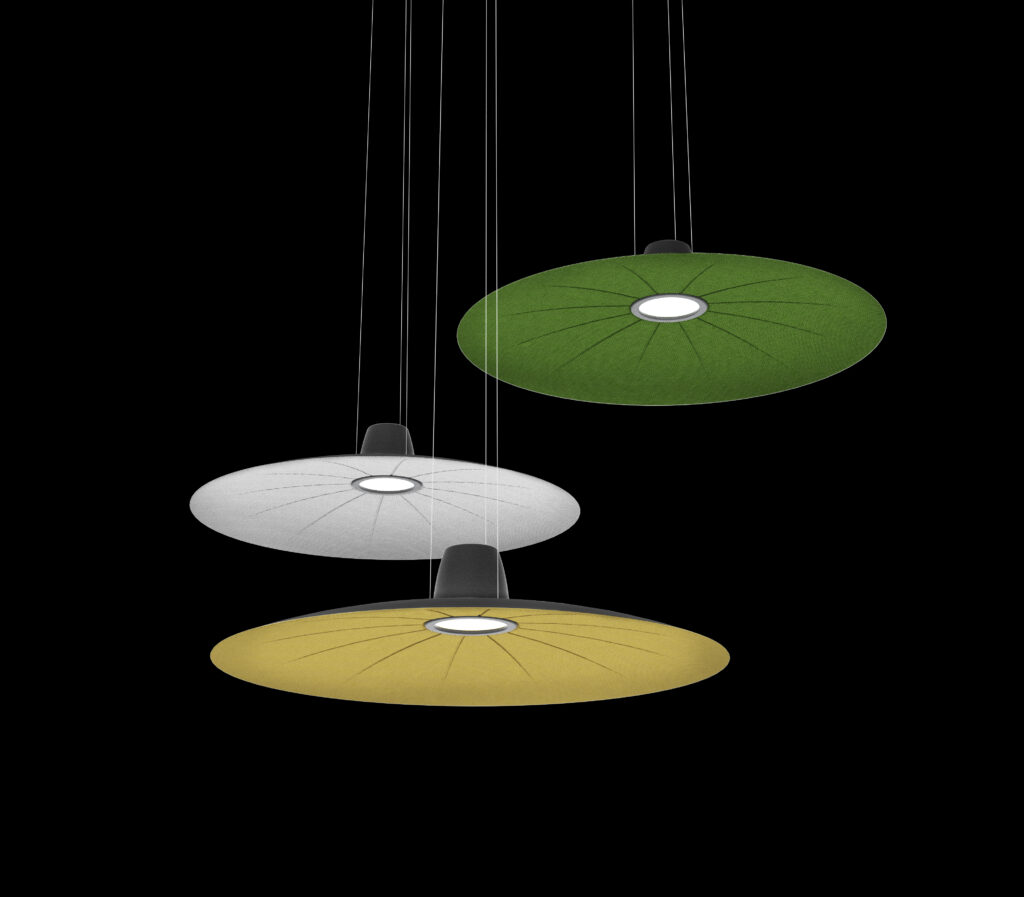 «Lent by Martinelli Luce is a creator of spaces for involvement. We thought of a large lamp, an object that delimits a space within another space. We thought of using its large volume as a sound-absorbing panel by adding a new function» declares the Yonoh Studio Creative duo. The disc, over one metre in diameter, is soft to the touch and is perfect for common spaces such as in the living room.
9. U-Light Acoustic - Axolight
U-Light Acoustic by Axolight has a minimalist look created by the combination of geometric shapes. The sound-absorbing panel is inserted on the ring structure which allows to reduce up to 49% of noises and improve the acoustic comfort of the room.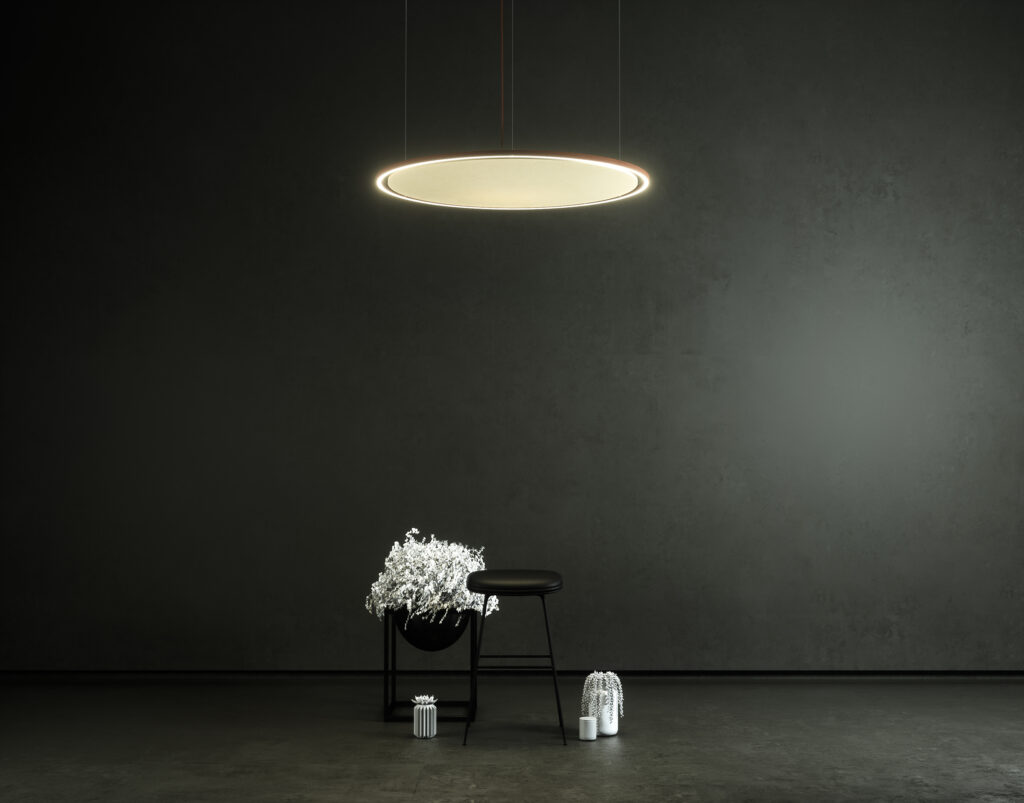 10. Eclipse Nuance Silence - Olev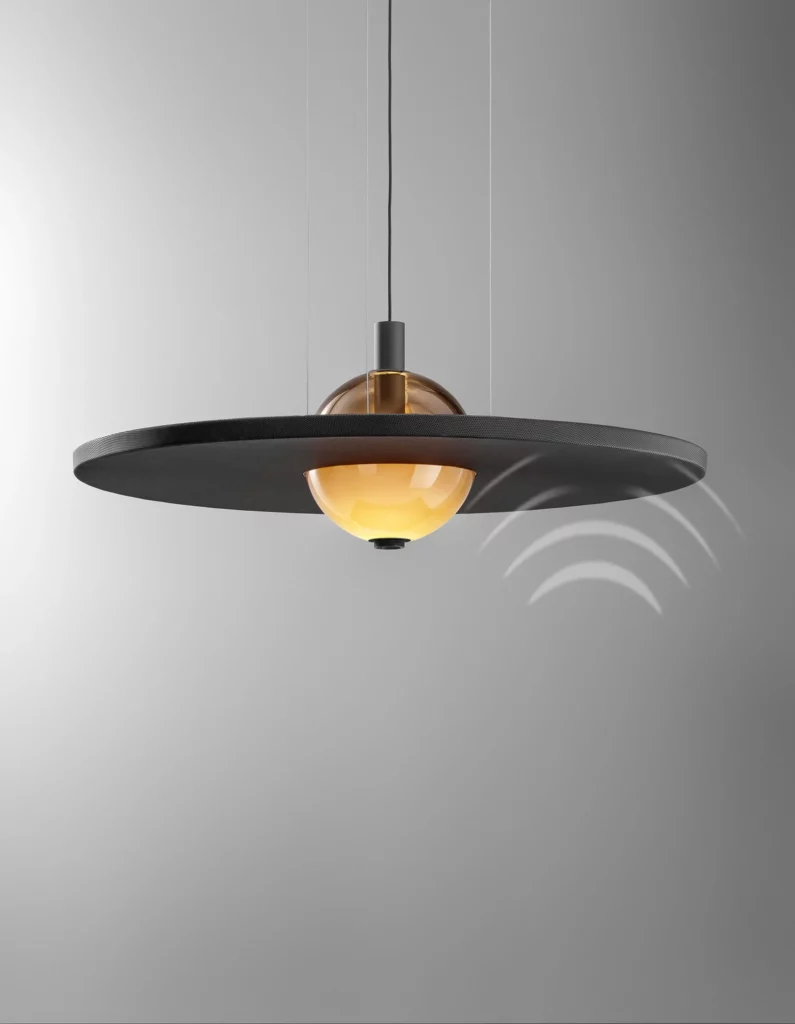 Designed by Marc Sadler, Eclipse Nuance Silence by Olev is a decorative and sound-absorbing suspension that exploits the properties of a new material in the field of lighting, the micro-perforated sheet metal with reduced thickness.
Feel by Penta Light is a modular system made of textile discs and luminous stems that create ever-changing configurations. The discs come in three diameters, covered with fabric in several colors: burgundy, dark blue, petrol, brick, sand, light grey, dark green.